On Top Down Under's 7th Blog Anniversary Schedule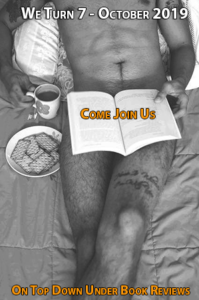 7th BLOG-VERSARY SCHEDULE OF EVENTS
Links will be provided as each unique post goes up.
October 1st – Happy 7th Anniversary! Amazon $50.00 Gift Card Giveaway from On Top Down Under Reviews 
October 3rd – Harry F. Rey Author Post: The Line of Succession 3: Interregnum 
October 8th – Candi Kay Author Post & Excerpt: Luke the Hybrid Reindeer & His Vivacious Elf + Giveaway
October 10th – Nazri Noor Author Post & 3 box set e-book Giveaway: Darkling Mage
October 16th – H. L Day Author Post: My Characters and Me + Giveaway
October 16th – Lisa Henry – Author Post: A Place as a Character + Dauntless Giveaway
October 17th – Kayla Jameth Author Post: Atypical Paranormal + Giveaway.
October 21st – Hayden Thorne Excerpt & Giveaway: Hell-Knights and A Murder of Crows
October 23rd – Eliot Greyson Author Post & Giveaway: Writing Romance 
October 25th – Mickie B. Ashling Author Post, Excerpt, & Giveaway: A Noble Cause
.
A big thank you to all the authors taking part in our 7th blog anniversary in 2019. It always takes time to write a post on top of real life and writing books and their own posts, it's much appreciated
~Kazza & Cindi