We're 7! Blog-Versary 2019: $50.00 Amazon Gift Card Giveaway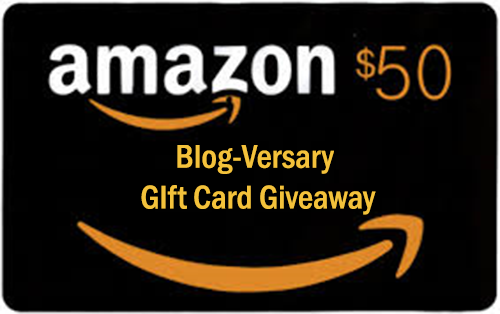 Happy anniversary to us!
It's been an amazing 7 years and we know we wouldn't still be doing what we do if it wasn't for you, our followers. We've read a lot of books in that amount of time. Some years we read so many it was almost hard to keep up. But there have also been a few where one or both of us had to take a step back because of real life. One thing that has never changed is our love for reading.
Because we are dedicated readers, we know how expensive books can get. For that reason, to celebrate our 7 years of On Top Down Under, we're hoping to help out a little by giving away a $50 Amazon gift card to one lucky reader. The giveaway will run from October 1st until midnight on October 31st. Unlike in years past where the entries were based solely on comments on the post, we're giving the entrants more chances to enter via Rafflecopter. The winner will be notified via email on November 1st. They will have 48 hours to respond back or another winner will be chosen.
Thank you to our amazing followers. Some of you have been with us from the very beginning. Some of you have only recently found us. We appreciate you all more than you can know.
Good luck with the giveaway! If you have any problems entering shoot us an email to ontopdownunderbookreviews@gmail.com and we'll see what we can do to help.
Note that all entries will be individually checked for validity before a winner is chosen. Each entry added without following instructions in Rafflecopter will be deleted. We want to keep it fair for legitimate entrants. Allowing people to blindly add entries saying they did something when they didn't is not fair to them or to On Top Down Under. 
Cindi and Kazza