Blog-Versary Author Post : A Place as a Character, Lisa Henry + Giveaway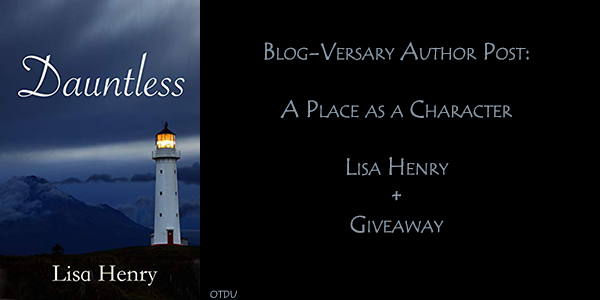 I've always subscribed to the idea that place, when used well in a book, is a character of its own. I like to use real places where I can, but sometimes it's trickier than you'd think.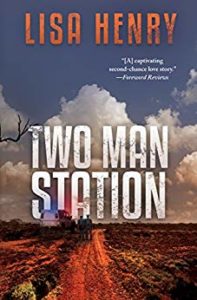 The first time I realised this was when it came to writing Two Man Station, which is set in the outback town of Richmond, Queensland. The real Richmond as a population of just over 500 people. That's a small enough number that it gave me pause. Ultimately though, I got around it by populating that real town with imagined characters, and it works, I think, because Richmond could be any small outback town.
When it came to writing Dauntless, that didn't hold true. Because this time I wasn't writing a story that could be set in just any small town. This time I was writing something that was totally and utterly Pitcairn Island—with just a dash of Norfolk Island thrown in. And that's where things get messy, especially when you're writing a book that isn't all sunshine and roses.
Now, don't get me wrong. Apart from the fact it's a cosy murder mystery, Dauntless is mostly sunshine and roses. Well, it's rain and pine trees, but you know, it's still nice. It's a fun little story. It's fluffy. There's a dog. But there's still also that murder, which means there's also a murderer.
Who remembers the movie Titanic? Did you know that James Cameron had to apologise to the descendants of First Officer William McMaster Murdoch? In the movie, he's the officer who accepts a bribe to put some people on a lifeboat, and then shoots some third-class passengers, and then kills himself. The problem is, all eyewitness reports of the sinking say that Murdoch was a hero. And it doesn't matter to his descendants that it all happened a hundred years ago. Taking artistic licence with real life historical figures—or just flat out lying about them—can be legitimately hurtful to their descendants. Also, the history major in me cringes at the idea.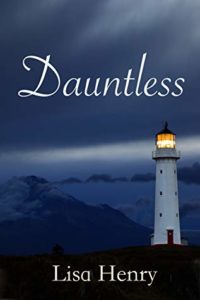 So there was no way I wanted to write a book set on the real Pitcairn, when it would have meant not only questioning the entire history of the Bounty mutiny—and really, who's got the time to do that much research?—but also placing my very fictional murder, and murderer, in a very real and very tiny community.
So that's how Dauntless Island was born. Dauntless Island and the islanders are fictional, but there's no question about exactly which real place—and real people—they're based on. But by throwing out Pitcairn and Norfolk and the Bounty mutiny—or at least only picking the things from them that worked for my little story—I got to keep what I needed for the setting, without stepping on the toes, or the legacies, or any real people.
Like the Pitcairners, the Dauntless Islanders are descended from mutineers. Like the Pitcairners, they're proud of that. So when a grad student turns up on the island with a historical diary that suggests that no, maybe their hero Josiah Nesmith wasn't such a great guy, it immediately gets the islanders off side. And when that grad student also happens to be a descendant of the naval captain that was overthrown and hanged during the mutiny…things get very ugly indeed:
"I mean, they hate me," Eddie exclaimed, looking outraged. "They actually hate me just because I'm descended from George Hawthorne. This is crazy. I've come to a crazy place full of crazy people. It was two hundred years ago. Who cares?"
"Well, you do," Joe said mildly, "or you wouldn't be writing a thesis about it."
"I care because it's interesting," Eddie said. "I don't care enough to smash anyone over the head about it!"
"Well, that's a fine line for some people."
Eddie stared, his eyes wide. He opened and closed his mouth a few times like a guppy before he could get the words out. "Not for normal people!"
He had a fair point, Joe thought, but that was because he didn't understand the island or its people. Outsiders never did. They saw the quaint cottages and the sweeping views of the ocean and thought that Dauntless Island's history was just a little footnote, something to buy on a postcard from the museum and then forget about. But for the islanders it was living history, and it was their identity. It was in their blood.
Eddie was thinking like a historian, when he really needed to think like an anthropologist.
"It's not just history to us," Joe said quietly. "It's who we are. It's two hundred years ago, but it's personal."
So Dauntless Island is a completely fictional island, based on a very real place, and the HMS Dauntless mutiny is definitely heavily inspired by the Bounty. There are shades of Fletcher Christian in my mutineer Josiah Nesmith, but only shades. Mostly because I wanted to write a fun cosy mystery story and not a history thesis, but also because in real life Fletcher Christian didn't hang Captain Bligh. Also it's pretty unlikely that their direct descendants have ever made out on a couch.
But like I said, I didn't do the research, so I might be totally wrong about that!
###
**GIVEAWAY**
Lisa Henry is offering a giveaway of 3 e-book copies of Dauntless to 3 different people who comment on this post. Dauntless is a MM or gay cosy mystery and a terrific read. Review is here. Comment before Midnight (US EST) October 27th to be in the running to win a copy. OTDU contact winners within 24 hours of the draw. Please contact us back within 48 hours of winning otherwise we have to redraw. Cheers for popping by and good luck!
Author Bio:
Lisa likes to tell stories, mostly with hot guys and happily ever afters.
Lisa lives in tropical North Queensland, Australia. She doesn't know why, because she hates the heat, but she suspects she's too lazy to move. She spends half her time slaving away as a government minion, and the other half plotting her escape.
She attended university at sixteen, not because she was a child prodigy or anything, but because of a mix-up between international school systems early in life. She studied History and English, neither of them very thoroughly.
Lisa has been published since 2012, and was a LAMBDA finalist for her quirky, awkward coming-of-age romance Adulting 101.
You can connect with Lisa here:
Email: lisahenryonline@gmail.com