Blog Anniversary: Candi Kay Giveaway & Silas Excerpt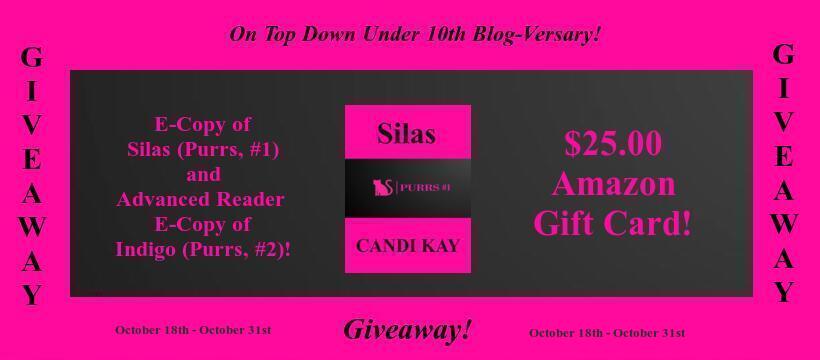 Candi Kay is one of my favourite authors. It started with Taking Lance through to the Willy the Kinky Elf series, to the latest Purrs series. Every anniversary she's one of the first to take part and I'm so  glad to have her here for our 10th blog anniversary celebrations. 1o years is a milestone and who better to share that with than fellow readers, and good books.
Silas is Purrs #1 and I've already had the pleasure of reading it, see review here. So check out the excerpt and take part in the fantastic giveaway either via Rafflecopter or by leaving a comment below in the comments section.
***
Happy 10th anniversary to On Top Down Under! To help celebrate I'll be giving away an e-copy of my newest book, Silas (Purrs, #1), a $25.00 Amazon gift card, and an advanced reader copy of Indigo (Purrs, #2) to one winner. If the winner isn't interested in the ARC, they can choose any e-book from my catalog.
The Purrs series was written to honor my late sister who never met a cat she didn't want to snuggle and take home with her.
When you think of shifters, what kind of animal pops into your head? Bears? Lions? Or in the case of my Willy the Kinky Elf series, reindeer? It's a good bet that a common house cat wouldn't even be in the top ten.
Which is totally why I wrote a series about common cats who are shifters, though the Kitt family would most definitely take offense to them being called common anything, especially Silas, the middle sibling.
Si is a total diva.
Adopted by Stuart Parker a year ago, he's not been able to figure out a way to tell the human who, what, he is. As far as Stu knows, Si the cat is simply that – a cat.
It's taken out of his hands when the very human Silas accidentally bumps into Stuart at Purrs, the cat-themed club owned by Si's family. The excerpt below briefly describes that meeting right after Stu is introduced by his brother to Lyn Kitt and her father, Finian.
*** GIVEAWAY! ***
To enter the giveaway (s), follow the instructions in the Rafflecopter link at the bottom of this post. The giveaway will run from October 18th to October 31st, with the winner being randomly chosen on November 1st. The winner will then have 72 hours to respond back to the notification email before another one is chosen.
Note that each entry will be verified so make sure you follow the instructions. Invalid entries will be deleted.
Good luck, and congrats again to On Top Down Under on an amazing decade!
Excerpt –
Keiran, ever the charmer, smiles at her before looking over at the man. "This is my brother, Stuart. He had a bad night so I thought I'd bring him by for a quick drink. Lyn and Finian, meet Stu. Stu, Lyn and Finian Kitt."
She reaches out a perfectly manicured hand and takes mine in hers, giving it a quick squeeze before Finian does the same.
"What a pleasure to meet you, Stu," Finian says.
I like them both already. There's something about them that calms me. I don't know what it is, but there's no time to think about it before I'm struck still. Walking through one of the doors on the side is the most gorgeous man I've ever had the pleasure of laying eyes on. Taller than my six-feet, but not quite as tall as Finian, he's wearing leather pants like Keiran, but that's where the similarities end. This guy, this freaking blond god with his hair to his shoulders, is topless. He's not wearing cat ears or even a tail, but he is wearing a collar of sorts – a collar that looks an awful lot like the one I had specially made for my cat.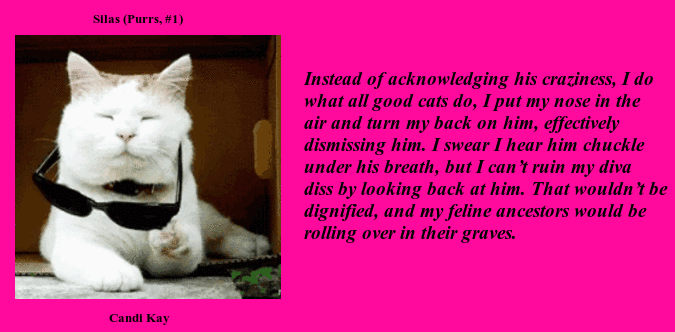 What a weird coincidence.
I'm turning back to look at my brother when the man's eyes come up to meet mine and he freezes, his eyes widening a little.
"Oh, Silas, perfect," Lyn says, breaking the spell between us. "Come meet Stuart, Kei's brother."
Silas? Seriously? And he's wearing a collar similar to my cat's?
You know, my cat named Si.
And I thought my night was weird before? I know I still have quite a bit of a buzz from the pitcher of margaritas, but I'm damn sure not drunk enough to feel like I've been dropped into the Twilight Zone.
"This is weird," Keiran says with a laugh next to me. "Stu has a cat named Si, and you're Silas in a cat-themed club."
The human Silas shakes his head a little and puts on what appears to be a strained smile as he walks over to us and holds out his hand for me to shake before quickly pulling it back. I swear my hand tingles from his touch, and strangely, it feels familiar.
I try to get a closer look at his collar – it looks identical to my Si's – but his hand goes to it, effectively covering most of it it. Possibly unconsciously, but I don't think so.
"Nice to meet you, Stuart," he says before looking at Keiran. "Good to see you again, Kei."
Lyn leans against Silas, who puts an arm around her waist and pulls her close.
"Silas is in the middle of my five kids, with Lyn being the oldest," Finian tells me.
I look back and forth between them, seeing the similarities right off, though the hair colors are different.
"He's usually very busy, so it's not often Silas is able to come by the club. Isn't that right, son?" he asks him with a gleam in his eye.
Silas clears his throat. "Yes, very busy. And, uh, I should probably get out there before Cosmo comes looking for me. I can't stay long tonight."
With what looks like a glare at his father and sister, he nods at Keiran and me quickly before walking through the door we'd just walked through, my eyes following him the whole time. When I look back at the others, Lyn and Finian are grinning at me from ear to ear and my brother looks confused.
"Did you two already know each other?" Keiran asks me.
"No. Why do you ask?"
"I don't know. Just a feeling. As awkward as all that was, you both acted like you'd already met. Weird."
"Yeah, weird," I say softly, feeling the same.
It did feel like we'd met before. No, not as if we'd simply met before. I felt a familiarity with him I've never felt with anybody else. I don't understand it.
I push that out of my head. I totally would've remembered him. It's the name and collar that have thrown me off a little.
Something in the back of my mind is telling me otherwise, but I'm not going to delve too deeply into that just yet. It's been a strange night, and again, I'd totally remember Silas Kitt even had I seen on the street somewhere for a brief moment.
Blurb –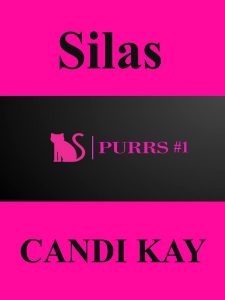 Stuart Parker is looking for love. He goes on the occasional date, but none of the guys want to stick around. If they bother to show up at all. On the rare times a date has come to his house, Stuart's diva cat didn't exactly give him a warm welcome. He swears the cat is purposefully sabotaging his love life by hissing, growling, and even hiding his condoms and new underwear.
Si isn't your typical house cat. He's been trying to work up the courage to tell Stu the truth for a year, but how do you tell your human mate that you're not the feline that you appear to be?
After being stood up yet again, Stuart's brother Keiran takes him to Purrs nightclub, where Kei is the assistant manager. When Stu meets one of the club's owners, Silas, he's struck still. Besides being the most beautiful man Stuart has ever seen, the collar he's wearing looks an awful lot like the one Stu designed for his cat.
You know, his cat named Si.
Life suddenly takes a drastic turn for both human and feline. Has that elusive happily-ever-after Stuart's been searching for been right under his nose the whole time? Will he run in the opposite direction when he discovers who his pet really is?
Each book in the Purrs series takes place during the same time period. Details from one story may be expanded upon in another. Some events in a previous book might not have taken place yet in a subsequent book.
The books in the Purrs series cannot be read as standalones. While each one focuses on a new couple, their stories are all linked to the series as a whole. Some secondary characters may seem insignificant in one book and be quite significant in another.
Note that past sexual abuse is discussed briefly in Silas (Purrs, #1). While nothing is on-page, this may trigger some readers. Keep this in mind before downloading the book.
About the Author –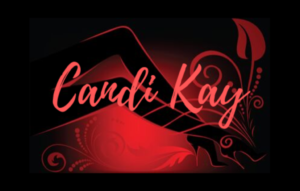 A blogger by day, at night Candi Kay transforms into a writer of various genres, with an emphasis on LGBTQ and erotica. Author of the Willy the Kinky Elf & His Bad-Ass Reindeer series, Candi's books are often filled with humor, lovable, kooky characters, and sweet happily-ever-afters. You can find Candi on Goodreads, Facebook, Amazon, her blog, Pinterest, Twitter or email her at CandiKayauthor@gmail.com. She loves hearing from readers!
**Please note that this giveaway is for a gay romance shifter book as well as the Amazon gift card. If you do not answer the question for the giveaway – tell us your favourite shifter book – you will be deemed ineligible.**