Blog Anniversary: Gavin Atlas Giveaway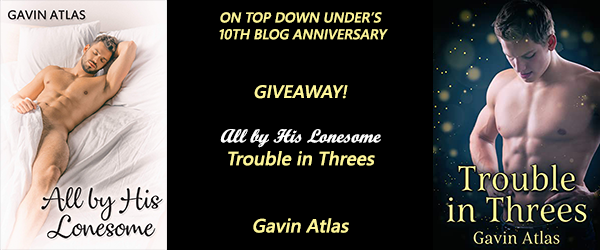 It's great to have Gavin joining us once again for our blog anniversary. He was on our older site with this very thoughtful interview which remains a blog favourite. Now he's celebrating our 10th anniversary with us via a gracious giveaway of a couple of very enjoyable books. Gavin has been around and writing for quite a few years and still holds such a passion for the stories and the characters he shares with readers.
Join in the celebrations with On Top Down Under and Gavin Atlas by leaving a comment below or via the  Rafflecopter.
**GIVEAWAY**
Gavin Atlas is giving away the e-books of Trouble in Threes and All by His Lonesome to one lucky winner. Simply enter via the Rafflecopter or by leaving a comment below. This giveaway runs from October 20th to Midnight on October 30th. If the winner doesn't reply within 72 hours of our email we will redraw. Thank you for taking part in our 10th anniversary and this lovely giveaway. Good luck!