9th Blog Anniversary Giveaway: Barry Brennessel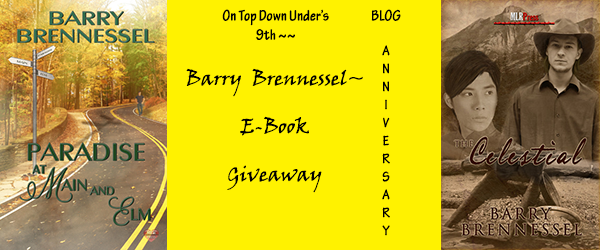 Barry Brennessel is another favourite author of Kazza's. He's twice been my Book of the Year and one of those e-books is being given away today, Paradise at Main & Elm. Adrian and Ezra will never, ever be forgotten by me. The Celestial is also another wonderful piece of literature, it's historical and poignant. Both of these books have become much awarded stage adaptations as well. I have reviews for both books on our old blog, here and here. Barry lends a pitch perfect own-voice to his books about young gay men who are in some way – their age, their life situation – at a nexus point in their lives and weaves a visceral tale. You can enter the giveaway either via Rafflecopter or in the comments section below.
**We contact winners as soon as the draw is complete. To ensure fairness and to be able to run a smooth giveaway, all winners are given 48 hours to contact us back otherwise we have to redraw. Thank you for taking part in this giveaway and our blog anniversary. Good luck!
About the Author: 
When Barry's first collection of stories was read aloud by his second grade teacher, the author hid. As the years flew by, he wrote more, hid less (not really), and branched out to Super 8 films and cassette tape recorders. Barry's audience—consisting solely of friends and family—were both amused and bemused.
Since those childhood days, Barry has earned degrees in English and French from the State University of New York College at Brockport, and a Master of Arts in Writing from the Johns Hopkins University.
Tinseltown, a Finalist in the 24th Annual Lambda Literary Awards, is Barry's first novel. His novel The Celestial won the Gold Medal in the 2012 ForeWord Book of the Year Awards and was a Finalist in the 25th Annual Lambda Literary Awards. Reunion, a collection of linked stories, was a Finalist in the 2012 ForeWord Book of the Year Awards.
His work has appeared in SNReview, Perspectives, Time Pilot, Liquid Ohio, Nocturnal Lyric, Midnight Times, Gival Press's ArLiJo, and Polari Journal. His stories, novels and teleplays have won awards, including a 2008 Pushcart Prize nomination; 3rd Place in the 2010 Pacific Northwest Writers Association (PNWA) literary contest and finalist status in the 2006, 2008, 2009, 2012, and 2013 PNWA contests; 3rd Place in the 79th Annual Writer's Digest Writing Competition and a winning entry in the 2013 WILDSound Screenplay competition.
When not embroiled in his own writing, Barry sips wine, nibbles on chocolate, and watches films and TV—both the classic and the cheesy. (Mmm…cheese!)