Blog Anniversary Giveaway: E M Hamill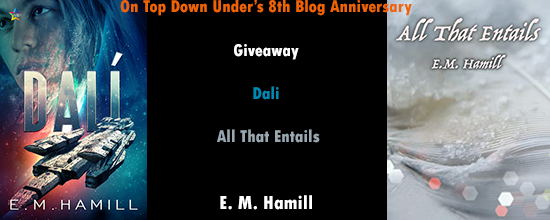 Today E.M. Hamill joins in our 8th blog anniversary offering 1 x e-book of Dali or 1 x e-book of All That Entails. I haven't read All That Entails but I have read several other books by the author, including the fantastic Dali – review here.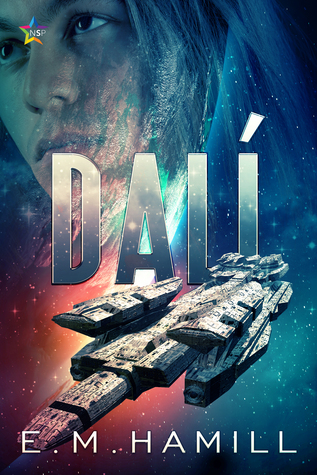 Dalí Tamareia has everything—a young family and a promising career as an Ambassador in the Sol Fed Diplomatic Corps. Dalí's path as a peacemaker seems clear, but when their loved ones are killed in a terrorist attack, grief sends the genderfluid changeling into a spiral of self-destruction.
Fragile Sol Fed balances on the brink of war with a plundering alien race. Their skills with galactic relations are desperately needed to broker a protective alliance, but in mourning, Dalí no longer cares, seeking oblivion at the bottom of a bottle, in the arms of a faceless lover, or at the end of a knife.
The New Puritan Movement is rising to power within the government, preaching strict genetic counseling and galactic isolation to ensure survival of the endangered human race. Third gender citizens like Dalí don't fit the mold of this perfect plan, and the NPM will stop at nothing to make their vision become reality. When Dalí stumbles into a plot threatening changelings like them, a shadow organization called the Penumbra recruits them for a rescue mission full of danger, sex, and intrigue, giving Dalí purpose again.
Risky liaisons with a sexy, charismatic pirate lord could be Dalí's undoing—and the only way to prevent another deadly act of domestic terrorism.
**GIVEAWAY**
This giveaway is now over. Congratulations to Jennifer. 
E.M. Hamill is giving away a copy of either Dali or All that Entails to celebrate our 8th blog anniversary. To be in the running to win either book enter via Rafflecopter or by leaving a comment below. This giveaway ends 10 days after blog post date. Good luck!
A gender-fluid prince finds an unexpected ally in an arranged marriage with a transgender man.
Prince Darian is willing to give up his penchant for gowns when he must wed for the sake of the kingdom. However, his intended bride has a secret of their own. A marriage of convenience may bring something neither expected—acceptance, and all that entails.
Author Bio:
E.M. (Elisabeth) Hamill writes adult science fiction and fantasy somewhere in the wilds of eastern suburban Kansas. A nurse by day, wordsmith by night, she is happy to give her geeky imagination free rein and has sworn never to grow up and get boring.
Frequently under the influence of caffeinated beverages, she also writes as Elisabeth Hamill for young adult readers in fantasy with the award-winning Songmaker series.
She lives with her family, where they fend off flying monkey attacks and prep for the zombie apocalypse.
Say hi to EM Hamill: