Blog-Versary: Cindi's Special Favorites & E-Book Giveaway – Rick R. Reed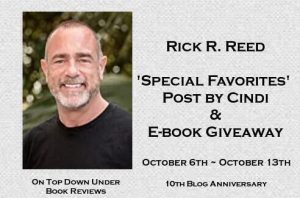 There's no author I've read and reviewed more in the past ten years than Rick R. Reed. Four of his books have been my #1 books of the year (Big Love in 2016, The Perils of Intimacy in 2017, Blue Umbrella Sky in 2019, and The Man from Milwaukee in 2020), with four others (Raining Men in 2013, Bashed in 2014, and Blink and Dreamboat in 2015) also being on the Books-of-the-Year lists. According to Goodreads – I have a Rick R. Reed shelf – I've rated/reviewed 46 of his books or short stories, with 80 shelved.
I think it's safe to say I'm a fan.
My first ever Rick R. Reed book was How I Met My Man. Coincidentally, I read and reviewed it on Goodreads on September 30, 2012, right before On Top Down Under went live as a review site. I didn't know that until I started typing this post.
I haven't looked back since.
I went back and forth on what to put on this post. I can't list all of my favorites of Rick's because we'd be here for a while. So I decided to go with a list of his books that have stayed with me the most in the decade I've been part of On Top Down Under. I've loved a lot of his others just as much as I do the ones on this list. These simply affected me deeply in ways I describe below.
*Note that some of my reviews were on our other site. Some publishers have changed, but unfortunately, I'm unable to go in and make changes (covers, publisher info, etc.). The covers in this post, which take you to where to purchase the books, are correct. They might not be in the actual reviews. Click the book titles for my reviews.*
~~~ GIVEAWAY! ~~~
To help us celebrate our 10th year, Rick is kindly offering an e-copy of the reader's choice from his catalog to one reader. To enter, follow the Rafflecopter instructions at the bottom of this post. The giveaway will run from October 6th to October 13th, with the winner being chosen on October 14th. The winner will have 72 hours to respond to our email before another one is chosen. Good luck!
~~~
Thank you to Rick R. Reed for never failing to keep me entertained, and for tolerating my occasional fangirl moments. 🙂 And thank you for the giveaway!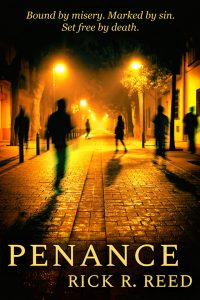 Penance and Moving Toward the Light – I read Moving Toward the Light first, not realizing it was a sequel of sorts to Penance. Both destroyed me. There's no other way to describe how I felt after reading them. I've reread several of Rick's books. Not these two. As brilliantly as they were written, they were also extremely disturbing. They really made me stop and think. Of all the books I've read over the years, Penance is the one that gets to me (even now) in ways no other book – by any author – ever has. I  cried like a baby reading both Penance and the short story. Even now I can't think about sweet Jimmy Fels without getting choked up.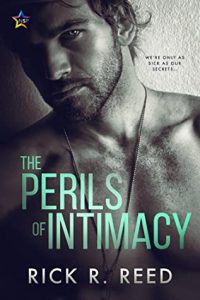 The Perils of Intimacy – This one hit home more than any other book I've read because I've lost two close family members to addiction. The reason this particular book stands out to me is because the author didn't sugarcoat anything. He told it like it is in the real world. In other words, the character with addictions didn't suddenly become well simply because he fell in love. The #1 reason I love Rick R. Reed's books is that he always writes real stories about real topics in the real world, not shying away from being blunt when necessary.
Seaspray – I just read Seaspray back in July. I had a difficult time reviewing it because there are some things that are so hard to explain. The story is about personal growth for the main character, though the reader has to sort through a lot to get to that conclusion. Certain things that seem a bit out there aren't out there at all. Everything comes together beautifully.
And I will say this about Seaspray… I've received comments from authors about my reviews over the years. Some good, some downright hateful. Of all of those comments, two have really stood out for me since I started reviewing. One was from the late great Eric Arvin and the other one was from Rick about Seaspray. What he had to say about my review is why I keep reviewing. I hope he knows how much I appreciate it.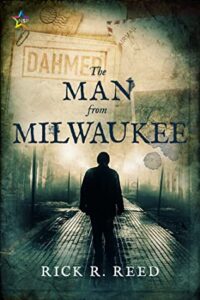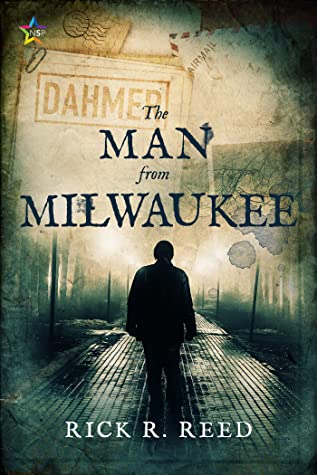 The Man From Milwaukee – About Jeffrey Dahmer, I think this one got to me so much because I remember seeing him on TV and thinking how much he looked like the typical boy next door. It kind of hit home how real life monsters don't always look like monsters. I remember hearing so much about Ted Bundy and how he looked so normal. Uh, no. Not to me anyway. There was always something about Bundy that made my skin crawl. Not so much with Jeffrey Dahmer. To me, he looked like your average guy. The Man From Milwaukee leaves the reader wondering what's real and what's not throughout the entire book.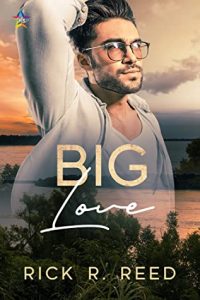 Big Love – Truman. The bullying that child went through hurt my heart. Truman has his own story in Bigger Love, but it's in the first book where he's introduced, and the reader is forced allowed to watch him be bullied mercilessly. God, I loved that kid. I wanted to reach inside the book and wrap him in my arms and never let go. Not many books bring out my 'Mom' side like this one did. Truman's not even the main character in the book, but he didn't have to be. Anybody who can read this story and not get emotional over what Truman suffered has no heart. Seriously.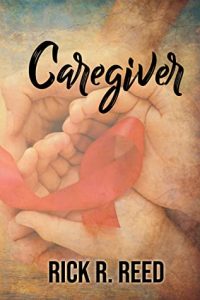 Caregiver – I almost didn't read this book even though I'd already been a fan of Rick's books for about a year or so. The reason I almost didn't read it is kind of silly really. It was set in the past and at that time I shied away from all books that weren't in the here and now. A joking recommendation – more like a, "You call yourself a Rick R. Reed fan and you haven't read Caregiver???" – by someone at the then-publisher and I was reading it. 😉 Had I not, I'd have missed out on one of his very best books.
I'll just throw out the last paragraph of my review. I think it says it all.
'I could go on with more details in regards to the story as a whole. I could go on with how many times this book made me cry or made me smile. I could tell you how beautiful Dan and Sullivan are together and how much I, a mere reader, mourn the loss of the author's real friend. But those are just words. In order to truly appreciate any of what I've written you have to read the book. My words alone could never convey what Rick R. Reed is saying.'
~~~
Rick R. Reed is an award-winning and bestselling author of more than fifty works of published fiction. He is a Lambda Literary Award finalist. Entertainment Weekly has described his work as "heartrending and sensitive." Lambda Literary has called him: "A writer that doesn't disappoint…" Find him at www.rickrreedreality.blogspot.com. Rick lives in Palm Springs, CA, with his husband, Bruce, and their two rescue dogs, Kodi and Joaquin.
You can also like Rick on Facebook at www.facebook.com/rickrreedbooks or on Twitter at www.twitter.com/rickrreed. Rick always enjoys hearing from readers and answers all e-mails personally. Send him a message at rickrreedbooks@gmail.com