Bigger Love (Big Love #2), Rick R. Reed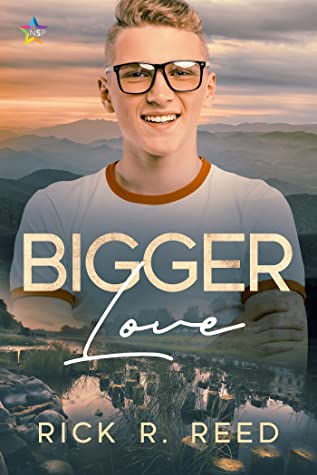 Rating: 4.5 Stars
Publisher: NineStar Press
Genre: Young Adult Gay Romance
Tags: Contemporary, Bullying, High School, Romance
Reviewer: Cindi
Purchase At: Amazon.com, NineStar Press***
Blurb –
Truman Reid is Summitville High's most out-and-proud senior. He can't wait to take his fierce, uncompromising self away from his small Ohio River hometown, where he's suffered more than his share of bullying. He's looking forward to bright lights and a big city. Maybe he'll be the first gender-fluid star to ever win an Academy Award. But all that changes on the first day of school when he locks eyes with the most gorgeous hunk he's ever seen.
Mike Stewart, big, dark-haired, and with the most amazing blue eyes, is new to town. He's quiet, manly, and has the sexy air of a lost soul. It's almost love at first sight for Truman. He thinks that love could deepen when Mike becomes part of the stage crew for Harvey, the senior class play Truman's directing. But is Mike even gay? And how will it work when Truman's mother is falling for Mike's dad?
Plus Truman, never the norm, makes a daring and controversial choice for the production that has the whole town up in arms.
See how it all plays out on a stage of love, laughter, tears, and sticking up for one's essential self….
Review –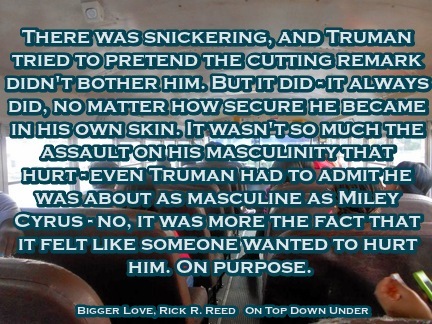 There are times when I'll read a book with a character who will get to me in ways others haven't. While I get invested in all the characters in the books I read, I'm referring to the ones that leave me thinking long after I've reached The End.
One of those characters is Truman Reid.
Truman was introduced in Big Love. The story was Seth and Dane's, but it was also Truman's, a student at the high school where Dane and Seth taught. Truman destroyed me. He was bullied mercilessly and was driven to the point of attempting suicide. I cried for Truman and all other kids like him – kids who just want to be themselves but are taunted, bullied by those who are too ignorant to try to get to know them – those who've been taught to be ignorant. In all the books I've read over the years I can't think of one other character who has gotten to me the way he did.
When the author announced that Truman would be getting his own story I was ecstatic. If anybody deserved a happily ever after it was this sweet boy. I couldn't wait to read it. Unfortunately, things happened in my real world that pulled me away from all things reading and reviewing until now. I may be a little late to the party but there was never any doubt that I'd be reading this book as soon as I was in the right frame of mind to do so.
Truman is just starting his senior year of high school. Out and proud, he's holding his head up high. The taunts still bother him but he's gotten better about not showing his hurt, his fear. The first day of school a new guy gets on the bus. A hot new guy with piercing blue eyes. They share a look that could just be wishful thinking on Truman's part. After that day he doesn't see the guy, whose name is Mike, for awhile. He may not have seen him, but he hasn't forgotten about him.
After getting involved in the school's performance of Harvey, Truman sees Mike again. Mike has just recently moved to town with his divorcing parents. He lives with his mother while his dad (George) lives with his mother, Mike's grandmother… who just happens to live a couple of doors down from Truman and his mom.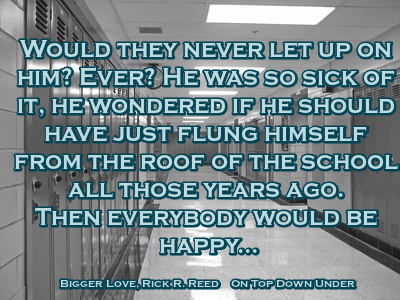 I wasn't sure what to think about Mike throughout the entire book. He was closeted and seemed to have screwed up opinions on what's right and what's wrong in regards to Truman. He liked Truman. He wanted to be with Truman. He was just… I want to say confused, but I don't think that's the correct word. He seemed to battle with himself a lot, though he knew with certainty he was gay. His biggest issue was being in a new school in a new state and wanting to fit in. Truman is flashy and a little flamboyant. A lot of the other kids at the school make fun of him for that reason. What would they do if they knew Mike secretly had a crush on him? He knows how he feels. He believes that Truman knows how he feels. But what happens if he comes out with Truman by his side?
This story takes place in high school. I'm not usually a fan of books with teenagers. This one, however, was different. And honestly, it wouldn't have worked if the author had written the story set a decade or so later. Sure, Truman would be an adult and could have a true HEA. But then we wouldn't have been able to watch him come into his own and truly accept himself with his own personal screw you to the town and anybody who dared criticize him simply for being him.
Something happened with the townsfolk that broke my heart for Truman all over again. I'll never understand the ignorance of some people. I want to say more about that but I can't.
Truman deserved somebody who would accept him for who he is and not expect him to change in any way. I was iffy about the relationship with Truman and Mike. But then something clicked in my little brain. For me, this isn't about Mike and whatever relationship they may have now or down the road. It was simply about watching Truman blossom into the confident and amazing person who stands his ground and dares anybody to tell him how he should live and who he should be.
Mike does make good later in a very big way. I was happy with how that was done.
I did not like his dad.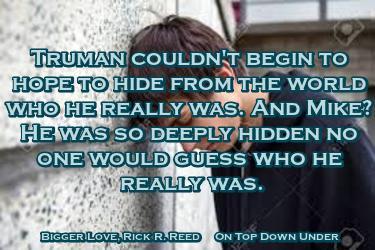 Truman's mother Patsy is back in all her wonderful glory. Patsy is the mother everybody wishes they could have. She loves Truman unconditionally and (to be blunt) takes no crap when it comes to her kid, even if it might mean walking away from a chance at love. Truman is her number one.
Alicia, Truman's best friend, is back with her take no prisoners bad-ass attitude. There's another of Truman's fellow students who I liked but I won't give her story away. I can't forget Odd Thomas, Truman's elderly dog who's 'so ugly he's cute'. 🙂
Rick R. Reed is my comfort author, as I've said many times in the past. I can pick up any one of his books and be entertained. Bigger Love was no different. I'm very happy with Truman's story. He'll forever be one of my all-time favorite characters, one who I'll always want to hug and protect from the big, bad world.
***This was originally reviewed via the original publisher. I changed the cover and purchase links to reflect the changes. Everything else, including the blurb, remain unchanged in the review.***