A Fighting Chance (Bridge to Abingdon #2), Tatum West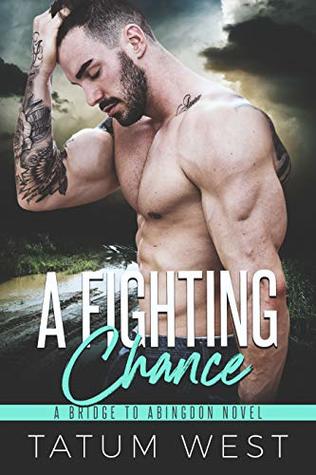 Rating: 3 Stars
Publisher: Tatum West
Genre: Gay Romance
Tags: Contemporary, Family, Romance, Series
Reviewer: Cindi
Purchase At: Amazon.com
Blurb –
Dillon:
I don't do relationships. I've been abandoned all my life, and I don't trust a soul except my own damn self. But there's something different about Jack Chance. From his lithe, gymnast's body to his soulful hazel eyes, he's everything I never knew I wanted. When he's wrapped up in my arms, begging for more, everything seems right about the world.
I'm not boyfriend material—everyone in Abingdon knows that. I've got a moonshine-making hillbilly family, a heart hardened by war, and I walk into burning buildings for a living. Oh, and I'm still in love with my best friend.
Jack shouldn't want anything to do with me. He shouldn't keep coming back each time I make a total a$$ of myself, and he shouldn't forgive me when I keep refusing to tell him how I feel. And he should definitely run for the hills when I'm slapped with custody of my sister's three kids.
But he doesn't run. Instead, he's making pancakes the morning after they move in. He's up with Joey, soothing him through nightmares. He's taking Chrissy to ballet. And he's making sure Jordan knows how smart he is. No one has ever done that for those kids. No one has ever done that for me.
That's the kind of man Jack Chance is. He's a man who stays. It's only when the court orders him away that I realize I was never done with love. I was just waiting for Jack.
Jack:
I like a good project—maybe that's why I'm madly, ridiculously, over-the-moon in love with Dillon Manning. I want him to see what I see when I look at him—a hero, a whole, real man. I'm addicted to his touch, his body, the way he kisses me so deeply and so tenderly. There's more to Dillon than he lets on. I just want him to realize it.
But Dillon is just about on my last nerve, and I'm ready to be done. That's when the unthinkable happens. Dillon's sister is caught up in a meth lab bust, and her kids have been breathing all of it in for months. It'll take a village to get these kids healthy. And I'm Dillon's village, whether he knows it or not. Every day, I'm falling more and more in love with him.
I might be gentle, and loyal, and kind. But when our family is threatened, I'll do everything in my power to keep us together—even if that means putting my own life at risk. Dillon Manning is worth it. I've always known that.
And I'll move heaven and earth to make sure that he knows exactly how I feel.
A Fighting Chance is the second novel in the Bridge to Abingdon series. Each book focuses on one adorable couple, and each can be read as a super-awesome standalone read. A Fighting Chance steamy scenes, a dollop of suspense, some amazing kids, a hillbilly reunion, and a family vacation that gives everyone a surprise. There are mentions of abuse and a couple of edge-of-your-seat scenes with an end-days preacher you'll love to hate. Jack and Dillon are the heart of Abingdon, and the second chance we all wish we had. Enjoy!
Review –
I recently read Steele My Heart (Bridge to Abingdon, #1). I loved that book. I loved it so much I had a difficult time reviewing it because I knew anything I said wouldn't do Gil and Kendall's story justice. Dillon, the main character in A Fighting Chance, was introduced in that book. We knew he was Gil's former military buddy, former lover, and current best friend. To me, Gil was a likable character. Dillon, not so much. I went into A Fighting Chance hoping my opinion would change. It did somewhat but not enough for me to say I liked him that much. If I don't like a main character the story usually doesn't work for me.
The first scene of this book after a quick prologue is super hot. Dillon and Jack are having sex and it's one hell of a sex scene. When it's over Jack makes the mistake of saying how special it was, how special Dillon is, which has Dillon being an ass and pushing him away. That was bad enough. I mean, it sucks pretty bad when you've just had the best sex of your life only to be brushed off. It's worse to be treated like it wasn't that big of a deal because the other guy is too much of a coward to admit he's in a relationship with you.
Dillon doesn't do relationships.
There's a reason for that – he's in love with his best friend and has been forever. Dillon couldn't move on when Gil took his career another direction after the military, pretty much letting Dillon know their sexual thing was over. He couldn't move on when Gil wanted to do more with his life than go back home to the town he couldn't get away from fast enough. Dillon has used Gil moving on with HIS life as an excuse to not get close to anybody since. He's been mourning the loss of a friends-with-benefits-only relationship for years. Only when Gil came back home and met Kendall – and got serious with Kendall quickly – did it finally click for Dillon that he didn't have a chance.
Pushing Jack away was bad enough. Pushing him to go to a party where Jack knows nobody and then abandoning him for three hours? Yeah, that would've done it for me. When Dillon finally did rejoin Jack at the party he caused a jealous scene because his boyfriend was talking to another man.
"You're drunk," he says.
"I'm not so drunk I can't tell when some random dude is flirting with my boyfriend, or that my boyfriend is lapping it up."
"Oh, I'm your boyfriend," Jack says calmly. "I was never informed."
Note that not one time before that – in a two month relationship – did Dillon ever use the word boyfriend. He left Jack hanging literally for the entire two months. After the party, Jack has had enough, as he should have, and walks away. When Dillon finally gets his act together and realizes that he's in love with Jack, he's suddenly thrust into parenthood when Dillon's sister and her husband are arrested for having a meth lab in their home with three small children living there. Dillon's the only decent relative who can take them in.
Jack is amazing. Even after how he was treated by Dillon he jumps in and becomes a co-parent. Dillon still hasn't said the "L" word but he has let Jack know he truly does care about him and wants to be in a real relationship. Had Dillon come to that particular conclusion after the kids came into his life, I'd have probably DNF'd because it would appear that he only wanted Jack to help him with the kids. Thankfully, he'd come to that conclusion literally the night before the incident with the kids and had set up a meeting with Jack to discuss them getting back together.
A majority of this book was mundane, day-to-day stuff as Dillon and Jack and the kids got into a routine. I really wouldn't have minded that so much had it not gone on for entirely too long. I know I've lost interest in a book when I'm having to force myself not to skim a lot. And worse, when I keep checking to see how much is left in the book before I get to the end.
The kids, Jordan (11), Chrissy (10), and Joey (7) were amazing. I'm a sucker for kids in books and I really had a soft spot for these three because of the home they were taken away from. Each child had meth in their system as a result of being closed up in the home as it was being cooked. They had rashes, eye infections, and other health issues because of their living conditions. Jack, an EMT, is with them every step of the way, from when Dillon picks them up so they don't have to go into foster care, to getting them the medical care they desperately needed, and doing other day-to-day things that parents do every day.
The children and the domesticity of the situation finally have Dillon going from being a bad boy to being a responsible adult. I still wasn't a big fan of his, but he is a good parent to the kids.
There's some drama with the kids' grandfather that added a bit of excitement to the story after what felt like dozens and dozens of pages of not a whole lot. All of that was written well. It again showed how good of a man Jack is and how he'd do anything to protect Jordan, Chrissy, and Joey.
I had almost gotten where I could maybe give Dillon a break. He loved Jack and he let him know it every single day. Once he said the words he said them often and there was no question how he felt after being such a jerk about his feelings early on. But then we get back to the 'being in love with his best friend' thing that's mentioned in the blurb and that I've already touched on in this review. I had finally, finally gotten where I was liking the guy (Dillon) and was thinking how great it was that he'd finally gotten beyond his feelings for Gil.
But then this happened… at 87% of the book (sorry if this is a spoiler) Dillon's 'heart still skips a beat when I see Gil'. What the hell? The rest of that sentence… 'but it belongs to Jack'. Dude, if your heart still skips a beat for your best friend it probably doesn't fully belong to Jack.
The ending (before the epilogue) was very sweet and I actually felt in those few pages that Dillon had finally committed fully to Jack and really did love him. The epilogue was a nice glimpse into where Dillon, Jack, and the kids were a decade later. I did enjoy that.
I really loved the kids and Jack. Those poor babies had been to Hell and back but Jack was right there to make sure they were safe. Dillon was too – and he was a good uncle/dad – but Jack really got to me.
Overall, I liked this, but I didn't come close to loving it. I know I'm in the minority if other reviews are to go by. I tried, I really did, but I found myself bored more often than not. I literally had to force myself to not skim through most of the book because it was so detail heavy. The sex scenes were written well and I did like a lot of the secondary characters. I absolutely love the cover. I just hate the story didn't really do much for me. I felt like Jack deserved better. Another thing I noticed in this book that I didn't in Steele My Heart is the poor editing. If it would've been a few words or missed punctuation here and there I probably wouldn't mention it but there were really a lot of mistakes.
I'll be reading more by Tatum West because Steele My Heart is a new all-time favorite, but I can't say that A Fighting Chance is one I'll be coming back to.