Blue Umbrella Sky, Rick R. Reed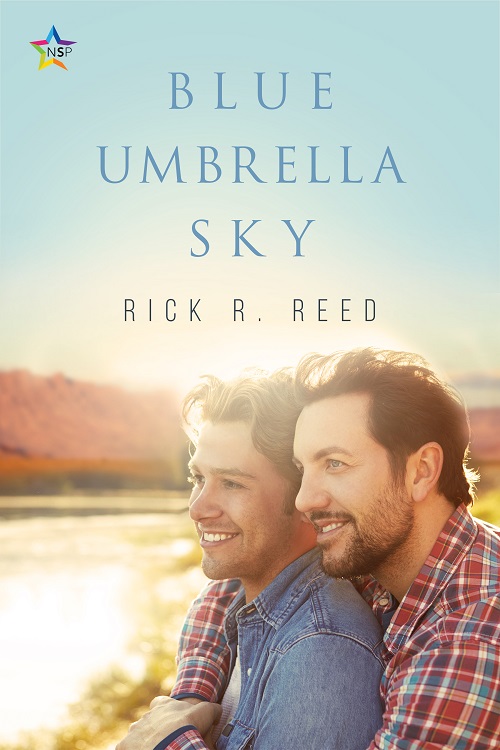 Rating: 5 "Grab the Tissues" Stars
Publisher: Nine Star Press – Updated 03/23/2020
Genre: Gay Romance
Tags: Contemporary (with maybe a tad of paranormal thrown in), Age Gap, Mourning, Recovering Addict, Romance 
Reviewer: Cindi
Purchase At: NineStar Press
Edit: Updated cover, publisher info, purchase link, and blurb, 03/23/2020.
Blurb –
Milt Grabaur has left his life, home, and teaching career in Ohio to start anew. The Summer Winds trailer park in Palm Springs, butted up against the San Jacinto mountain range, seems the perfect place to forget the pain of nursing his beloved husband through Alzheimer's and seeing him off on his final passage.
Billy Blue is a sexy California surfer type who once dreamed of being a singer but now works at Trader Joe's and lives in his own trailer at Summer Winds. He's focused on recovery from the alcoholism that put his dreams on hold.
When his new neighbor moves in, Billy falls for the gray-eyed man. His sadness and loneliness awaken something Billy's never felt before—real love.
When a summer storm and flash flood jeopardize Milt's home, Billy comes to the rescue, hoping the two men might get better acquainted…and maybe begin a new romance.
But Milt's devotion to his late husband is strong, and he worries that acting on his attraction will be a betrayal.
Review –
This is my second review of a Rick R. Reed book in a couple of days. Normally I'd spread the reviews out but not this time. When I was given the chance to read Blue Umbrella Sky a little early, I jumped on it. It also helped that I was told that Dane and Seth (from Big Love and Bigger Love) are in this story briefly.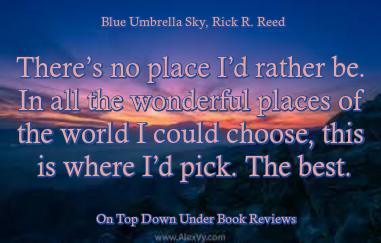 Milt is mourning the loss of his husband. A year ago Corky was laid to rest after battling Alzheimer's. Milt had been his caretaker and was with him until the end. Knowing he needed a change, Milt made a quick decision to move from cold Ohio to sunny Palm Springs, California. He bought a trailer in a small park, adopted a dog (Ruby) and spent his time alone. Some of his neighbors tried to speak, to get to know him a little, but Milt made it clear he wasn't receptive. He was mourning Corky and couldn't bring himself to even really attempt to be social. One neighbor, however, pushed a little more than others, though not to the point of being too much.
Billy Blue (yes, that's his name) moved to Palm Springs for reasons of his own. A recovering alcoholic, he also needed change. He lives in a rented trailer behind Milt and has watched the other man since he moved in. Billy has tried to be friendly, maybe even flirting a little, but there was a sadness in Milt's eyes that told Billy that he was mourning something or someone.
A summer storm and flash flood has Billy rushing to help Milt as his place starts taking in water. Billy hopes this is the start of something with the man he's long had a bit of a crush on but it's fairly obvious to Billy and the reader that Milt is nowhere near ready. He'd made a promise to Corky that he'd never love anyone else and he plans to keep that promise until his own dying day. No, it wasn't fair to him, and the reader knows almost instantly that Corky never would've expected Milt to not get on with his life. He'd want Milt to love again.
Billy and Milt begin a nice friendship. They hike together and spend time just hanging out. Milt knows Billy wants more – Billy said he wants more – but it's just not something Milt will even consider, even if he is starting to feel something for the other man that goes way beyond just friendship.
Part of the story is told in flashbacks. I'll be the first to say how much I seriously despise flashbacks in books. They were necessary in Blue Umbrella Sky in order for the reader to see where each man came from. The switching between time periods and events was seamless. I never found myself confused or (as has happened in other books I've read) wanting the flashback to hurry along already. The reader is allowed to see Billy, a singer, hit rock bottom during and after a gig. We're allowed to watch as Milt yearns for the man he loves to remember him and their life, just one more time. And then we're allowed to watch as they each slowly emerge from what they were, what they had, to who they are and can be today.
My heart broke for both of these men. It broke for Milt because I can only imagine how hard it was for him to watch the man he loved deteriorate because of a horrible disease. It broke for Billy because I've lost two close family members to addiction and I could see Billy heading down that same road. And he probably would have had a 'guardian angel' not been there to rescue him when he did hit rock bottom. And then my heart broke for them both in present day. Billy wanted Milt but he knew he was competing with a ghost. Milt wanted Billy but felt guilt, believing that even wanting Billy was somehow cheating on Corky, or breaking a promise he made to the dying man.
I mentioned Dane and Seth. Seth only makes a quick cameo but Dane, Milt's best friend, is in the book a little bit more. With Seth, they'd both taught at Summitville High School until Milt made the quick decision to move to Palm Springs after Corky's death. There's a bit of a misunderstanding when it comes to Dane and Milt at one point that almost had Billy making a mistake that would be hard to come back from. Thankfully things were cleared up quickly enough.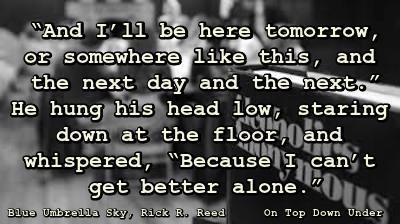 Blue Umbrella Sky isn't a typical romance. In the real world (as I know too well) addicts don't stop being addicts simply because they've found love. I touched on this in my review of The Perils of Intimacy back in 2017 so I won't repeat it here. Addicts have to fight their addictions for the rest of their lives, knowing one little slip up could have them going down the same path again. The author (as he did in The Perils of Intimacy) didn't brush off Billy's problem. Billy goes regularly to AA meetings. He talks to his sponsors. He battles wanting just one drink, knowing that one would lead to many more.
One is too many, a thousand is never enough.
Billy reminded me of my late sister in a lot of ways that I won't go into here. But I will say that she was a firm believer in meditation and believing in something more than what we see.
Also in the real world there's no time limit for grief. Anybody who says there is has never truly lost someone. There is no right or wrong way. Milt has to take his time mourning the loss of Corky. He has to do it his way. It also helps that Corky may just be helping him along when it looks like he's going to blow it with Billy before it ever gets started.
It takes awhile for Milt and Billy to finally come together as a couple. Had it happened any sooner it wouldn't have been believable and it wouldn't have worked. When they did come together it was beautiful.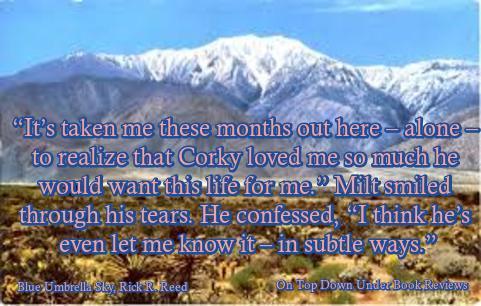 This is an emotional journey for the reader as well as Billy and Milt. I'm glad that I was able to take that journey with these two men as they worked hard to find that elusive happily-ever-after.
Thank you to the author for sending me an advance copy and for giving me the okay to review it this early. I can't tell you how happy I am that I read this book, even if it had me in tears pretty much throughout.
A beautiful story.