Lure (Hitman's Bait, #1) Gianni Holmes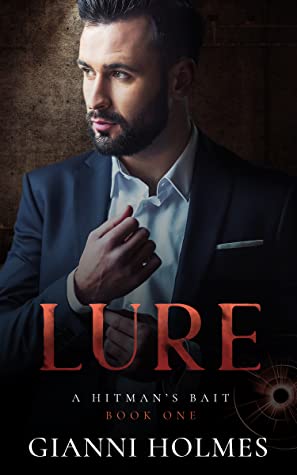 Rating: 4.5 Stars
Publisher: Coco Nutz Publishing
Genre:  Gay Romance
Tags: GFY, Hitman & Androgynous/Femme MC, Trilogy Book #1, HFN
Length: 315 Pages
Reviewer: Kazza
Purchase At: amazon
Blurb:
When it comes to book smarts, I'll never be anyone's first choice.
Luckily, when a wealthy and dangerous stranger picks me off the street to work for him, he uses me for my body, not my brains.
KIT
I'm the bait tasked with luring men into his trap.
I have no idea what he does with them.
I don't want to know.
Until the night he tells me to run, but I stay.
Now I know what he's really capable of…the blood on his hands…
But the danger, being part of something so exciting, only makes me want him more.
SULLY
My life was simple before he swishes his way into it with his catsuits and kitty ear headbands.
I'm only interested in the men he gets me close enough to kill.
Until he pounces in my lap, meows at me, and changes everything.
I'm straight, but I want him.
I send him to lure men, but they must not touch him.
I take pleasure in seeing them want him, but know they'll never have him.
This cat-and-mouse game between us can only end one way. Should I let him go before his innocence gets stained by the darkness of my world?
Lure is the first book in The Hitman's Bait series with a grumpy hitman and the boy he hires to lure men into a trap. All books in this series will be of the same couple, and each book will end with an HFN. Each book will follow a different lead. There is no cheating and no breakups between the main characters. The couple enjoys exhibitionism and playing flirtatious games with other men, observing strict rules of a no-touch policy, but watching is absolutely free.
Review:
This was a new to me author but the blurb was intriguing, it pinged at me like the Angel and the Assassin series by Fyn Alexander, but that series is considerably darker and with a BDSM kink. Lure's cover also added interest. It worked at pulling me in.
Suspend all belief, ye who enter these pages. This is all about some sexy and kinky fun, a big old GFY as well – not my personal favourite – and if you like people being faithful, with no hanky-panky even allowed as Kit acts as sexy "bait" for a hitman to do his job in an easier manner, then this book is pretty much written with you in mind.
What I Particularly Liked:
First of all I'd have to say that this book is fun. There's a lot of horror going on in the world at large right now, this is a nice way to enjoy some escapist entertainment for a while.
I like that Kit is a femme character. I get sick of alpha men or men who are always so goddamn neutral. Fabulousness is good to see.
There's an age gap. I always enjoy that. Sully is thirty-eight to Kit's twenty.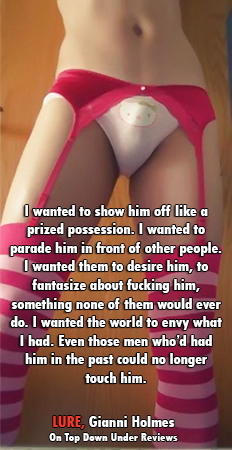 Sully is a generous, wealthy man. Kit needed something nice to go his way after a few bad turns in life, and Sully's a gentleman. I love a man who knows how to open a car door for his date/partner, something my husband still does for me.
I liked the kitten play, who knew?  It was cute and sweet.
A power imbalance exists. I like that in darker books but this book isn't especially dark. It plays around the fringes. I mean, one of the MCs is a hitman. It's more about kink and some sexy times, though, and that works for the most part. In bed there is an equality in what they like. What they learn they both enjoy. Sully likes to show off what is his. Kit in dresses. In makeup. With tight and provocative clothes, or in his kitten-play wear. In things that make others take notice of Kit. He likes people to watch them fuck sometimes, they can't join in, Kit is his. Yep, this book has a possessive MC in Sully. I do not like real life possessiveness, it's a means to all kinds of coercive and controlling behaviours. I do, however, enjoy it in fictional romance – very much – and it works here.
A dual POV is good. You are more than aware of what both characters are thinking and feeling. It also helps progress the storyline rather than loop back on itself.
Secondary characters are interesting. Liam, Sully's (bi) professional partner who thinks Kit is a knockout, although he contradicts himself sometimes, is a story yet to be fully told. I wonder where he'll end up. Or with whom. I'm interested in Tack as well, a fellow kitten-play friend of Kit's.
I liked that Kit has chutzpah and stands up for himself. Yes, sure, he has moments of some insecure introspection as the book progresses and as he felt emotionally invested in Sully, but he's loud and proud for the most part. Good for you, Kit. There is no shame in sex work.
This book is beautifully presented with kitten ears at the top of Kit's chapters and a logo of some description above Sully, my (older) eyes couldn't register what it was. The editing is of a high standard as well. It's a nicely presented package overall and it's something I truly appreciate.
The author stated in the afterword that the trilogy may get a bit darker as it progresses to books #2 and #3. Here's hoping that's true. The potential is there.
But, and there is a but for me, it didn't really make logical sense that Kit is bait for Sully to do his job. He doesn't especially need a sweet, twenty-year-old guy being "bait," and let me tell you, Kit is every bit the young twenty-year-old. But look, no Kit, no sexy story. I enjoyed the characters so I leapt over the "logical."
I got that Sully was STRAIGHT. I could pull plenty of quotes where Sully reiterates to himself, to Kit, that he doesn't do guys. He's s t r a i g h t.  Not a fan of that but, once again, the overall appealed enough for me to go lalalalalalalala at those bits. I was glad when we moved past that into connection.
Overall:
I was pleasantly surprised by Lure. It's eminently readable funshine, with a nice amount of kink, the sex was hot as well, and I enjoyed that there was some moral ambiguity in amongst the 'niceness' of these men in the assassin business. It's lovingly presented, well edited, there's enough going on with the work, that Sully is a hitman, Kit an ex prostitute – bait now – to give the book an edge over purely contemporary romance for me. The kitten play was an added bonus. There is a nice multidimensionality to Lure with the potential and promise of more. I'm looking forward to book #2, Hook. 4.5 Stars!