Ghosted, Jess Whitecroft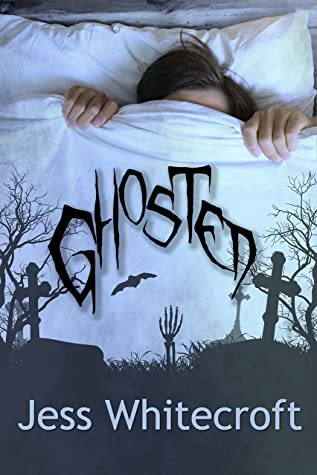 Rating: 5 Stars
Publisher: Self Published
Genre: Gay Romance/Horror 
Tags: Gay Romance, Interracial MCs, Horror, Pathos, Humour, Opposites Attract, 
Length: 360 Pages
Reviewer: Kazza
Purchase At: amazon
Blurb:
"Long story, but ghosts are real. There's an afterlife, death is not the end, and it's all very complicated."
For freelance exorcist Jason Kent there's one thing that makes his job harder than anything else: mediums, especially the fake kind. So naturally he isn't thrilled when he rolls into a job in New Orleans and finds psychic medium Desanges 'Ange' Passebon pretending to talk to ghosts in an extremely haunted mansion.
Ange is glittery, attention-hungry, and so annoyingly hot that things rapidly spill over into a steamy hookup. Only trouble is that Jason doesn't do relationships. Or cuddling. Or sharing beds. The only thing he really knows is ghosts and how to get rid of them, or so he thinks. What he doesn't know is that one of the ghosts from New Orleans has followed Ange home and now he's sharing body space with a frightened ghost who seems determined to starve him out of his own body. Ghosted in more ways than one, Ange needs an exorcist, and he knows just where to find one.
As the two bumbling ghostbusters reunite and attempt to get to the bottom of Ange's possession they find themselves digging deeper into the demons of their own pasts, stripping away layers that kept them both single for far too long. But time is ticking, and Ange is getting weaker. Is this job really too much for the unconventional exorcist who once attempted to purge a house using nothing but crystals, baby powder, and a twenty piece serving of chicken McNuggets?
Unsavory poltergeists, haunted refrigerators, inappropriate dairy production, and angry neighbors objecting to backyard sorcery – just some of the obstacles facing Ange and Jason as they navigate their way through a hot mess of paranormal activity. It's not going to be easy, but then love never is.
Review:
Ghosted is Jess Whitecroft at her best – comedic, sexy, socially aware, delivering relatable characters who are seeming opposites yet not. The storytelling is intelligent, multi-layered and poignant. Right from the beginning the book had me, I found it nearly impossible to put down. There is knowledge around the subject matter of ghost hunting, exorcism, and psychic mediums that appears innate within the author but must come from some solid research. Nothing is ever too much or too little here. It's also not judgemental, something I really appreciated.
Jason Kent is a contract exorcist who has been called to a job in New Orleans, to a Garden District mansion of a foodie influencer whose food is literally rotting on the spot, rotting before it's made – not so delectable or profitable for Instagram pics. There are things that definitely go bump in the night here, strange occurrences going on in the otherwise beautiful home. Bailey needs the ghosts out for the food to be snapped, so the supernatural brigade gets called in.
The job has a couple of different freelancers from various locations, including psychic medium Ange Passebon from California. The multiracial Ange is flamboyant and flirty. Jason Kent, who literally hails from a bunker in Idaho, has Ange pegged as a fake from the outset. However, Ange doesn't let anything get in the way of some sexual teasing with the all-American blond next door with a quarterback physique, one who just happens to carry medieval flails and other instruments of destruction to exorcise ghosts. Jason's exorcism expertise is honed from a tragic and dark past – Whitecroft really delivers, it had me gutted. Going on jobs with his father, reading everything he could get his hands on, Jason takes ghosts very seriously. He's turned up to do whatever he has to to get rid of the spectral presence. While Ange's profession has leant more toward a hustle, there's far more than meets the eye to Ange. Even Ange is a little surprised.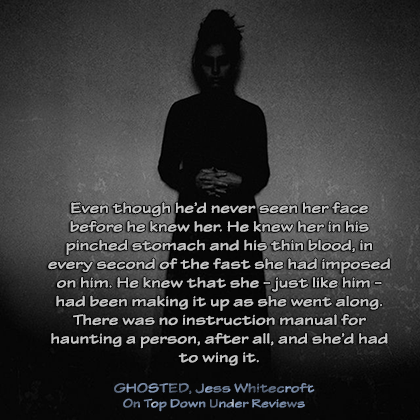 Jason and Ange may get down and dirty amongst the ghosts and the sheets in New Orleans at first, but it's when they've parted company that things truly heat up. Ange is 'not Jason's type' but he lingers and haunts Jason's mind. Ange loves the dirty but innocent and shutdown Jason. Then Ange needs assistance after a 'residual' incident, and who you gonna call? Well, uhm, Jason Kent.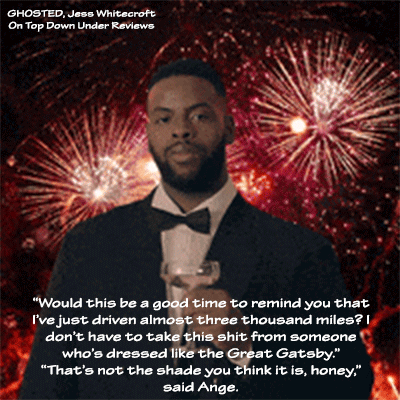 The house on Chestnut street turns out to be so much more than both men had bargained for and has a sad and heavy past, borne of some of the lowest points of human behaviour. Whitecroft doesn't overplay her hand or downplay it either. She delivers a dollop of social commentary along with pop culture, including references to famous hauntings and houses and people… and movies. Ghosted is certainly trademark Whitecroft humorous, but it's also edgy. Part romcom, part horror story, also sexy, the writing of Ghosted is of the highest calibre and can be quite raunchy but also quite beautiful. It all works perfectly together to deliver a reading experience full of heart and healing. 5 Stars!