Tom's Type (Love at the Haven, #8), Stella Shaw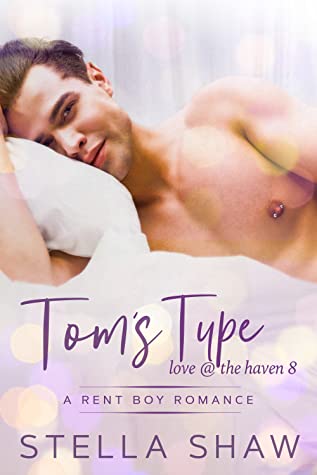 Rating: 5 Stars
Publisher: Self Published
Genre:  Gay Romance
Tags: Rent Boy, Age Gap, Sweet
Length: 208 Pages 
Reviewer: Kazza
Purchase At: amazon
Blurb:
It was never just about the bedroom.
Life as an escort is Tom's kind of fun. His ambitions are simple: to enjoy himself, speak his mind, and finance his eccentric fashion habit. He's never found romance, security, or trust from anyone except his found family at the Haven Hotel, where the type of men he meets are passing strangers who hopefully tip well. Then on one hot, summer afternoon at the hotel, he has a steamy, delicious encounter with Mr Flash (aka Craig) and a whole new ambition opens up.
Craig is a high-status banker, twice Tom's age, and infamous for his honest but blunt ways. The type of men he dates are socially acceptable, discreetly dressed, and well-behaved… and Tom is none of that. But Craig knows what he wants, and that's more of the gorgeous, infuriating young man who gave him one of the most exciting hours of his life.
The chemistry between them is hot and irresistible, and far more than a business transaction. But dating throws their lives into turmoil: a partnership between a fiercely independent street boy and a privately-educated businessman seems doomed from the start. When they attend a prestigious dinner together, Tom meets public disapproval and way too much formality, while Craig finds his whole career at risk from industrial espionage. They share core values, but is that enough?
Two types of men, different everywhere except where it counts; in their hearts. Together they make their own rules. 
Review:
"Dear God of Tentacle Dildos…"
I picked the Love at the Haven series up at the end of last year and proceeded to read all of the available books in a row – and any others that came out soon after their release. I've devoured this little series. Most of the reviews are on this blog. Tom had a bite of a story with Craig that was a sexy little romp, a foreshadowing of what was to come. This book took Tom and added extra heat, chemistry, and a love story. I'm so bogged down with work right now that I needed this story like a Band-Aid for the soul. There are times I need a gentle, feel good escape and Stella Shaw, aka Clare London, gave it to me with Tom and Craig.
Tom is young, twenty-three, and has been tricking for a while, first on the streets and then out of room #3 at the Haven. All the escorts have their signature rooms, nothing flash but neat and comfortable and theirs. He's best friends with Micah and it was nice to see Micah still so happy with Fox, while also giving some good advice to Tom. A lot of the guys had a quick on-page moment but you don't need to have read them all to enjoy Tom's Type.
I described Tom as adorable in his little novella, Tom, and I stand by that. He's caring, a kind of escort patron saint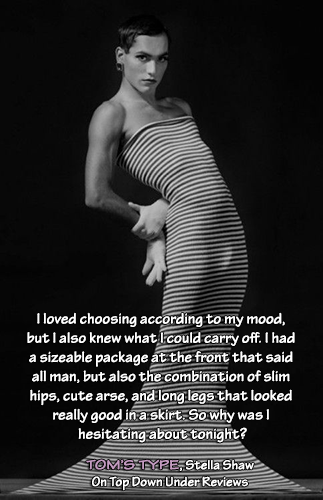 for those who are down on their luck. He knows what that's like. He never grumbles, he works hard, and he's simply fabulous! He buys from op shops and works his own fashion style, and he knows everyone at the shops as well as some of the people at the local shelters. He also helps out the homeless with some food or a warm drink or a little donation, especially Spike and his dog, Teebie.
Craig is a boutique banker for high-end business ventures or clients. He's nearly double Tom's age, well-off, hard-edged, and has a chequered history with the Haven through Rick, the Haven's owner, and a loan that Rick had with his bank. Eliot, who used to work closely with Craig before leaving the bank, is now engaged to Rick. The loan, the bank, it's how they met. Craig didn't endear himself to the guys at the Haven in the beginning but he's come around, especially after the tryst with Tom in a blow-up hot tub. Craig tried to hook up with Tom again after he had some fun with him and left him with a beautiful tie and pin, but Tom rejects him. Craig finally manages to organise a date with Tom, something Tom has never been on, and while they had a nice time, Tom doesn't feel they mingle in anything remotely like the same circles. A bartender at one of the places he likes to go and dance throws out an off the cuff comment that makes Tom feel unsure about anything meaningful. How could they be each other's type? Thus the lovely title for Tom's Type.
There is no angst in this story, no drama, but there is a little something to engage all the feelings. There's also some white collar shenanigans to add a dollop of extra interest. Tom tries to put Craig out of his head but can't, and the feeling from Craig is that they definitely could have something special. Craig persists, and for a while they steam up the sheets and anywhere they happen to play. How can a sassy, eclectic, and often  flamboyantly dressed rent boy and a corporate powerbroker be a good pair? Well, they can because Stella Shaw wrote them a lovely, cheery, sexy as hell story that makes you smile and say awww and helps you believe in their happily ever after. Dear God of Delightful Reading, Tom's Type is an absolute gem. 5 Stars!