Audiobook Review: Love is a Stranger (More Heat Than the Sun, #1)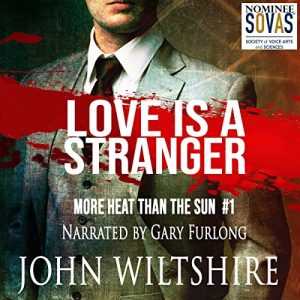 Genre/Tags: Gay Romance, Mystery, Thriller, Dark Themes 
Author: John Wiltshire
Story Rating: 3.5 Stars
Narrator: Gary Furlong
Narrator Rating: 3.5 Stars
Length: 8 hours & 56 minutes 
Audiobook Buy Links: Audible Australia
Nominated for SOVAS (Society of Voice Arts and Sciences) Award 2021 – Thriller Category
Ex-SAS soldier Ben Rider falls in love with his enigmatic married boss Sir Nikolas Mikkelsen, but Nikolas is living a lie. A lie so profound that when the shadows are lifted, Ben realises he's in love with a very dangerous stranger. Ben has to choose between Nikolas and safety, but sometimes danger comes in a very seductive package.
©2021 Decent Fellows Press (P)2021 Decent Fellows Press
Review:
Love is a danger
Of a different kind
To take you away
And leave you far behind
And love love love
Is a dangerous drug
You have to receive it
And you still can't
Get enough of the stuff
(Eurythmics)
Thank you to a dear friend and fellow reader – John – who reminded me of the above Eurythmics song – Love is a Stranger-  and that if fits within the series theme, specifically the title of this book.
This book is frenetic but also pretty engrossing. The writing at time gets a tad too waxing lyrical about looks or behaviour for my liking but I'm hoping that the author eased into the writing of the series and got into a groove as it progressed – I believe this book came out in 2014.
I'm a character obsessive and I never had any attachment to either of the MCs. Having said that, there isn't any build-up to the characters before you start, which I suspect is to keep things enigmatic around Sir Nikolas, but it would have been better to have given something as an anchor to the reader. I live in hope that affection actually grips me at some stage, at least for one of these MCs. You are literally parachuted out of a safe plane into the story and the lives of Ben Rider and Sir Nikolas Mikkelsen. There is nothing about them in the beginning, outside of Ben and a burning building and a corpse. Nikolas is Ben's boss, power imbalance – tick #1. Ben attends family events with Nikolas, they've been lovers for, I think, 4 years. Sir Nikolas has a wife, Phillipa, who is a cousin of the royal family and the lover of the soon to be king, maybe he is the king already, don't remember, things didn't land on me very well in the audiobook format. Anyway, all seems to be pretty copacetic as far as we are made aware about Nikolas and Ben being fuck buddies. Phillipa is doing the same, and then plans ramp up for Phillipa and the king to marry. So, hello divorce. Hello, kissing cousins. Nothing like royalty keeping it in the family.
A lot goes on in the pages of the well named Love is a Stranger: Terrorists, brother complications, changing jobs, weird house hunting, bits being chopped off bodies, young kids needing to be kidnapped, some angst, half truths built on the back of full scale lies, a complicated love life for the MCs, a rescue dog, and… badger activism. Oh, and moors love. Especially Dartmoor moors. I know I'm missing things that happened. But, whatever. The above is enough to know.
All in all, I didn't mind this book but good, tighter editing would have made the character and plot development more directional. Less calling Ben "child" in various condescending ways and the distracting general out-of-the blue moodiness would be a start. However, I know I'm going back for more. I'd prefer to read this series than to listen to it at this stage because I didn't especially love Furlong's narration. When Ben was doing something concrete I liked the narration, I liked his accent. But Ben is ex SAS, current ex British secret service (for a while) and I expected him to have a bit more calm about himself but he could sound shouty or easily confused. This could have been the writing. It could have been the brief. All I know is it could have been better. Then we get to Sir Nikolas Mikkelsen. Eesh. It was like listening to Sean Connery's bloody car crash of an (non) accent for Captain Marko Ramius in The Hunt for Red October. Ramius was a part Lithuanian and part Russian submarine Captain in the soviet Navy in the book but Connery's Ramius sounded like a strangled Scotsman. Anyway, I had Connery-triggers listening and those carried with me all throughout the audiobook, the supposed Russian Danish-British hybrid was all wrong.
I've bought the next series book. I'll see how it all goes moving forward. I want to get right into this series if at all possible, but I'll see. The More Heat Than the Sun series promises much of what I love – twisted storylines, unreliable MCs, mystery elements, thriller elements, edgier elements, moral ambiguity, nothing especially cookie-cutter, all things that I often look for but can't find in the market in this genre at the moment.