The Reluctant Companion ( 13 Kingdoms, #1), H L day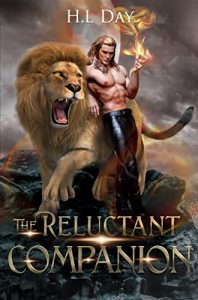 Rating: 4 Stars
Publisher: Self Published
Genre:  Gay Fantasy Romance
Length: 309 Kindle Pages 
Reviewer: Kazza
Purchase At: amazon
Blurb:
Sebastian might have the power to summon animals, but winning Jack over? Far more difficult.
As first encounters go, Jack and Sebastian's isn't ideal, leaving Jack nursing a grudge he's not about to let go of in a hurry. Yet, if Jack is to find his missing sister, and Sebastian is to rescue his captured prince, they'll need to set their differences aside and work as a team.
Jack is stubborn and somewhat volatile. Sebastian is vain and clearly in love with himself. But as the unlikely companions face all manner of dangers together, they grow closer. Rescuing the prince should be easy. Rescuing him from an impenetrable tower guarded by dragon-shifting knights? Okay, that part is harder.
But once the adventure is over, letting Sebastian go might be the hardest thing Jack has ever had to do.
The Reluctant Companion is an 85k MM enemies to lover's story featuring murderous orcs, deadly creatures, and marauding bandits. Opposites attract in this light-hearted fantasy romance which mixes humor with action and adventure. Meet a whole cast of colorful characters in the first book of the 13 kingdoms series. 
Review:
This book is fluff, fairy floss, the floofiest thing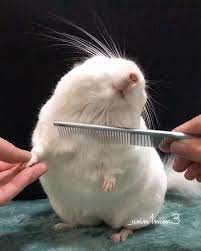 going around. It's happy. I sometimes watch that chinchilla that gets combed with utter bliss on its face – you've probably watched it too, if you haven't definitely get on it when the world overwhelms you. I'll occasionally watch it over and over and over when I need a subcortical hit of something visually cute and cheery, that describes The Reluctant Companion.
So, the MCs are nice. The storytelling is nice, the world building is nice. There is no angst throughout. There could have been. Jack is looking for his sister, Annabelle, who has taken off from home suddenly. He's in a tavern, resting, having a drink and counting his coins very carefully, because who knows how long he'll need to keep on searching, when a monkey suddenly appears, nicks his bag of coins, and takes off. Nobody else seems to notice said monkey but Jack.
Enter Sebastian. That is Sebastian on the cover, with his golden long tresses, muscles, and without a shirt, he loves to have his shirt come off. Anyway, the monkey, uh… Sebastian… won't give Jack his coins back. He tells him he can come with him instead and make a profit when he uses the coins, now his, as stake for a bigger purse. I couldn't help but think about this episode of The Simpsons while I read . I love it, it wasn't Jack's fault….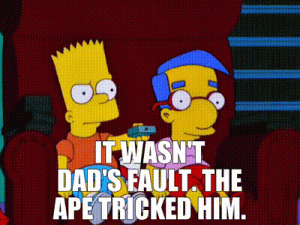 While this is an enemies to lovers story, it's not a dark, brooding type of tale. This is a romance-sweet and fantasy-light journey. At first I felt that Sebastian was the 'enemy', he has some interesting morals around something that isn't his initially, but he grew on me. I really liked Sebastian. He's actually a nice guy, charming, fun, adventurous, with a seeming lover in every port. Then Jack was hostile toward Sebastian, not in a nasty way, just a general contrary way, so enemies to lovers it is. If Sebastian says it's white, Jack will say it's black. Sebastian isn't used to someone who says he'd rather fuck a goat than him, which is a funny running gag throughout. So, yeah, this pair snipe. Well, Jack snipes and Sebastian baits.
In spite of – because of – their sniping/baiting they go on an adventure together, Sebastian keeping Jack on his toes and Jack not giving Sebastian any quarter. In the meanwhile, Annabelle has sailed away and is put into the background and you just know she'll be revisited in the next book or so as they travel further afield. There is a nice sense of an alt-reality going on, complete with beings that would only inhabit a fantasy world and some discussions about places in the 13 kingdoms that are nowhere on Earth. A definite sense of place is well conjured up by Day. It also has a gay romance fairy tale quality to it, something I've always gravitated toward. There's also plenty of action going on in The Reluctant Companion. Sebastian has a game and money to win, an orc on his tail, plenty of guys who love him or just plain like him a lot, including the leader of some interestingly named bandits, seven dwarves, eat your hearts out, and a prince to save, maybe marry. Nah, just like Leofric, Sebastian's ex lover-cum-friend, you know that's never going to happen.
The lion Sebastian is leaning on in the glorious cover is a metaphor for the fact that Sebastian has magic and his magic enables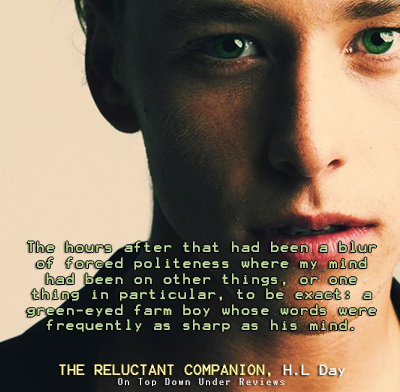 him to summon animals, a pretty handy trick. He isn't a shifter and this is not a shifter story. Just so readers are aware of that. The cover and the title could lead you to think lion shifter, that ran though my mind at first. The title is about Jack's reticence at going along with Sebastian.
The sex is a bit lighter-on because their connection and romance is building, as are other arcs. While it's most certainly a developing love story, book #1 is more about the fantasy and world and connections. There are a couple of things that are still to come to fruition, typical series stuff. It took me to about the 80% mark to feel Jack and Sebastian as a pair, for example, but by the end I felt really comfortable with their burgeoning relationship. I ended the story looking forward to more. I also look forward to getting to know more of this world. I particularly look forward to Sebastian's backstory. This is the start of a new series so things always, always need good pacing so that you don't know too much too soon and lose interest.
If you want a well written book, and H L Day never lets me down, one with fantasy and some magic, some character snark along with building chemistry. If you are after a story that has an enemies to lovers theme, is fun reading, complete with humour, and is something different in the market, then The Reluctant Companion is a distinctly sunshine-y tale in this quite uneasy world right now. Bring on book #2. Oh, and before I forget, I also loved the map of the 13 kingdoms at the beginning of the book. A lovely touch. 4 Stars!