Prince in Disguise (Perilous Courts, #2), Tavia Lark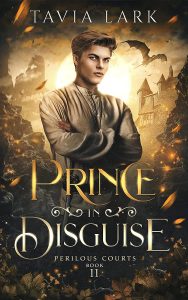 Rating: 5 Stars
Publisher: Self Published
Genre:  Gay Romance
Tags: Fantasy, Action, Dragons, Humour, Series
Length: 295 Pages
Reviewer: Kazza
Purchase At: amazon
Blurb:
Rakos isn't really a farmer. Bellamy definitely isn't a minstrel.
Sheltered, sickly Prince Bellamy dreams of adventure—but not like this. Captured in enemy territory, his royal identity will get him killed. When his dangerously attractive fellow prisoner asks who he is, Bellamy claims to be a minstrel.
Except he can't carry a tune to save his life. He panicked, okay?
Rakos was a dragonrider until betrayal landed him in chains. Now, he knows two things for certain: he can't trust anyone, and he wants his dragon back. When the fragile minstrel asks who he is, Rakos claims he's a farmer. When Bellamy begs for help reaching the border, Rakos refuses.
Until he can't resist how much Bellamy needs him.
Stormy nights and deadly masquerades forge Rakos and Bellamy's unlikely partnership into something more. Something exhilarating. Rakos treats Bellamy like a person, not a weak, untouchable prince, even as he protects him.
But Rakos's enemies are circling in, and that very protection might be Bellamy's undoing.
Prince in Disguise is a high fantasy gay romance, with double secret identities, Only One Bed, and a teleporting ferret. The Perilous Courts series is best read in order, but each book follows a different prince and his Happily Ever After.
Review:
This is shaping up to be one of the best fantasy series going. I started with book #1 and that blew me away. I had some trepidation around Prince in Disguise because the premise didn't grab me like Prince and the Assassin. However, book #1 was so good I had to see where this would take me and I'm so glad I jumped in. These books are neck-and-neck in terms of enjoyment factor. All the characters thus far are a character obsessive's dream. I'm addicted – sad to put them down at night, looking forward to picking them up as soon as possible during breaks in my day.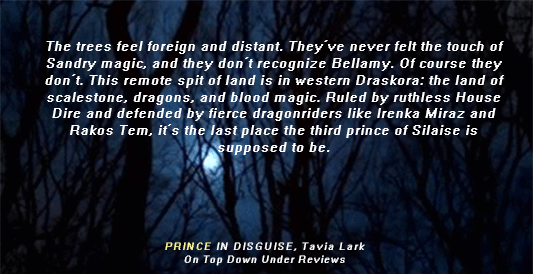 Prince Bellamy Sandry is the youngest of his brothers, Prince Julien is the second born, the first brother up in book #1, and Audric is the eldest, he'll star in book #3, and the heir apparent – although the line of succession is not a fait accompli in this kingdom that their mother and her female consort rule. Bellamy is on a ship heading home to Silaise when they need to shelter from a storm. He knows there is magic in the storm but doesn't think too much on it because even everyday Draskorans use magic, whereas in Silaise, magic is the realm of the upper echelon. Bellamy is sweet and not overly well and his entire family cosset him. His oathguard leader, Gregoire, does the same. So when his blinkmink heads off, and he chases the aptly named Bastard, he's captured on Draskoran soil and held in a waystation. There are political ramifications and games that can be played if people know he is Silaisan royalty. So the plan to get away is unknown but it's definitely not to let a soul know he is Prince Bellamy. However, he's not alone in the waystation cell, and when his cellmate decides to take on the guard, Bell helps as best he can.
Rakos Tem is a Draskoran who happens to be Bellamy's cellmate. He is known as the Shadow of Draskora but Bellamy doesn't know this as he's never been to war before, leading a quieter life than his brothers. They don't get a chance to talk much in the waystation as Rakos' escape opportunity happens not long after Bellamy arrives. Once they get out, Rakos feels a degree of debt to the stranger who jumped on Kaspar's back as Rakos dispatched him. But who is behind the capture, other than a bloodmage, and why was he being held captive? Rakos doesn't trust the politics in Draskora. He believes that getting back to Sarka, his bonded dragon, will help him gain some equilibrium and help sort out this mess, including the rumours swirling that he deserted his position as a wing-captain in the Draskoran dragon corps. Maybe he'll work out who stands to gain from this. He's suspicious of many people, including his cellmate. When Bell asks him who he is Rakos says he's a farmer who's being held for tax evasion. Bell says he's a minstrel in a wrong place wrong time scenario. Neither is going to dig too deeply about backstories because neither wants the truth of who they are to come out.
Basically, these two go on a road-trip via carriage, horse, and foot with plenty going on. There are blood-magic duels, or blood masques, rip-off inns, action, interesting characters, and magic. And there's also a lot of getting to know one another as they travel together. Both are intent on keeping their secret and both also enjoy the freedom they are afforded by being unknown to the other. For a while, Rakos is not a feared dragonrider. Bellamy is not a guarded prince.
Bits and Pieces: 
This is quite a sweet romance that builds nicely, but it is also most definitely a fantasy and there are some graphic moments and action. It keeps you on your toes.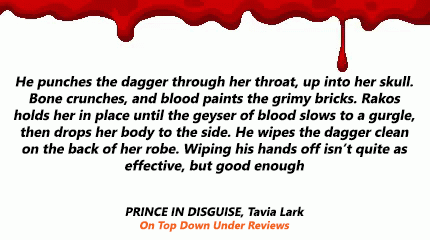 The world building is stellar. This time most of the book is spent in Draskora as opposed to Silaise. There are dragons that fly overhead from mid book here and there, and there's talk about them because Rakos, whilst masquerading as a farmer, is trying to get back to his beloved dragon, Sarka. Bellamy believes, as Rakos wants him to, that Sarka is Rakos' sister.
I had a good laugh, as they became familiar with one another, that every time Rakos wanted Bell to play an instrument and sing a song, something would (mysteriously) happen that gave Bellamy a narrow escape.
I loved that Julien and Whisper show up so that the reader knows the family is worried about Bellamy. That Julien knows the right purple-eyed person to send into Draskora.
The magic bond between Bell and Rakos was lovely, interesting. Rakos has Tem magic and Bellamy, Sandry magic. It helps that Bell can see magic as well when it's used, not something most can do.
The sight-sharing is gentler without the panicked rush of battle. Bell clasps his hand carefully, and just as carefully feeds a tendril of his magic into Rakos. There's a moment where all they share is power. A tenuous tether. Rakos takes far too much pleasure in connecting with Bell like this. Then the world brightens, and Rakos can't hold back a gasp.
I like that the characters get a dual POV. It makes the internal thoughts and actions clear for the reader. Both of them are easy to be inside the head of. They have very definite voices. Their individual POV progress the overall arc and romance.
There's a bit of sex between two guys who are on the downlow and on the move. It's organic to the story and Rakos and Bellamy work so, so well together.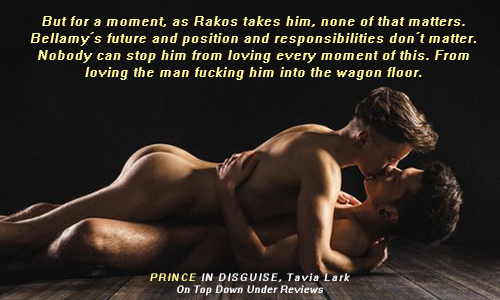 Bellamy grew so much throughout, from the protected younger brother of Audric and Julien to a young man with belief and confidence in himself and his birth right. Loved that. Rakos was certain that this young 'minstrel' was going to be easy to get rid of as soon as possible but found out that these Silasian men are not easy to leave. Because Bell the minstrel helped him in the escape he feels like he owes it to him to get him to the nearest town, then he'll leave him. Ha! That was never going to happen because romance and HEA.
Overview:
I picked up Tavia Lark for the first time this year – one of the best things I did. I'm loving this series so far. It is well written and edited. It has fantastic characters, excellent world building, interesting arcs, multidimensional storytelling, and the pacing is spot on. Prince in Disguise is another 5 Star read from me. I'm very much looking forward to book #3, Prince and Pawn because I really like the sound of that blurb. The downside is I have to wait until January 2023 for it. *Sad, SAD face.