Prince and Pawn (Perilous Courts, #3), Tavia Lark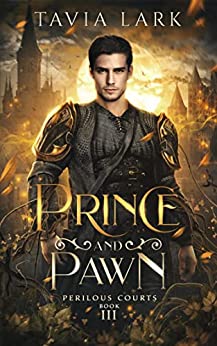 Rating: 5 Stars
Publisher: Self Published
Genre: Gay Romance
Tags: Fantasy/High Fantasy, Sado-Masochism, Hurt/Comfort
Length: 291 Pages
Reviewer: Kazza
Purchase At: amazon
Blurb:
One night of bliss could unravel a kingdom.
Be obedient. Be grateful. As the neglected illegitimate son of a powerful family, Corin is expected to follow his magic-gifted brother to the palace as a servant. He's unwilling but resigned—and allows himself one night of distraction in a stranger's arms.
Corin never knew pleasure and pain could be so exhilarating. So comforting. Corin only regrets he'll never again see the anonymous man who ruined him for anyone else.
Until the next morning, when Corin meets his brother's new arranged fiancé.
Prince Audric doesn't want a loveless political betrothal, but he'll do anything for his kingdom. His last night of freedom is a rare indulgence—and a terrible mistake. Corin is sweet, beautiful, and sees Audric like nobody else does.
He's also Audric's fiancé's younger brother. Audric's arranged betrothal might be a relationship in name only, but he can't touch Corin again.
Constant proximity hurts when they can't be together. But avoidance is impossible when Corin might be the key to unraveling the conspiracy behind Audric's betrothal—
And when Corin keeps fainting into Audric's arms.
Prince and Pawn is a high fantasy gay romance with hurt/comfort, forbidden pining, inappropriate use of vines, and more magic tigers. The Perilous Courts series is best read in order, but each book follows a different prince and his Happily Ever After.
Review:
I love this series. As soon as one of them is out, I pounce. Prince and Assassin, Prince in Disguise, now Prince and Pawn are each about one of the House of Sandry's three Princes finding their partner with pathos, some humour, danger and adventure along the way.
Nineteen-year-old Corin is Marcelline, the illegitimate son of Duke Florian – the House of Marcel – and a prostitute. When his mother died six years ago, he was taken in by Florian but never shown any love. There was the perfunctory roof over his head, (ill-fitting) clothes, food, but that was it. He's always known he was in the way. The why of it is baffling though. Now, his older brother Geoffrey is going to be claimed by Prince Audric, the oldest son of Queen Margot, the ruler of Silaise, and he'll be living with Geoffrey there.
This betrothal will fortify the coffers of Silaise, help with the financing of production and management of the newly discovered and precious scalestone, necessary if you want dragons, and marry two already politically friendly houses together. Prince Audric has always, always had a huge sense of duty and responsibility. He knows his role, it's to put Silaise first, and though he has never been promised the crown when his mother steps down, he really is the natural successor in both heart and deed. His two younger brothers know this and support him. Julian has always been the playboy prince, Bellamy the sick younger brother of the three, although both of them now have their partners and their happiness. Even in this betrothal Audric is doing the right thing for Silaise, agreeing with the choice his mothers put forward for his partner. He wouldn't have necessarily chosen Geoffrey but he sees the sense in it… until one night with a bed worker at the Feathered Nest brothel.
But tonight is Corin's last night in Marcelline. Once he's in Sandrelle, he'll be stuck with all the horrible nobles and royals, and he'll possibly never have a moment alone again. His every movement will reflect on Geoffrey. Tonight, a complete stranger looked at Corin like there was nobody else in the room. Corin wants more of that.
The story is what the story is – Prince meets poorer, sweet young man, mistakes him for a prostitute at a Marcelline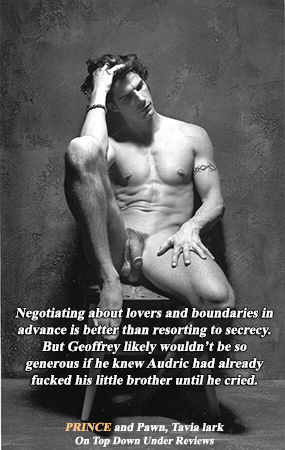 brothel, and said young man doesn't disavow him of this notion, when we know he's actually a virgin. The Prince goes by another name, isn't going to do anything with the attractive young man…. Oh, but he's hella attracted to him, so…. Corin is there because he grew up with his mother who worked at the Feathered Nest and visits before he leaves Marcelline, and Audric, because his best friend, Lucien Vaire, thinks this is a fitting night before the claiming. Of course, Corin and Audric end up having a memorable night together, then they meet again because Corin's brother is, surprise, marrying the guy he just had sex with. From there we have a slow, slow burn and forced proximity at Sandrelle. Add in magic, political machinations and power behind everything, and you have a formula for a great story.
This series is high fantasy. There are new counties, animals, and different magic. The magic that House Sandry wields is powerful but is at one with nature, and other magiks are darker – like blood magic or using grails and drawing magic from others against their will or without their knowledge. All three books have a degree of brooding, menace, some bloodthirsty elements and I love them all. This book has sado-masochism between the two MCs and sado-masochism is an absolute favourite of mine when written well.
Things I enjoyed:
I do enjoy a dual POV over a singular POV (there are exceptions) and this series gives you that. The first person present dual POV is used so effectively by Lark.
I also appreciate that the sensible, responsible, duty-bound Prince Audric has a dark side, a kink, to his sexual desires. Not unusual for powerful or responsible people to have the need to release their innermost, truest selves via kinkier or edgier sex. Corin also has a need to receive pain during sex, having been left unseen and unloved during formative years. While I'm not saying that all people who love sado-masochistic play and sex do so because they have too much or too little of something, this particular connection felt believable and worked well for me. Julien and Whisper also play on the edgy side, book #1, but they fit the grittier mould more. Audric and Corin appear more vanilla at a superficial level, and we all know looks can be deceiving.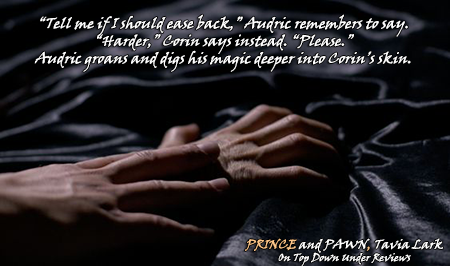 The dynamic between Audric and Corin works. I was addicted. Audric physically finds Corin attractive, natural, which suits his House and magic. The beautiful 'bird' with a sadness hiding underneath the surface is a pull. Corin finds Audric desirable as well, strong and not afraid to use that strength whatsoever, while also being kind. They're compatible because both have given up things to fit into their lives, self-sacrificing, so there was an inherent understanding at play as well. They soothe and comfort the other.
The world building is sumptuous. I feel beautifully lost in this world every time I enter it.
I love all of the characters in all of the books I've read thus far and I thoroughly enjoyed seeing them together here.
I love some good hurt/comfort in a book. Although I often forget to tag books as hurt/comfort it usually draws me like a siren song.
Oooh, I love some fictional possessiveness. Audric has it going on.
I love an age-gap, with Corin nineteen to Audric's twenty seven. Eight years between those ages is quite the gap.
The fellcubs are cheekily adorable and add a breath of fresh air.
The scheming and manipulations and magic are so well done. I can't get enough. The ratio of romance to plot to a couple of overarching elements is spot on, there are some things that I imagine will be ongoing.
The timing bothers Audric too. A cousin of House Marcel traveling to Draskora, while a son prepares to marry into House Sandry? Audric doesn't know what it means. It might mean nothing. But he needs to know that for certain.
I've added some pic/quotes to the review and leave it now by saying that this is one of the best gay romance fantasy/high fantasy series you'll ever read. There is a depth to the different countries, we move to Draskora next in the Perilous Courts. The Houses, the characters, they're all compelling. I've loved all three brothers and their partners, this series really is a character obsessive's dream, Emile, from House Pellerin, for example, intrigues the hell out of me. I'll have to wait for his book because he won't be up next but I'm not complaining as there is such depth in the ranks. I'll read about anyone Lark puts forward.
Overall:
I can't recommend this series highly enough. All books can be read as standalones because each book centres around different MCs but prior MCs make appearances. I think book #1, Prince and Assassin, is a great way to start anyway, I'm about to begin listening to the audiobook version of that book. So why not start at the beginning and stay for the rest? You'll be entertained, engaged and enchanted by the characters and the calibre of the writing.  Prince and Pawn gets 5 Stars!