Far From Neverland, Rylee Hale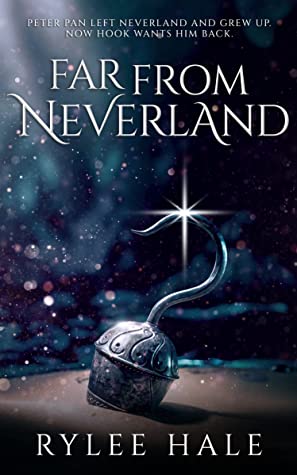 Rating: 4 Stars
Publisher: Self Published
Genre: Gay Romance
Tags: Classic Children's/YA Story Reimagining, Dark Elements, Sado-Masochistic Elements 
Length: 300 Pages
Reviewer: Kazza
Purchase At: amazon
Blurb:
Peter Pan left Neverland and grew up. Now I want him back.
It's been fourteen years since he left, since Neverland's star died out, since a blanket of frost fell over the island. Despite the Jolly Roger being anchored in a layer of ice, I'm not yet willing to give up this perfect, Peter Panless Neverland.
Well, it's not completely perfect. A threat looms here, a shadow devouring the island. I don't want Pan back, but he's the only one who can stop it. However, when I find him, there are two problems.
One, Peter Pan has no memory of who he really is.
Two, I can't seem to resist him.
Making him remember isn't going to be easy, and not just because I hate him like sin, just like all the sinful thoughts he inspires. I can't allow him to distract me. The fate of Neverland hangs in the balance.
The old Peter Pan has died, and a new one's risen from his ashes. He's a star—Neverland's sun—and I don't care if I get burned.
Captain Hook is very much the villain we all love in this standalone MM dark romance. This Peter Pan retelling is a contemporary fantasy with most of the story taking place in the modern world and contains trigger warnings, high angst, and a HEA. Specific content warnings can be found on the author's website.
Review: 
Well, well, well, wasn't this the surprise? That cover is perfect. The little by-line on it. The star blinging off the hook.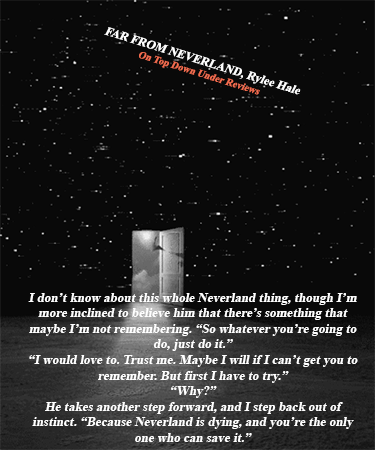 Perfection. The character of Hook starts out really dark in Far From Neverland. Deliciously so. I was so onboard for a dark gay reimagining of Peter Pan.
I read this a few weeks ago and was going to review it at the time but I was too busy. However, I couldn't let it go without a review. That means it's memorable. So I'll just bullet point it, add a few bits and pieces and also add some quotes to give readers a feel for the writing. I found the writing to be pretty darn good overall. My main complaint, and why this doesn't get 5 stars, is the author took their foot off the pedal. It was my kind of dark for a while, then it got softer. I hope Rylee Hale gets fully dark for another book in this genre. I feel there's a dark mind there waiting to be set fully free and I hope they let it rip at some stage.
Peter Pan doesn't remember Neverland. He's grown up, in his late twenties, and has been raised by the Darling family. Wendy Darling is his best friend, she's a children's book author, and the Lost Boys are also in his life. It's now a contemporary American setting though.
Captain James Hook still lives in Neverland but there is a darkness, a shadow taking over and killing the light needed for the place to survive. It's been fourteen years since Peter Pan last stepped foot, or is that wings? in Neverland. This convinces Hook to set off to find where Peter Pan has gone to bring him back because it seems he is the star that will  save Neverland for him. Hook ends up in America and has a crash course on mobile phones, Google, social media and this contemporary world, the usual, in order to find Peter. And find him he does, but can he convince him to come back to Neverland? Well, Hook is significantly darker in nature than the original story, or the movies. In fact, he is very much the adult sadist. And Pan? Hmm, while scared at first, it seems that he's quite the masochist.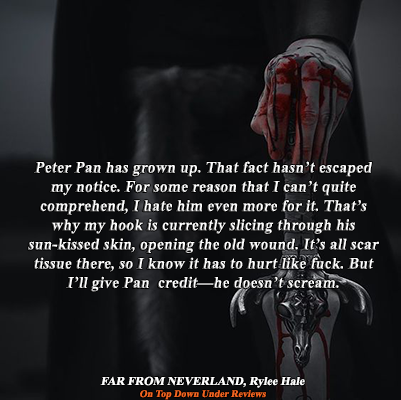 For a while there is-
Blood.
Stalking.
Some sex of a more aggressive nature.
Morally ambiguous characters. Even Pan loves a very bad man.
The above are my crack. The main event of my reading.
I'm not a fan of enemies to lovers but this is Pan and Hook so that's a obviously going to be a given. I went with the flow.
The first half to two thirds is a more brooding book but then we do hit some things that let the dark side down. Hook baking a cake for Wendy Darling because he was an arsehole to her. Yeah, I really could have done without that. The endearment Little Star was overused, but I was  well and truly along for the ride. How would it end? I needed to know.
I've got to say that Hook really did steal this show. He was menacing and dark and on a mission to save his home.
He also embraced his Pan loving side once he knew that he was hooked, pardon – or not – the pun. The build is solid. The chemistry is here.
The author mentions something about writing other books in another genre, I believe I read that at the end. Welcome to the gay romance side of writing, Rylee Hale. Now you've visited us, perhaps stay. Especially if you're going to write stories like this, maybe darker still. I'm here for it.
If you like a good reimagining of fairy tales or classic storybook tales, then Far From Neverland has a lot to offer. I like this writer's style and I look forward to more from them in the future. 4 Stars!