Oblivious, Colette Davison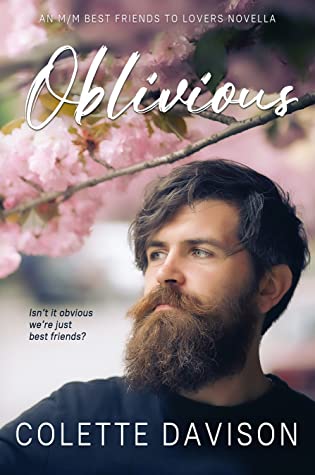 Rating:  5 'Fitz & Addy' Stars
Publisher: Colette Davison
Genre: Gay Romance
Tags: Contemporary, First Times, Friends-to-Lovers, GFY/OFY (?), Romance
Length: 174 Pages
Reviewer: Cindi
Purchase At: Amazon
Blurb –
Isn't it obvious we're just best friends?
Adrian is my best friend. We live together, hang out, and he's the best cake taste tester I could want.
Hugs are the norm, along with cuddles while watching horror films. I need someone to protect me during the scary bits, so why not Adrian? He's almost a foot taller than me, so he makes a good armchair too.
Life is exactly the way I like it until Adrian's sister drops a bombshell that leaves me questioning everything I think I know about myself and my straight best friend.
Can one kiss change everything? I'm about to find out.
Oblivious is an M/M best friends to lovers novella. It's a light and fluffy love story, with a double bi-sexual awakening, a little bit of heat and no angst. None. Zip. Nadda. There's meddling family members and two sweet best friends who are totally oblivious about how much they really care for each other. Oh, and cakes. There's lots of cakes.
Review –
Adrian (aka Addy to Fitz) and Fitz have been best friends for two decades, and have been living together in the same house for awhile. They have the perfect relationship. Fitz owns A Spot of Tea, a bakery. Adrian is a 'tree surgeon' or, as Fitz calls him, the tree whisperer. They're as different as night and day but they're the best of friends. They hug, lean into each other, and show affection in other ways. There's no weirdness or jealousy when one dates (both only date women). It's just friendship. Hell, Fitz even makes plans to cook a nice dinner for a blind date Adrian is supposed to have on Valentine's Day. They're seriously the happiest 'non couple' I think I've ever seen in a book, and they're not shy about how they act with each other. It's nice.
But what they are is oblivious. Everybody and their mother can see they're most definitely a couple, even if they don't know it yet. What starts with a little teasing from Vanessa, Adrian's sister, ends up with a quick kiss by Fitz that turns into a serious kiss by Adrian. Before they know what's happening, they're seeing each other in a different light and exploring each other, though not too much because it's still so new.
Most of the book consists of them slowly getting to know each other beyond just friends. They're not really doing anything different from their day-to-day other than seeing how they fit as a couple couple, not just best friends. I really liked that. I liked that the author allowed their fears to show, their inexperience. Fitz is demisexual and only has sex with someone he truly cares about, which have been only females to now. Addy has always considered himself straight but it doesn't take much for him to realize he's bi. This isn't an, "Oh, we love each other as more than friends so let's have sex," story. It's not even remotely close to that. Both 30, each man is learning and coming to terms with seeing their lifelong best friend as something more. The sex was slow, though I wouldn't necessarily say it was much of a slow burn. They just took their time learning their way around each other.
Of course, everybody and their mama (literally) already knows they're supposed to be together, even throwing out wedding ideas when Fitz and Adrian are still so new in their 'new' relationship that marriage is the last thing on both their minds – though it does give them some ideas.
They've been besties (Fitz's word) forever, have always loved each other dearly, they know each other's quirks. Why not get married?
Fitz and Adrian were downright adorable. There's absolutely ZERO drama in this book, no angst, no real 'Should I?' or 'Should I not?' It was all about taking the beautiful relationship they've always had up a nice level. They were so perfect together.
I even loved all the secondary characters, which is kind of odd for me. Usually if there's a busybody family member (I live in the South… I know all about busybodies) I cringe. Busybody family members usually means trying to force somebody into doing something they might not want to do. Vanessa did put the kiss idea in Fitz and Adrian's head but it was okay. She wasn't annoying about it like most siblings are in books.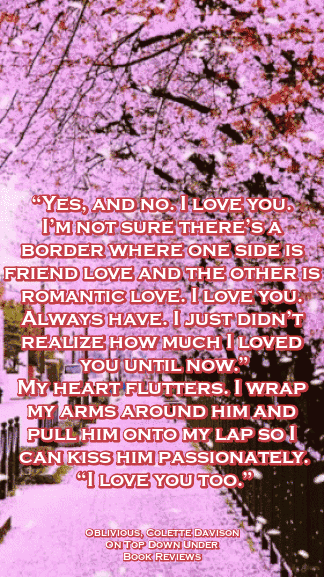 I loved the name of Fitz's business, A Spot of Tea. In my city (Mobile, Alabama) we have Spot of Tea (no A in front of it) that's one of my favorite places to go when I'm downtown. While ours is more of a restaurant than bakery, it's still a little similar to what Fitz had. I love how he came up with the name. Now I'll have to Google and find out how our local one did.
Adrian was a sweetheart. He was shy and had trouble talking to people, but he was perfect. Fitz didn't have a shy bone in his body. He was small at 5'4″, completely unlike big Adrian (who was 6'2″), and he was fun and outgoing. They were so different yet not. They made the perfect couple.
Oblivious now ranks up there as a new friends-to-lovers favorite. I discovered this author recently when I read the Alphabet of Desire series. Oblivious is as far from being similar to those books as it can get. No drama. No angst. Nothing but sweetness and tons of 'Aww!' moments. I absolutely loved it.
A very easy 5 stars.