The Same Breath (The Lamb and the Lion, #1), Gregory Ashe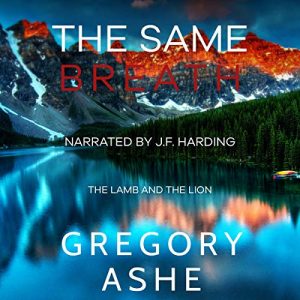 Genre/Tags: Gay Romance, Fiction, Murder/Mystery
Author: Gregory Ashe
Story Rating: 5 Stars
Narrator: J F Harding 
Narrator Rating: 5 Stars
Length: 11 hrs 52 minutes 
Audiobook Buy Links: Audible Australia,  Gregory Ashe
Teancum Leon, who goes by Tean, is a wildlife veterinarian. His life has settled into a holding pattern: he loves his job, he hates first dates, and he only occasionally has to deal with his neighbor Mrs. Wish's cat-related disasters.
All of that changes, though, when a man appears in his office, asking for help to find his brother. Jem is convinced that something bad has happened to Benny, and he thinks Tean might be able to help. Tean isn't sure, but he's willing to try. After all, Jem is charming and sweet and surprisingly vulnerable. Oh. And hot.
Then things get strange: phone calls with no one on the other end of the line; surveillance footage that shows what might be an abduction; a truck that tries to run Tean and Jem off the road. As Tean and Jem investigate, they realize that Benny might have stumbled onto a conspiracy and that someone is willing to kill to keep the truth from coming out.
But not everything is as it seems, and Tean suspects that Jem has been keeping secrets of his own.
Review:
Oh look, here I am reading/listening to Gregory Ashe again. I'm having a hiatus from Hazard and Somers at this  time. Our separation is… complicated. However, I reserve the right to go back to them, like any obsessive reader and character co-dependent. For now I feel worn down by them but I enjoy Ashe as a writer. He offers so much.
I both listened to and read The Same Breath together. Well, I mostly listened… but I do love reading while listening if I can. Sometimes just listening is my daily mindfulness. J F Harding does such a good job of bringing the MCs to life. He gives these guys distinct voices and the right amount of pithy and poignant.
There are three places in the world I feel are real standouts for landscape. Utah is one of them. There's something otherworldly about it which kind of sets the scene for the heart of the Mormon religion. It also sets the backdrop for the somewhat nihilistic Tean and opportunistic Jem to collide.
Tean is a wildlife veterinarian for the DWR in Salt Lake City. His colleague is the well intentioned but still intrusive Pari Hannah who loves to hook Tean up with dates and then ask what he did on the dates. All the details. But not the whale story, not the bears. He pretty much freaks them all out with his dim world view and how there are so many ways to feel pain, be obliterated, or die. The more stressed Tean is, the more grim or weirdly unfiltered he gets, which, if you're not trying to hook-up with him or be in a relationship with him, is funny.
Jem is a scammer, a con artist who has some creative ways to part people from their money or he gets to spend a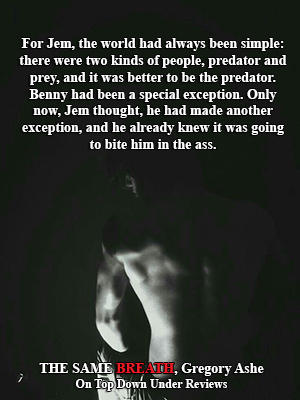 night in a warm bed with good food and a fuck. His (foster) brother Benny has schizophrenia, he's on Clozapine which says a lot. The time Benny is on page I absolutely felt for him. Jem does everything he can to protect Benny. I respected that. So, his scamming was easy for me to overlook, but I suppose it's unpalatable in its rawest form or taken out of context. There was one time I sucked in a breath though. Benny is the link between Tean and Jem eventually meeting. Benny turns up a lot to the DWR. He's Tean's extra push as an eco-obsessive. He takes notes of things happening to local wildlife. He's Jem's brother of the heart. He gives Jem someone concrete to care for. To scam or riff for. He's nothing if not an intensely passionate person, touching the lives of both Jem and Tean.
But Benny disappears around the last time he turned up at the DWR. He talked to Tean and left him with notes about birds dying. About people being unhappy with him. It doesn't seem to check out or make sense. He also tells Jem prior that people are after him but Jem sees it as Benny being Benny. He's heard a lot of worry and paranoia before, why would this be different? Why would anyone be after a broke, mentally unwell guy? Why indeed.
Benny missing helps them form an alliance over what might have happened. Benny isn't the only one to have met trouble, Sook, who was Tean's colleague at the DWR, has been murdered. Plenty of things start to become out of the ordinary in the MC's lives and this throws them together more and more – SUVs trailing them, some weird phone calls, a Chevy running into their car.
Jem and Tean are different people. Tean is older, in his later thirties, well educated, coming from a devout Mormon family, his name is testament to their religiosity. His family do not, however, approve of or support his 'affliction', aka being gay. Jem's in his late twenties, has no family of blood but as the book progresses you see that he has people in his life who have been through the foster system with him who support better than biology. Jem lies about things from the beginning. He tells Tean he's from California, visiting Utah because of Benny, when he grew up in Utah. Jem sees people as sheep you can fleece. Predators or prey. It's been a hard life lesson. For a decade or more he's put on his gameshow smile and he mirrors people to make them feel comfortable around him so he can make a living off them.
Tean has a complex relationship with a local detective, Ammon Young. Ammon is also Mormon. They went to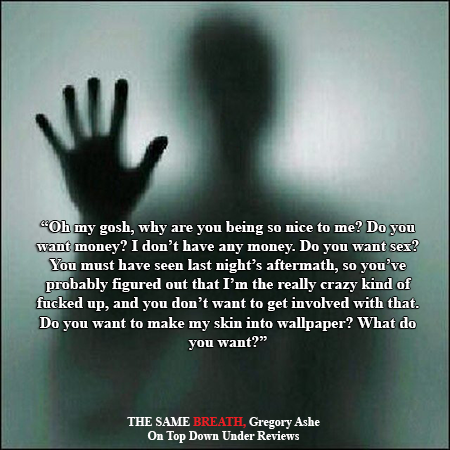 school together. On mission together, literally. Ammon was Tean's first love, he still loves him, even though Ammon is married with children. Even though Ammon is a possessive, closeted, disrespectful, angry guy who has sex with Tean, promises constantly to leave Lucy, his wife, but never does. They've known each other for twenty years.
As Jem and Tean work together to solve Benny's disappearance, maybe even Sook's murder, they grow closer and they have some amazing dialogue. It's random. It's funny. It can be touching and/or sad.
I felt a lot of pity for Ammon. I'm of an age where I've seen quite a few gay men marry because they were forced to by society, family, religion. They believed they weren't ever going to be allowed to be who the were or love who they loved. Sadly, even in the 21st Century, it still happens. We're born for connection and for most of us love is the greatest connection. Our family's love and acceptance can never be underestimated. Having said that, there's a huge caveat attached, I can pity Ammon but I don't like Ammon. He's entitled and self-centred, he's also demonstrably angry. He loves Tean but he can't be honest about it with him, and he's made a lot of promises. Tean enables Ammon's behaviour because of his deep-seated implicit knowings that he isn't worth any more than what he gets. There's also the Mormon connection. Tean says that Utah is the (Mormon) motherland for expats, eventually everyone comes home. Ammon feels like Tean's motherland, but perhaps he's wrong on both counts.
Tean could be frustrating, like I said, a huge enabler, and he has moments of self-centredness as well. If he stopped for just a minute he might have asked why Jem kindly accepted Scipio, his dog, but is scared to pieces every time Scipio came near him. He might not have cruelly written down what he did either. Jem's my guy, so I wasn't Tean's greatest fan when he did that. Nope. But what would a Gregory Ashe book be without the complicated feelings and emotions and personal dichotomies of the MCs? This book isn't as intensely psycho-drama as Hazard and Somers, and it's not as taxing as my dear Shaw and North in the Borealis series. Mind you, this is book #1. Ashe can lull you into a false sense of security – "it's not too bad, Kaz." Famous last words. But like those other books, there are similarities between characters and character dynamics. Exhibit B below, I used Exhibit A previously.
"Teanimal Mahatma Leon."
"Mahonri," Tean whispered.
These guys traipse around Salt Lake City and beyond, going into the rural parts as required, like to the Dellengbauh copper mine, as they piece together some details of what's happened to the people they know. And while they're doing this, they increasingly learn bits and pieces about one another. Jem's lies aren't always spot-on but he can deflect most of the time. Tean is in his own head about Ammon and his developing feelings for Jem, his denial. Tean also tends to trust pretty readily. Jem tells Tean that Ammon isn't good enough, but he won't talk about it. Jem also tells Tean he's a good guy, Tean can't deal with that either. But Jem genuinely believes this about Tean. He's pretty awed by it, how quickly he helps someone he really doesn't know. The seeds against solely predator and prey might stop mentally germinating. They also form an intimate connection but Ammon is never far from Tean's life, especially when the police are involved, and, like I said earlier, Ammon is possessive and they have history. I'm sure more of that history will come on down! in the next two books. Ashe has a way of waiting to fully expose his character's inner most details, 'excuses', and demons.
This was a very good book. I was completely engaged and it flew by. The murder/mystery elements were solid as a rock. I don't want to talk about that too much because then I give things away. I loved the wit and the banter between the MCs. Terrific stuff. They are both flawed and morally ambiguous, in their own unique ways, and that's just the way I like them. That Tean is a veterinarian who traipses around investigating murder made me laugh, he pretty much did no veterinary work. Very Diagnosis Murder of Ashe. But, hell, I was here for it.
I'm scared going forward because Ashe can mindfuck you with his character's dilemmas, and I'm not looking for that right now, so I'm going into The Same Place, book #2, hoping for the best but expecting the worst. I'm looking forward to Rover buddies who don't die on opposite sides of the planet – it's a thing. The Same Breath was wonderful, the audiobook – the book pages I read – flew by. The narrator was excellent. The story was just what I needed – clever, multifaceted, it painted a vivid picture and utilised the backdrop to great effect, the characters stealthily surrounded me emotionally and drew me in, it could be fun, it could be difficult, it remained touchingly written throughout. I've had some tussles with a couple of Ashe's books, most are good reads, but the ones that hit the sweet notes, man, they're top-tier reading. This is one of them. 5 Stars!