To Take a Quiet Breath (Rossingley, #3), Fearne Hill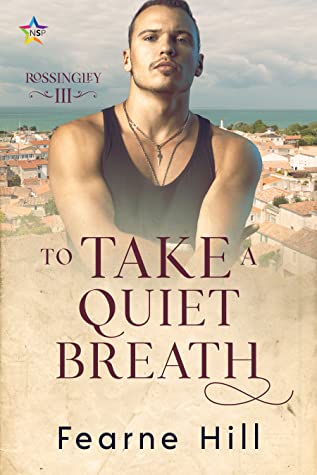 Rating: 4 Stars
Publisher: NineStar Press
Genre: Gay Romance 
Tags: Contemporary, Interracial MCs, Disabled MC, Series
Length: 283 Pages
Reviewer: Kazza
Purchase At: amazon, NineStar Press 
Blurb:
This isn't a romance about chiseled, lantern-jawed college kids boasting V-cut abs. There are no marathon steamy sex sessions, not without having at least one nebulizer on standby anyway.
Marcel Giresse, the thirty-six-year-old Director of Finance at the French Ministry of Justice, is happy to leave all that nonsense to his oldest friend Lucien, the sixteenth Earl of Rossingley. In fact, Marcel is too short of breath and too set in his nerdy ways to ever think about sex at all. Which is a shame because the prisoner serving a sentence for murderer that he's just interviewed is smart, intriguing, and hot as hell.
Guillaume Guilbaud is approaching forty and has wasted his best years rotting in a prison cell. The only interesting thing that has happened to him since his best friend Reuben was released is taking part in a series of interviews with a disarming and charismatic civil servant named Marcel. As if that friendship could ever materialize into anything, especially as he feels so ill-prepared for his imminent life on the outside.
But after a chance meeting at Rossingley, Guillaume finds himself renting Marcel's annex and desperately falling for his sweet, chronically ill landlord. Which is crazy, because Marcel is celibate, posh, clever, and fundamentally out of Guillaume's league. Furthermore, Marcel also has far too many interfering friends and concerned relatives determined to ensure he doesn't become any more attached to the mysterious ex-con he's shyly let into his life.
To Take a Quiet Breath is a slow-burn romance because Marcel is too breathless for a romance at any other speed. It's about two men finding that love can quietly creep up on you no matter how many obstacles are thrown in its path and discovering that as long as an inhaler is readily at hand, anyone can swing from the chandeliers.
Review:
This is pretty much the same review as on Goodreads but for people who check out our blog and don't necessarily go to Goodreads I'm adding it here.
I love this series. I hope that Fearne Hill is planning on continuing it but I feel the people that kind of cross pollinate may have had a story. However, I'm hoping for more. ETA: The author did mention on social media there may well be a #4.
Asthma. I had it badly as a child, nearly died but, touch wood, it's been so much better since my 40s. All the meds I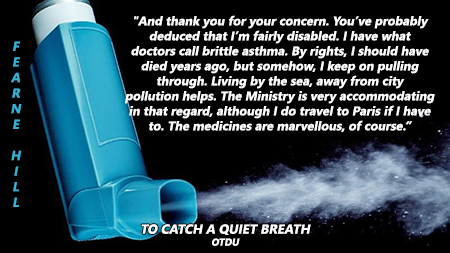 know, inhalers, theophylline, nebulisers, were here in this story. And I remember them. When I was young there wasn't a lot to treat you with. No inhalers. No nebulisers. Eventually slow injection aminophylline, oral alupent, then, thankfully, salbutamol inhalers. Later on came nebulisers, then good preventers, when I was around 20+. I can imagine (from a distance) these days the toughness of living Marcel's life. Marcel is quite incapacitated, brittle asthma, but the meds now are better, or as Marcel says "marvellous." Not being able to breathe so well prevents or dilutes a lot of things, laughing and crying have a profound effect on you, let alone sex, but he is so positive and such a gentle, gentle man. He's been a sworn celibate for the last, I think, 9 years because some men have been unkind, not that he blames them. It's hard being with someone who has to stop for nebuliser breaks and can't do a lot of energetic moves. Who can't breathe so well during intercourse. What cracked me up was Guillaume's answer. The stick-men asthma sutra. That was amazing and cute and sweet.
Guillaume has had a tough turn. Yes, he murdered someone. I get it though. Context helps you understand Guillaume's case. Guillaume meets Marcel as part of his role in the French Civil Service, he's doing social and economic research within the prison system. He and Guillaume get along very well in their conversations and enjoy each other's limited company. Guillaume is not too far off his release date when they start talking. Marcel believes Guillaume has done his time, he has, and Reuben, To Catch a Fallen Leaf, is a testament to the care and protection Guillaume gave him when he was in jail. Reuben is there waiting for Marcel when he gets out and brings him back to Rossingley, that place in England that's an oasis of forgiveness. However, Guillaume is going to return to France. Antoine, a guard Guillaume was having sex with in jail, has organised some work for him back on Ile de Ré. Besides, Freddie, Reuben's boyfriend hovers a little more around Reuben with Guillaume there. But it's here, at Reuben's new home, that some serendipity takes place for Marcel and Guillaume to meet once again. Marcel happens to be one of the oldest friends of Lucien, the sixteenth earl of Rossingley, who owns Rossingley estate where Reuben works and also lives with Lucien's cousin Freddie. He's taken his friend to this calm place where he now has friends and a lover. He wants for Guillaume, who helped him survive jail from a young lad, eighteen, to help ease any issues that plenty of long-term prisoners experience upon release. Reuben understands better than anyone else in Guillaume's life how it can affect someone. It was beyond good seeing Lucien and Jay and Reuben and Freddie again. I always have time for Lucien and his little family. Sadly, I don't have a review here for To Catch a Fallen Leaf, it wasn't because it didn't deserve one, I simply didn't have the time. There is a very short one on Goodreads.
I felt choked again, my throat tight. These English strangers, all so kind and considerate. I didn't deserve it. And my precious Reuben, I could scarcely drag my eyes away from him. So confident and grown up, but still the same boy he was. How our roles had reversed.
This is a lovely book. Lovely. As are the other books that preceded it. Nobody's lives are perfect within the series.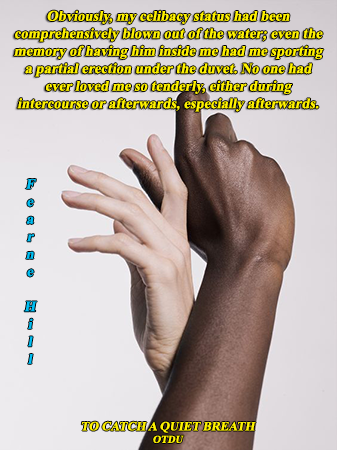 They all have their issues. They are very relatable because of that fact. I especially love To Hold a Hidden Pearl – I initially gave it 4 stars but I've since gone back and revised that rating upwards because I've also listened to the audiobook and it's just beautiful. I can't wait for Lucien to be on page in other books in the series. How I adore him. Such a caring man. I also care deeply for Jay, his loving partner. This book will stay at 4 stars, though, because while I understood Sabine's position – Marcel's sister – she pissed me off because she infantilised Marcel. And Simon, who Sabine hoped would be Marcel's boyfriend, and who had some very basic qualities, hung around way too long for my liking – what a turd. Dominic, who was interested in Marcel but was mainly a good, good friend, was such a sweetheart.
If you just want to feel good and see people find a place for themselves, making you feel so very happy for them, then the Rossingley series is perfect. Fearne Hill is a superb storyteller. Also, as a family who actually use the words bog roll on a regular basis (otherwise knows as toilet roll for people who are unfamiliar) I loved seeing them used here, what an inelegant snort moment it gave me. Oh, and a Fawlty Towers reference too. Be still my beating heart. I hope, with a ton of energy, that books 2 & 3 get an audiobook version too, that this series will get a book #4. I look forward to future books of Hill's with great anticipation. 4 Stars!