Indigo (Purrs, #2), Candi Kay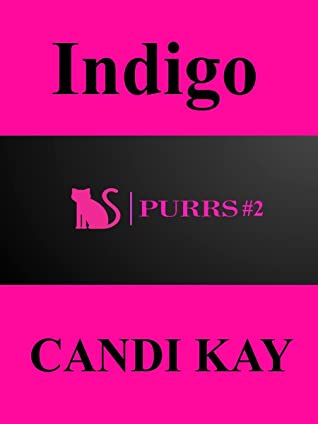 Rating: 3.75 Stars
Publisher: Self Published 
Genre:  Gay Romance
Tags: Cat Shifters, Same Timeline as Silas, Contemporary, **Potential Triggers for past Sexual Abuse
Length:  DK
Reviewer: Kazza
Purchase At: amazon (ARC Review) 
Blurb:
Coming Soon!
Keiran Parker has been lusting after one of his bosses since he started working at Purrs a year ago. An assistant manager at the family-owned club, he's determined not to give in and risk losing the best job he's ever had.
Indigo Kitt is head over heels in love and lust with Keiran. He knows Kei feels the same, but he refuses to act on it. Indi understands the hesitancy, but everybody knows they'd be a perfect match. Even so, Kei makes every effort not to be alone with the youngest Kitt. If he gives in to what Indi's offering and it goes south, everything he's worked for could disappear in an instant.
After a particularly grueling night at Purrs, denying what they feel for each other is no longer an option. They know one time would never be enough, but secrets on both sides prevent them from taking the next step in their relationship.
Keiran still struggles with something he went through as a teenager.
There are certain things about Indi's family that if revealed could destroy everything they know and love. How can he move forward with Kei if he's not brave enough to tell him the truth about who he is?
Between a hurtful past and family secrets, Keiran and Indigo must fight to find the happily-ever-after they never even knew they wanted.
Each book in the Purrs series takes place during the same time period. Details from one story may be expanded upon in another. Some events in a previous book might not have taken place yet in a subsequent book.
The books in the Purrs series cannot be read as standalones. While each one focuses on a new couple, their stories are all linked to the series as a whole. Some secondary characters may seem insignificant in one book and be quite significant in another.
Note that past sexual abuse is discussed briefly in Indigo (Purrs, #2). While nothing is on-page, this may trigger some readers. Keep this in mind before downloading the book.
Review:
This book takes place at the same time as the first book, Silas. It adds the next couples' romance story to it as we also see snippets of Stu and Si. Being a shifter themed story, there is a fated mates instalove storyline. I don't mind instalove. I tend to expect it in shifter or supernatural or paranormal books.
The MCs in Indigo are the brothers of the first paring of Stuart and Silas. As mentioned in the blurb, Keiran does have trauma from a past power imbalance scenario, one that I won't elaborate on. The book mentions it in bits and builds to the full story but nothing especially graphic is on page. It forms part of why Keiran has been somewhat reticent about a relationship. However, there is still an apt TW. One night it builds to a head where they'll have one night together then leave it in the room, to look back on a good time, maybe get it out of their system. But hey, the jokes on them because romance and fated mates. 😀 Now, all those associated feelings cut loose.
This book is what I call sweet-but. It is easy reading but has an undertone that adds a little bite. Overall, though, Indigo is easy to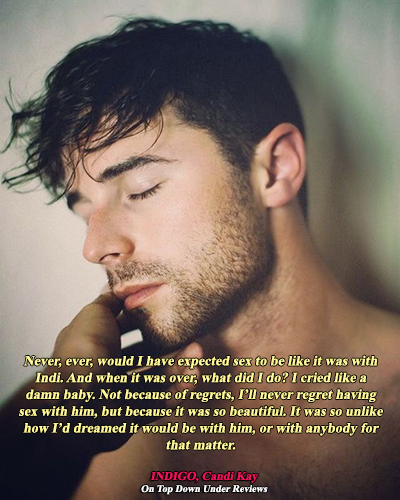 pick up and put down then pick up again when you have the next chance to read, all without missing a beat. Definitely something I need as a breather at times between work, study, life, and grittier reading. Nothing big happens between the pages of Indigo. They are two men who have different family dynamics, the Kitt family is a loving and supportive one, the Parkers, nope. They have a different past but they also have the same fated feelings and love, eventually  acting on them after resisting. Kei definitely more resistant that Indigo.
I enjoyed seeing Stu and Si's relationship from Keiran and Indigo's perspective. To see Keiran's reaction to the Kitt family, well… being housecat shifters. I often think people are pretty cool in books discovering werewolves are real, lion shifters, etc, etc. But housecats? Little cat bodies into big humans and vice versa. The reason I mention size here is that my husband's mind was blown tonight about all these shifters I can potentially read about. He was the one asking  how they could believably change all that mass from big to small then back. I said there's a whole world out there you know nothing about, dear husband. It's also romance and fiction, the impossible can become possible. Anyway, if you can believe in a galaxy far, far away, then shifters are allowed 🙂 And Candi Kay mentions things in Indigo about how the cat shifters came to be.
One by one, each of the Kitts, including Finian and Indigo, change into cats in front of me. "No, I'm not seeing this," I tell them as I shake my head, pushing away from the table and trying to rush inside the house. 
I enjoyed Indigo but I liked Silas a smidge more. You can't beat a diva cat stealing things, undies, keys, reading texts, wearing a very expensive collar and owning it. It was funny and sassy. Indigo is also loving but understandably more subdued. However, as I mentioned in the review of Silas, this is a fluffy reading series, Indigo with a tiny bit of bite (sensitively) added. I'm giving Indigo 3.75 Stars! and I'll certainly be reading book #3 when it comes out.