Nervous Kid: A Bondi Bears Novel, Colin Dereham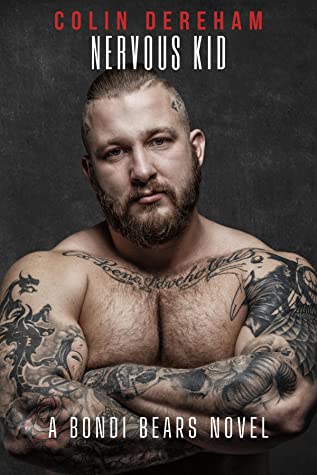 Rating: 5 Stars
Publisher: Self Published 
Genre: Gay Erotic Romance 
Tags: Humour, Aussie Flavour, Bear and Otter MCs **TW: Rape, Brocest, Grief
Length: 287 Pages 
Reviewer: Kazza
Purchase At: amazon
Blurb:
As a young college graduate, Ryan Underwood's mother's impulsive choices destroyed the Brazilian Duarte family, scattering them across the globe.
When they reunite sixteen years later, the children from both sides of the family meet for the first time. Tentative connections are explored, relationships develop and a fragile family unit starts to form. Life looks rosy again for the Underwood-Duartes, until Mrs. Underwood's actions send a rift through them once more, tearing the siblings apart for over twenty years.
Eventually, the brothers reconnect through tragedy. Broken homes, broken dreams and broken promises have festered in their lives as they tried to create families of their own. But now, for the first time, they finally have a chance to build the relationship they've always needed.
"Nervous Kid" is a brutally frank depiction of contemporary gay life, with laughter, tears, burning love and a whole lot of heart.
Please note: this book contains strong adult themes, sexual scenes and violence.
Review: 
**TREAT THIS REVIEW AS A POTENTIAL SPOILER**
It seems I have a thing for books where love's torch remains smouldering over time. Where people don't forget one another, even when life's circumstances and time get in the way. That Nervous Kid sees two half brothers – the same mother – fall for one another as teens, only to have them parted several years later because the parents separate, technically makes it a taboo tale. But it's never made into a big deal. I mean, I've read a lot of books on the 'cest side of life so my journey or feelings may be different to yours.
I lay there with my brother, staring into his eyes, listening to him breathe, while I ran my fingers through his hairy cleft and caressed his beautiful hole. It was the perfect ending to the best night of my life.
Moving ahead sixteen more years, Ryan is now a tradie – a carpenter/builder – working in Sydney. Ryan has a unit in Newtown and is a big bear who wears his King Gee stubbies and his hi viz shirt and steel-capped boots with pride, along with his hirsute, burly bod. He's on his own because reasons, and declares he is boring and subsists on subpar roots – a root in Australia means a fuck. There is also an emotional backstory to his toned-down existence. You learn a lot more about that via progressive snippets as Ryan and Dominic reacquaint emotionally and physically with one another.
Dominic is now a solicitor and has a wife and eight-year-old son, Oscar. He lives part of the time with them in Cronulla and another part of the time in his Bondi unit. Dominic and Anna are separated and co-parenting Oscar as mature adults. Because Dominic's going to be spending more time at Bondi now, he needs his kitchen renovated. He calls a company that Ryan works for and, hey presto, Ryan and Dominic are in contact again and it seems the spark has never died.
Colin Dereham is the ocker-rocker of gay erotic romance. He loves to use Aussie-isms like no one else I read and I'm here for it. It feels very comfy to me reading my language, the places I know, have lived in or have visited. I especially enjoy the use of Aussie slang or sayings, the quintessential Aussie bands. Even a little attempt at some spanking ends in non-submissive Aussie speak.
I pick up the cane and run the cool wooden surface across Dominic's hairy flank. "Should I punish you now?"
"Yes!"
"Colours!"
"Fuckin' green! Green, ya bastard!"
The other thing that Dereham likes to utilise and write about is raw and gritty male on male sex, including pits and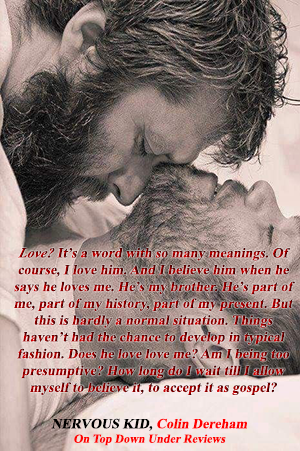 musk and man-scent. I'm not lumping all gay men into the same boat in saying they love these things but I think the guys who do aren't often represented in gay romance stories. I find Dereham hits the accelerator on sex but it is what it is, an own voice story with some sexually active men. In amongst that sex drive is love and passion and heartfelt thoughts and words. Also, I'm putting it out there that Dereham has many names for an arse and an arsehole and a cock and the descriptors of same. Seriously, it was like a Where's Wally for me as I read, I started clipping the different arse/arsehole/dick and appendage-adjacent names via notes on my Kindle. I loved it.
Also, thank you to Colin Dereham for covering something, although it was never laboured, that affects gay men – rape when in the act of looking for hook-ups. The shame that follows. The shame attached to any rape survivor is universal but gay men are often loathe to report it because of institutionalised homophobia, and people can be ridiculously ill-informed and cruel about the fact that men (in general) 'can't be raped'.
The thing that draws me to and keeps me reading this author's books is the setting plus the characters. Ryan is a good bloke. A kind one. A man who loves with his whole being. He's a larger than life, heart on his sleeve, passionate guy. There is always someone in Dereham's books who is just so easy to love. Sometimes one of the characters is not bad, maybe a little less understood, maybe that's my take, but one of them I invest fully in. Ryan is the latter for me. He's good hearted and gentle. Loving the narrator is critical.
Dominic is fine but he entered a Kindle throwing stage for me and I felt Ryan forgave too easily. I got really angry
on Ryan's behalf and felt he was too good for Dominic for a moment. All was redeemed. I held a grudge for a while though. Yes, my son and I can both share drag name #500 and be Petty Betty together. The thing is, I need passion and when I want to hug a fictitious character and protect him, and I'm cheering for half brothers to be together, eh, I do that with all my incest-y books, I'm truly in. I was hooked and succumbed to the strength of how much I cared what happened to Ryan and to Dominic. That I mourned Owen was also a big thing.
The women in this book are awesome. No screaming, bitchy shrews within cooee. Thank you, CD. Marisa and her partner, Rani, are great – Buddhist retreats, therapy, and rock women of an Aussie, lesbian persuasion FTW! And Dominic's estranged wife, Anna, is also a nice lady.
Oh yeah, I sit here eating half a bunch of grapes, a cracker and some pineapple, and I walk forever to try (mostly in vain) not to gain weight, and Ryan visits every bloody fast food joint in Sydney. I'm like, hooooow? Fuck yooouu!  
If you like erotic gay tales involving characters who have a story to tell you. If you like bears and their otters. If you can deal with some triggers, and I have them listed in my tags above, then Nervous Kid is a cracking tale of love that survives and thrives over time despite some obstacles, and it's all told in a proudly authentic Aussie voice. 5 Stars!