The Wrong Rake (The Perdition Club, #4) Eliot Grayson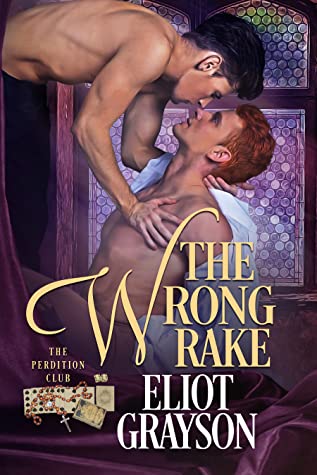 Rating: 4 Stars
Publisher: Smoking Teacup Books
Genre:  Gay Romance
Tags: Regency Style Erotic Romance, Humour, Series by Different Authors
Length: 126 Pages
Reviewer: Kazza
Purchase At: amazon
Blurb:
Harry Standish returns home from Waterloo expecting a quiet reunion with his family. Instead he finds his sister's reputation ruined and his mother in a state. The culprit: Simon Beaumont, rake, wastrel, and co-owner of the London gaming hell Perdition.
A duel isn't an option. Given Harry's skill it would be little better than a murder. But he means to have it out with Simon and force him—somehow—to undo the damage done to his sister. When he walks through the doors of Perdition, he finds himself out of his depth, in every possible way. Simon isn't at all what Harry expects. He's beautiful. Charming. Sly. And, most shockingly, eager for Harry's attention.
Simon is accustomed to every form of sophisticated debauchery—in fact, he presides over it nightly. But a rough-mannered soldier with no understanding of the rules of London society takes him off guard. Harry may not be Simon's usual fare, but he's irresistible.
For Harry, Simon's his greatest enemy since Napoleon was finally sent packing. Harry's insistent that Simon undo the damage to his sister's life. Simon only wants to clear his own name. Until both of them realize there may be more to win, or lose, than reputation…
Review:
This series is different authors using an anchor, the Perdition Club in this case, to bring their writing and their characters under an umbrella while utilising their own style. I like Eliot Grayson so I grabbed this when I could.
First off, that cover is divine. It even depicts Harry's red hair. I comment because I love a good cover.
Second, there isn't much to say as this e-book is 126 Kindle pages and the blurb gives the prospective reader  pretty much everything they need to know.
Some of my general thoughts are below-
There isn't a lot of meat to the overall story, but there's enough to make you invested. What Eliot Grayson does especially well is she weaves her magic of time and place through her writing of prose and the apt use of words and characters that give an old world feel.
Grayson delivers plenty of chemistry with minimal build because this is only 126 pages. Nevertheless, Harry and Simon are both eminently likeable characters. I'm so glad they actually found one another.
There is plenty of nicely written eroticism contained within the novella's pages.  The cover doesn't lie!
The blurb says that 'Harry may not be Simon's usual fare…'  but that's because Simon's yet to meet a man just like Harry, a natural top who's absolutely not adverse to taking charge of Simon when they fuck, but he's dreamed of something just like it though. Harry isn't looking for this when he meets Simon under the wrong impression. Harry's ex military who's seen action on the battlefield, and while he may be a rural lad from Bath who feels out of place in the 'polite society' of London, it seems he's not at all against action in the bedroom, including manhandling a very pleased Simon and threatening to use cravats in ways that they aren't used in fashion. And Harry gives Simon the right amount of pleasure. Can they last? The man from the military who initially thinks he's avenging his sister's honour, and the man who runs a hedonistic London club who makes Harry feel something he never thought he might.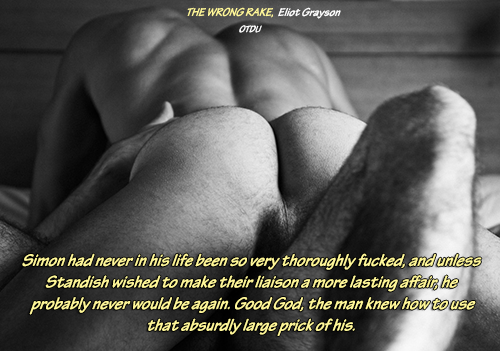 Overall:
Well. Eliot Grayson never lets me down. I love her style and I love her characters, and in The Wrong Rake I liked them equally from the get-go. This is flirty, fun and sexy reading. Especially good to take to bed of a night or to curl up with inside from the weather, be that cold or be that hot. 4 Stars!