Snickerdoodle Sweetie (Bake Sale Bachelors #2), Lorelei M. Hart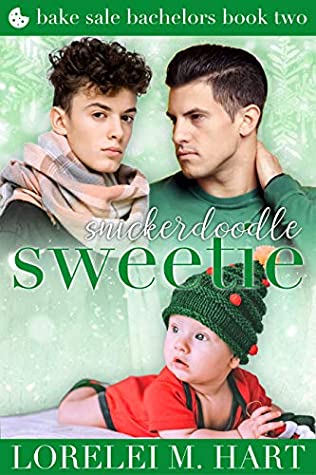 Rating: 3.5 Stars
Publisher: Decadent Publishing LLC
Genre: Gay Romance
Tags: Contemporary/Paranormal, Christmas, MPreg, Omegaverse, Second Chance Romance, Series
Length: 109 Pages
Reviewer: Cindi
Purchase At: Amazon
Blurb –
Sometimes Christmas magic begins with one little cookie….
Alpha Braden made the choice to do what was in his heart over what would bring him financial stability. Working as a lawyer in family court allows him to make a difference in the lives of others, even if his family disapproves. When the Community Center burns to the ground and insurance falls short, everything in his being tells him he needs to help. So he finds his Great Aunt Gertrude's No Fail Snickerdoodle Cookie recipe and volunteers to be auctioned off at the Bake Sale Bachelor Charity Auction. Surely he can't botch that up.
Omega Tyler is back in Dellburn after ten years to settle his adopted grandfather's estate. There are just too many memories in the little town, memories of a childhood no one should have had to bear. If it hadn't been for the local community center and their mentor program, he'd probably be a high school dropout with a dead-end job instead of being a successful dentist. When he discovers the center burned not long ago, he immediately knows what to do with his inheritance.
At the charity auction, Tyler ends up buying a date with the one boy from school who had ever shown him kindness, the one whose father forbade their friendship because Tyler's father was in jail. But after a hot chocolate date, the two decide to make a little Christmas magic of their own.
Snickerdoodle Sweetie is a super sweet with knotty heat mm non-shifter mpreg romance featuring a lawyer with a heart the size of the Grinch on Christmas morning, a dentist dressed up as Santa's elf, a little boy who steals their heart, and more than cookies in the omega's oven. If you like sappy sweet make you cry Christmas stories where Santa brings everyone their hearts desire, this installment of Bake Sale Bachelors is for you. While all three books are set in the same world, they can each be read as a standalone, giving you the happy feels.
Review –
Tyler, a dentist and an omega, is back in his hometown after years of being away. The man he called Gramps passed away a while back, and Tyler needs to clear out his house. Coming back to the place he used to call home is difficult. He didn't exactly have a good life growing up there. He'd been poor and had a father who was in jail. His only solace came from the local community center, Gramps who treated him more as a grandson than a stranger, and Braden.
But then everything fell apart. As if his life wasn't bad enough, one day his best friend, who he loved dearly, told him they couldn't be friends anymore because Braden's dad said so. Braden came from a very wealthy family and they (not Braden) saw Tyler as beneath them. Braden, being a scared teen, abided by his father's wishes and walked away from his best friend in the world.
Now Tyler is back home.
When Tyler learns the community center – that basically saved his life as a teen – had burned down, he knows exactly what he'll be doing with his inheritance from Gramps. He's going to donate the money to help rebuild. But when he goes to make that donation, he's roped into a charity event that ultimately brings him face-to-face with the one man he hoped to never lay eyes on again – Braden.
The charity event is a bachelor's auction.
With a bit of sneakiness on the part of the woman in charge, not only does Tyler get stuck sitting next to Braden, but his name (and check) had also been put down as bidding on the snickerdoodles that Braden brought. This, of course, means that the two men have a date whether they want it or not.
Braden wants it. Tyler, not so much. He never forgot the heartbreak of being pushed away by the only real friend he'd ever had. He never understood why Braden couldn't stand up to his dad. Even so, that's the past and this is the here and now.
Braden walked away from his father's influence years before. Instead of becoming the high-powered attorney he'd been groomed to be, he's working as an attorney in Family Services doing everything he can to help people who were like Tyler when he was younger.
Tyler seeing Braden brings back all kinds of memories, most notably of the night when Braden ended their friendship. I like how Tyler handled their little reunion. He didn't go out of his way to be nice, which was really understandable.
But then things go from zero to ninety and they're doing things together – dinner at the diner where Braden had ended their friendship years before, having lunch, shopping for toys for the children's hospital, attending the Christmas tree lighting in town, and of course, having sex. They went from a few awkward moments in the beginning to full speed ahead.
And that's the issue I'm having with these books so far – so much happening so fast. I get they're short stories (of sorts) and they all have a theme. I get that the authors were trying to keep things short and light and fluffy. But a few things have bothered me since the I read the first book.
There are zero real backstories. In this book in particular, why bring up Tyler's father being in jail if the reason WHY he was in jail was never disclosed? Where was Tyler's mother? Were there no other family members? Where is his dad now?
Braden's father was the only reason Tyler and Braden stopped being friends. These things (Braden's dad and Tyler's dad) are mentioned as to why the friendship ended years ago, but neither is in the story at all. I wanted to know how Braden's father reacted when his son and the former kid from the so-called wrong side of the tracks got together as adults.
Like I said, I get wanting to keep things fluffy and light, but if an author's going to mention something that's actually quite important to the couple as a whole, I want more details. This has been in both books I've read so far.
Things happened super fast, though I'm not going to say it's insta-love. Well, it is, but they did secretly love each other as teens. I also felt that (like Theo in Sugar Cookie Kisses) Tyler forgave too quickly, too easily. Sure, it had been a decade since Braden had refused to go against his father with regard to Tyler, but that was a decade of pain for Tyler. One quickie hot chocolate date shouldn't have been all it took to make things all right in the world.
There's Mpreg, obviously, with the babies (in both books so far) appearing in the epilogues.
I always have the hardest time figuring out tags for these types of books. They're listed as paranormal all over the place, but they're also contemporary. These aren't shifting alphas and omegas. If they were, tagging would be somewhat easier.
Overall, I liked these two together for the most part. I guess my main issue is the lack of details in backstories. There's a little bit of telling but hardly any showing. I did like the epilogue.