Sugar Cookie Kisses (Bake Sale Bachelors #1), Jena Wade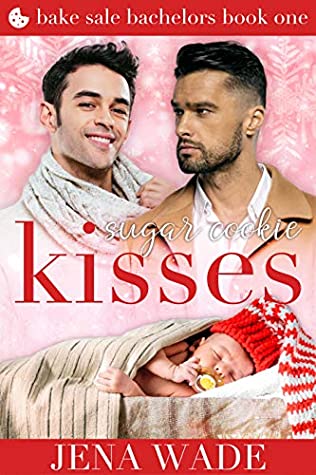 Rating: 3 Stars
Publisher: Jena Wade
Genre: Gay Romance
Tags: Contemporary/Paranormal, 'Big Misunderstanding', Christmas, Insta-Love, MPreg, Omegaverse, Romance, Series, Virgin
Length: 159 Pages
Reviewer: Cindi
Purchase At: Amazon
*This review has spoilers.*
Blurb –
A city omega…
Theo was jobless, nearly homeless, and not looking forward to the holiday season. He attended the bachelor auction to support the burned down community center that would have housed the daycare he was going to work at, not to find a date.
A country alpha…
Baron kept his focus on his ranch. He didn't want or need an omega in his life. He participated in the bachelor auction because his aunt roped him into it.
The date that brought them together…
When Theo's sister purchased Baron's date package for Theo, they had no choice but to follow through with it. They were stuck with one another for one full romantic, Christmas weekend on the ranch. Neither planned on enjoying their time together, or falling in love…
Sugar Cookie Kisses is an opposites attract mpreg story featuring a grumpy alpha, an adorable omega, and tons of holiday cheer.
Review –
This started out real good.
Baron's Aunt Cora had signed him up to do a bachelor's auction to raise money for a community center that had recently burned down.
Theo is pushed into going to the bachelor auction with his twin sister Fran and ends up (after Fran secretly adds Theo's name) 'winning' Baron in the auction.
I love the way the auction was set up. The bidders had no clue who they were bidding on. It was based on cookies and other sweets. Cora had made sugar cookies for the event, Fran and Theo had tasted them and loved them, and Fran put down Theo's name without him knowing. They bid on the cookies, not the bachelor. It was really neat.
Of course, Theo is mortified. A city boy omega who has no clue what an acre is (huh?), he wasn't looking for an alpha. As for Baron, an alpha, he'd had horrible luck with omegas in the past, so he damn sure wasn't interested in dating.
Even so, they both agreed to go on the date, which consisted of Theo spending a weekend with Baron at his family ranch. They would be cutting down a Christmas tree, baking and decorating cookies with Baron's family, and even going on a sleigh ride. It sounded ideal to Theo, even if he was a city boy and knew absolutely nothing about ranch life.
Theo immediately takes to Cora and even Baron's grumpy dad, Andrew, and they take to him. I thought I'd end up hating Andrew but he was a sweetheart. Cora was amazing.
Baron, yeah, not so much.
Baron was quite wealthy. Theo was not.
Baron had been used for his money way too many times and trusted no one. Understandable, but still.
Theo was unemployed, though he did substitute teach when he could. He'd actually had a job lined up at a daycare in the community center before it burned down. He didn't have a car, his cell phone didn't have an unlimited plan, and he lived in a small apartment. Even so, he didn't give a damn about Baron's money. He didn't even know who the man was when he won him at the auction, nor did he care. He tried his damnedest to get out of the date even after he learned that Baron was quite wealthy.
Things happen super fast with these two. They ended up spending more time together at the ranch because of a major snow storm. This is good, right? Nope! It was really good for one night – it was Theo's first time – until it wasn't. Baron and his 'woe is me, people only want me for my money' jerk of a self misunderstood one side of a phone conversation that Theo was having with his twin sister. So Baron thought it best to go from treating Theo kindly to being an outright ass to him. Of course, he didn't bother discussing this with Theo. Theo did try to talk to him but it didn't matter. Baron had made up his mind and that was that.
Talk about a morning after. They spent the night in bed and a little later Baron's treating him like dirt. And not just to Theo. He was openly doing it in front of Cora and Andrew. That was a big no-no.
What was nice about all that (not Baron being an ass) was how Cora and Andrew made it clear to Baron that he was a total jerk. A couple of weeks after Theo left the ranch, they both put 'woe is me, I'm an ass, Baron' in his place.
That was beautiful, though I felt like Theo should have made him grovel more. Like, A LOT more.
They both say the "L" word within two weeks of meeting each other, and that one night they spent in bed. Of course a baby came from it. I did like how Theo handled that. He didn't rush to tell Baron, especially after the way Baron had treated him before. He even, for a few moments before Baron came groveling, contemplated not telling him about the pregnancy. He'd already been accused of using Baron because of his wealth. Telling him he's about to be a daddy might have him accusing Theo of getting pregnant to get to his money.
But, alas, all works out in the end, and they have their little happily-ever-after.
Thankfully, the author did throw in an epilogue that takes place a year later, so the insta-love worked with these two, even if I never did become a fan of Baron.
I think this is my first by this author.