Gingerbread Greetings (Bake Sale Bachelors #3), Leyla Hunt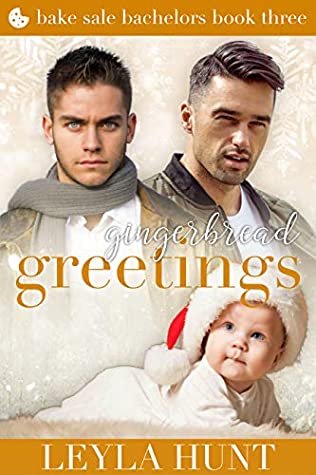 Rating: 3.5 Stars
Publisher: Leyla Hunt
Genre: Gay Romance
Tags: Contemporary/Paranormal, Age Gap (6 Years), Best Friend's Brother, Christmas, MPreg, Omegaverse, Romance, Series
Length: 108 Pages
Reviewer: Cindi
Purchase At: Amazon
*This review is spoilerish.*
Blurb –
Casey
When the beloved community centre burnt down, Omega Casey knew he had to help, so he participated in the Bake Sale Auction, with the prize being a weekend away with him at a ski resort. It was way beyond his budget, but he'd always been a sucker for a good cause, and thought he might get a decent date out of it, even though most alphas seemed to be after one thing. He didn't count on the winner being Brent, his big brother's best friend and the man he's lusted after for way too long. Things are about to get interesting on the ski slopes…
Brent
Alpha Brent had always kept his eyes on one prize only: growing his clients' investment portfolios beyond all expectations. Love was just an inconvenient distraction, especially after the heartbreak he'd experienced in the past. When he bid on a plate of cookies and a date, he thought he'd just leave some cash behind for a good cause and go back to his regular life. What he didn't know is that nothing would ever be the same again, especially since his date was his best friend's introverted and gorgeous little brother.
Gingerbread Greetings is a best friend's brother mpreg story featuring a jaded but sweet alpha, a sensitive omega, and tons of holiday spirit. So, put on your favorite cozy sweater, curl up with a cup of cocoa, and delve into Casey and Brent's love story.
Review –
Unlike the first two books – Sugar Cookie Kisses and Snickerdoodle Sweetie – this one doesn't have the main characters jumping into bed until a little bit into the story.
I had a harder time rating this one than the other two. On one hand, I loved the first half of the book. Brent is the best friend of Casey's older brother Adam. At the bachelor auction to raise money for the burned down community center, he unknowingly bids on Casey's gingerbread cookies and wins. This, of course, means he's just won a special date with Casey; that date being a ski weekend in a luxurious hotel. All of that was good. Casey had secretly had the hots for Brent for years but knew he was off-limits because of Adam. Hell, Adam had even helped Casey get ready for the auction. Both Brent and Casey gave the other one an out – if they're uncomfortable going on the trip, no big deal. The guy who had the next highest bid could go. They both decide to just go together. They didn't keep it secret from Adam or anything. He knows they're going on the trip together – as friends only.
Of course, that 'as friends only' thing goes out the window the second day of the trip. They have sex, spend couply time together, and then decide to play it by ear when they get back home. The one thing they decided not to play by ear is Adam. It was decided that Adam would be kept in the dark on what really happened when they were alone together in a hotel for a weekend.
And that's when I started having problems with the story. The secrecy, I mean. The reader knows it will come out, and is constantly waiting for the other shoe to drop. I seriously hate that in books. Just tell Adam what's happening, what has happened, and let the chips fall where they may, and the sooner the better.
There's also the matter of Brent's high-powered job. He's been working his butt off in hopes of getting a promotion. If he gets the promotion, he will be moving to New York from Chicago. Even when he realizes he's in love with his best friend's brother, he still has every intention of moving. Only now he'll be asking Casey to go with him.
There's a lot of build up to telling Adam about their relationship. When it happens? Total non-event. As long as Casey was happy, and Brent didn't hurt him, he was happy for them.
Casey is twenty-two. Brent is twenty-eight. That was nice. I love an age gap, even if it's only six years. My issue here though is that Casey came across as much younger than even twenty-two. I didn't see it so much until he wrote in his diary. Don't get me wrong… I'm in NO way criticizing writing in a diary. I've kept a journal my entire life, though I stopped calling it a diary before I even made it to high school. The way it was written made it seem so… I don't know, pre-teenish? Again, not criticizing anybody who keeps a diary. It was simply the way it was written with Casey.
Casey came across in the very beginning as mature and sure of what he wanted. Later on, not even a little bit. Even when he found out he was pregnant, he just seemed off.
I liked Casey and Brent together well enough, I suppose, but as with the other two stories, there's very little character development and almost no mention of backstories for any of the characters. Also like the others, there's an epilogue that takes the two guys down the road a little. That was nice enough, I guess. Each book I've read so far has been written by different authors, none of which have shown a lot. There's lots of telling, sure, but not showing. For that reason I've had a hard time connecting with any of the main characters. There's also the issue of entirely too many !!!!, and lots and lots of winks and gulps. It was distracting.
Even so, I enjoyed the story okay.
I started this series after being interested in a more recent book (from season 3 or something?). I don't like starting 'seasons' or 'series' without having read the ones before it, even if each book can be read as a standalone. So I went back to the beginning (I think?). With that being said, I think I'm going to stop here for now. I will no doubt finish them at some point, but when three books don't blow me away, it's time for me to find something else to read.