Texas King (Texas Fairytales #1), A.R. King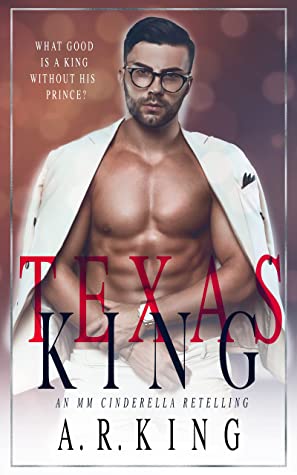 Rating: 2 Stars
Publisher: A.R. King
Genre: Gay Romance
Tags: Contemporary, Adult Bullying/Abuse, Age Play, Cinderella Retelling, Daddy Kink, Opposites Attract, Romance, Series, Virgin
Length: 387 Pages
Reviewer: Cindi
Purchase At: Amazon
This review has spoilers.
Blurb –
Eli Christopher is the stepchild that his stepfamily never wanted, and they do nothing to hide that fact. After years of abuse, Eli is beginning to believe them. Maybe he's not worth much after all. But everything changes when the King of Texas tracks him down, determined to make him realize his own worth.
Aiden Bacon is the media-proclaimed King of Texas, a title given to him after his father's passing and his not-so-modest inheritance of a billion-dollar company. Aiden's only goal in life is keep his company afloat and keep his own demons at bay. But his whole world turns upside down when a tiny, shy delivery boy brings a pizza to his home and then disappears, leaving Aiden infatuated and desperate to track him down.
Texas King is a loose m/m retelling of the Cinderella fairytale and contains bullying triggers and familial abuse.
Review –
The first thing I'm going to say is that this book was about 150 to 200 pages too long. It was basically the same thing over and over. Lots of sexual situations that dragged on and on, but almost zero time for the more important stuff. The drama in the book (Eli's step family) was resolved too easily, too quickly. There was a huge build up to a whole lot of nothing.
I almost didn't type a review because I knew what my rating would be when I sat down at my computer. But I spent hours reading this book – after almost DNFing it several times – so yeah, I'm damn sure taking the time to review it.
The story starts out good. Eli's delivering a pizza for his family's business and delivers it to the wrong place. This is after his stepbrothers – Cole and Corey – treat him horribly. I felt so bad for the way he was treated. Anyway, he makes the delivery in a very wealthy part of town. He's getting back into his car when he realizes he's being watched. He looks up at a balcony to see a man walking back inside the house. He only sees him from behind but it's enough for Eli.
Aiden is that man. One glimpse at the pizza delivery guy and he's determined to have him. And he does, though it takes a little while for him to find him.
Ma's was Eli's mother's pizza place that she started from the ground up. After she died, it was somehow taken over by Eli's stepfather (Butch) and the above-mentioned stepbrothers. All of them are big bullies. The place is rightfully Eli's, yet he barely gets a paycheck, is forced to clean everything – with most of the messes being made by Cole and Corey just because they can – and he does all the deliveries in an old car.
Aiden shows up one night and he and Eli have their first date of sorts as Eli makes pizza deliveries. Weird first date, but it worked. After that, Aiden sweeps Eli off his feet and they start a relationship of sorts, though calling it a relationship is kind of a stretch considering that Aiden told Eli they were together. Eli is loving the attention he's receiving from Aiden. He's just not sure how to deal with that on top of his step family.
The relationship moves super fast, with the 'L' word already in both their heads even if they haven't said the words yet. Aiden spoils Eli, which is something he's not used to. He discovers that Eli prefers wearing dresses so he fills a closet with them, along with matching lace panties, shoes, and more jewelry than he could ever wear.
All this is good. Really. What wasn't? How the book dragged… and dragged. I get the author was wanting to make their sex scenes special, but I seriously started skimming them about midway through the book because they were the same thing over and over. It takes a little while for Aiden and Eli to have penetrative sex – Eli was a virgin – but the other stuff? You can have way too much of a good thing.
Somewhere in the middle of all this, Aiden and Eli went into a Daddy/little relationship. I've read a lot of Daddy kink, a lot of which had age play. In the other books, it was built up, and even explained better. There was also a lot of discussion over roles and rules. There was none of that in Texas King. There was no real reason for the reader to even suspect that Eli was a little until Aiden, out of the blue, bought him a bunch of toys and took him to an adult play place for littles and their Daddies.
Now back to Butch, Cole, and Corey. There was a nice little build up in the beginning with them. I felt so bad for Eli because of the way he was treated. The resolution was a joke. Dozens and dozens of pages in between them even being mentioned. When they were dealt with, it was meh. Oh, Aiden kicked their butts and had to be pulled off before he killed them, but what happened after? It was like, "Okay, here you go, sign this, take my money, it's over." He almost threw another punch, but was pulled off by his friends before he could.
The step family had been doing illegal things out of the pizza place. They'd verbally and physically abused Eli for years. Hell, they'd stolen his business. They needed jail time, not a bribe.
There is pretty much no communication between Aiden and Eli. I kept thinking that Aiden would want to know why Eli was so scared of his family. He did ask at one point but pulled back before he could get an answer because it bothered Eli. It takes Aiden hiring a private investigator to find out even a little about them. Even that didn't tell Aiden about the years of physical and emotional abuse.
I went into this book liking it okay. I loved the premise. A rich man falls for a poor pizza delivery guy, they fall in love and live happily ever after. Maybe I would've kept liking it had it not been SO long and dragged out, especially with the sex scenes. Even with all that, my biggest complaint was the lack of communication between Aiden and Eli. Eli took everything Aiden said at face value and vice versa. There were very few in depth conversations. The entire book was Eli wanting the business back that his mother built from the ground up before she died. When he got it back, there were a few pages about buying new supplies and a grand reopening and that was that. It mentioned Eli working hard at the pizza parlor, but when could he? If he wasn't with Aiden because Aiden was at work, he was getting a call from him every hour on the hour or even more than that.
I did like all the secondary characters. There were Eli's friends and Aiden's. It's easy to see which ones pair up in later books. I'm even somewhat curious about them. I don't, however, think I can sit through another book this long that had so many words, so many pages, but said so little. I almost DNF'd at around 60% but I'd already invested too much time to stop there. I was again ready to DNF at 90% but I forced myself to get through the last few pages. It could've easily been stopped at 54% – maybe add a page or two about the step family – but it kept going.
This is billed as a Cinderella retelling of sorts. Cinderella is my all-time favorite fairy tale. Cinderella is actually where my name came from. While I could see Texas King somewhat being similar because of the mean stepsiblings and stepparent, I'd definitely never compare the two. Aiden was most definitely not a prince – or a king as the title calls him – and Eli was a little bit too childish, childlike, to be much of a Cinderella. The characters have no depth, no real redeeming qualities. As the story played out, Eli came across like such a child, and I'm not referring to being in his 'little' state. I get that 19 is young, and I get that he was considered a 'little' by Aiden, but he had the personality of a twelve-year-old (or younger), not an adult. I get he was sheltered, but still. That's not me saying I didn't feel bad for how he was treated by his step family. My issue is how he acted away from them, with Aiden.
2 stars because I DID finish it. Had I DNF'd there wouldn't have been a rating.