Finding the Right Forever (Sheltered Connections #2), R.M. Neill
Rating: 4.75 Stars
Publisher: R.M. Neill
Genre: Gay Romance
Tags: Contemporary, Age Gap (8 Years), Opposites Attract, Romance, Series
Length: 256 Pages
Reviewer: Cindi
Purchase At: Amazon
Blurb –
One has no time for love.
The other is desperately seeking acceptance.
Only together can their hearts be made whole.
Owen
For the last seven years, I've been married to my job because it's easier than dealing with the angst that comes with relationships. I was only looking to grow my business, now I'm stuck dealing with a baker whose sunshine and lollipop outlook proves to be a monumental pain in my butt. Friends say I need to learn to have fun, and Parker could be the one to teach me. The more time I spend with him, the more I feel they may be right. Now, I want forever, but I don't know how to ask for it.
Parker
I was only looking for a place to start my career as a baker. Somehow, I ended up with a boss who is as hot as he is grumpy. I should be focusing on my baking, and build security based on my own success. Instead, Owen is fast becoming my sole focus. My longing for acceptance, to heal the scars from an abusive past, have led me to an impossible choice. Do I pursue my dream job… or dream man?
Finding the Right Forever is the second book in the Sheltered Connections Series. This book involves themes of hurt/comfort, grumpy/sunshine, and a spandex elf suit. Laugh-out-loud humor, spur of the moment kitchen sex and two men too stubborn to see what's in front of them make up this 72k word story. Ridiculously horrible singing is included.
Review –
Owen and Parker were introduced in Twice In A Lifetime (#1 in the series). Owen is Dominic's best friend, and Parker is the new baker at Owen's coffee shop. Parker is fun, easygoing. Owen is as far from being fun and easygoing as one can get. To be blunt, he's a big grumpy butt who never smiles. He's constantly annoyed by Parker's fun loving ways, most notably his singing and dancing when he's baking in the wee hours of the morning.
Parker is a good worker, but Lord almighty, I don't know if I can handle him all the time throwing rainbows wherever he goes.
Parker's had a hard life. Orphaned at 8 when his mother overdosed – he never knew his father – he moved from one foster home to another and lived in a few shelters. This went on until he found himself in the town he's now living. At 24, he's a little old to be staying in the youth shelter, but Jacob (who runs it) offers him and Cheddar (Parker's cat) a room until he can find an apartment. He and Jacob are good friends.
I'm temporarily staying at Auslo's Loft, a shelter for the LGBTQ youth who keep getting the short stick in life. I landed here several years ago when I needed to escape a situation and it was the best thing that ever happened to me. Jacob and all the boys here became my found family, and I couldn't have been more grateful.
Parker's had a crush on his new boss since he was hired.
Owen mostly sees his new employee as a pain in the butt.
Oh, but how things change. 😉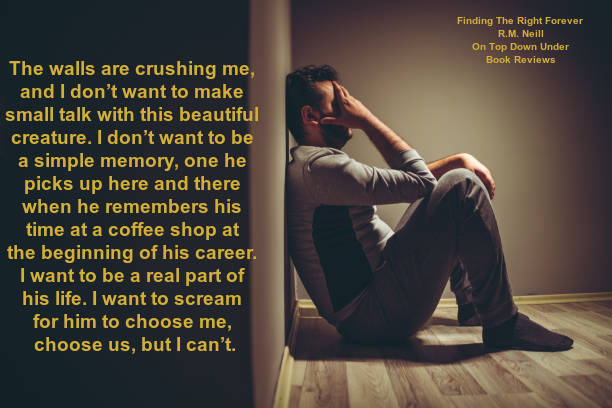 The grumpy boss/sweet employee relationship changes big time. Owen's finding himself smiling at Parker's goofy Christmas costumes and his horrible singing when Owen never smiles. They spend a little time together away from the coffee shop and kind of become friends. They're as different as night and day, but that doesn't matter. The friendship turns to more after a little flirting during a Christmas party where Owen's forced to play Santa Claus (he never smiles, remember?) and Parker's his elf.
That was really cute.
It doesn't take long before they're hooking up, though it's much more than sex. Parker falls fast. I think Owen did too, but he was more guarded, scared to get too close. That was smart really. Several months back, Parker had applied for an apprenticeship at a fancy school that could have him going places with his goal of someday owning his own bakery specializing in mostly wedding cakes.
That's always in the background for both guys, the waiting to see if Parker will be accepted, which would in turn have him leaving Owen behind.
I went back and forth on what my rating for this book would be. I was sitting at a solid 4 stars. That changed toward the end when I got to see Owen's soft and sweet side. It's been a while since a book got me all misty-eyed like I did reading this one. This went on for several pages. He was such a grump early on. Seeing his emotional side turned me into a big baby. He was so head over heels in love with Parker, but he didn't want to hold him back. So he didn't. He'd never want to be the cause of Parker not following his dreams.
"I fell in love with him, Dom. I fucking fell in love with the damn guy." I swallow the lump in my throat. "Some fun, huh?"
"I figured. You gonna tell him?"
"I can't tell him. He needs to make the life he wants without me influencing his decision."
~
"If he asks, I can't tell him. Dom, he has his whole life ahead of him. It's a huge opportunity and he can't stay here because of me."
As for Parker… wow. He just broke my heart into a million pieces. He'd never felt love, real love. He'd always been pushed to the side. It's no wonder he expected Owen to do the same. Parker had his friends and Cheddar, his cat. But what he really wanted was the man who was too scared of holding him back.
Families don't seem to want me. Why would a man want to share his life with me?
The way things came together was absolutely perfect. I'd wondered how certain things would work out. I'm kind of surprised but very happy with how they did.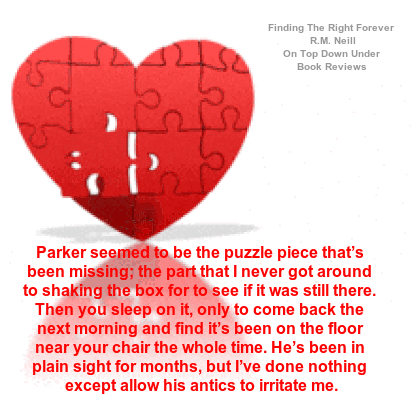 This editing in this one is so much better than the first book. There were still a couple of minor issues – Mabel being spelled MABLE, Micha being spelled MICAH – but the commas were mostly where they were supposed to be, and there weren't any other real punctuation issues that I saw. Honestly, the last one was really bad and took away from the story. It was really nice to not be pulled out of Parker and Owen's story for that reason.
The next one in the series is Jacob's and a hockey player. While I may be a big sports person in the real world, I'm not a fan of it in books. Even so, I know I'll read it at some point because I'm curious about Jacob.
Overall, a really good book. It was nice seeing Dominic and Micha again.