Marry Me (Tattoos and Temptation #1), Mia Monroe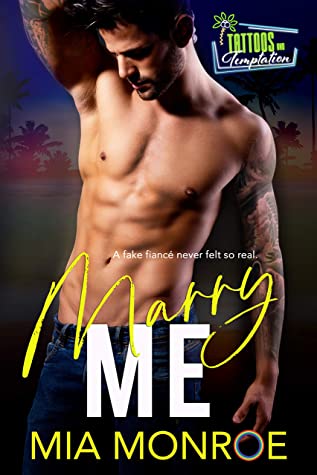 Rating: 4 Stars
Publisher: Mia Monroe
Genre: Gay Romance
Tags: Contemporary, GFY/OFY (?), Fake Fiance,  Friends to Lovers, Romance, Series
Reviewer: Cindi
Purchase At: Amazon.com
Blurb –
A fake fiancé never felt so real.
The idea of facing my cheating ex at a friend's upcoming wedding sends me right back to the chubby, insecure guy I was when I met my very straight best friend. Since then Jude has been the most supportive person in my life. So when I ask him for a favor, he steps up and becomes the best fake fiancé a guy could ask for.
With three months before the big day, my friends rally to make sure we come across as authentic as possible. Jude takes to the lessons better than any of us anticipated. Especially the kissing.
Now the fake engagement is starting to feel kind of real.
This wedding should be really interesting…
Marry Me is a steamy, best friends to lovers, fake fiancé, gay awakening, low angst story. It is book one in the Tattoos and Temptation series featuring hot Miami nights, Latin desserts, and guys with ink.
It can be read as a standalone. 
Review –
I'm going to throw this out there right off…. this book is super sweet. As in, no drama at all between the two main characters. Far from it. Jude is perfect. When I say that, I mean that he's seriously perfect. He's kind, he's caring, he's gorgeous and sexy, and he's about as perfect as a man can get. I liked Briar, but he had a lot of hangups. Understandable hangups but hangups just the same.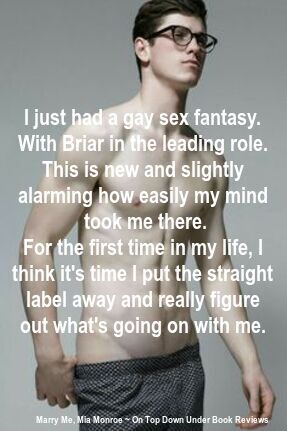 Jude, a tattoo shop owner, and Briar, a baker, are best friends and roommates. They met at a gym and just hit it off. They've been the best of friends ever since. Briar is openly gay. Jude… well, Jude has always considered himself straight. That's why my GFY/OFY tag above has a question mark by it. Even so, neither man has been with anybody in a very long time – male or female.
Briar needs a favor. An old friend is getting married in 3 months and Briar's horrible ex will be there as the best man with his new fiance. The breakup was a nasty one with Michael (the ex) being cruel to Briar about his weight and he also cheated on him. The last thing Briar wants to do is face him without a date.
"His ex is a cocksucker."
"Which is good in gay land," Casper says, winking at me.
"Oh. Right. Okay, then he's a dirty unwashed ball sac."
Jude, being the amazing friend he is, readily agrees to be Briar's fake fiance. He's seen how Briar is about his weight and he knows how bad Michael treated him. He'll do anything for his best friend, even pretending to be head over heels in love with him in front of others.
When Briar's friends and coworkers find out about fake fiance thing they tell them that in order to be believable they need to throw Jude a little into the gay lifestyle.
"Well, if you have to have a fake fiance, Jude is a good one to have."
Genesis nods. "He's so hot."
"No lies told," Cairo says.
"Don't you need an extra fake boyfriend for a fake threesome?" Tate asks. "If so, I volunteer as tribute."
There were quite a few over the top stereotypes. Even so, I saw where the friends were going with it. The first thing they do is take Jude to a popular gay bar. The second thing is a drag show.  Because Briar's friends are pushy (in a nice way) they even encourage Jude and Briar to kiss.
There's a lot of encouraging that Jude is all too willing to try. 😉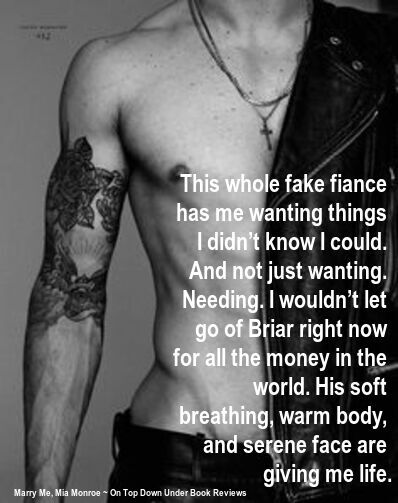 For the first time in his life, Jude is falling for a guy. Not just any guy but his best friend in the world. It's confusing but at the same time it's refreshing. They go from dancing and a few kisses here and there in public to snuggling and kissing at home. It's freaking Briar out. There's being a fake boyfriend in public but this is in the privacy of their home. Jude has no problem asking the friends and Briar questions. I'm not talking, "What do I wear?" or "How do I act?" I'm talking, "Tell me about rimming," and "What is frotting?"
Yeah, he's not shy. Can you tell? *snort*
The more Jude spends doing the 'learning to be a fake boyfriend' thing the more he's wanting the real thing. On one hand, he's seeing everything in Briar that he's always looked for in a partner. On the other, he's, well, a guy. It doesn't matter. He knows he wants Briar and he knows he wants him forever.
Briar, on the other hand, is totally freaking out. He's always had a bit of a crush on his straight best friend. When Jude goes from acting like the straight best friend to something more, Briar doesn't know what to make of it. Surely it's fake, right? And Jude's only doing this to make sure he's the best fake fiance at the upcoming wedding in front of the horrible ex.
I'm thinking frotting, hugs and kisses, and the snuggling in bed together might say otherwise.
A straight guy doing that kind of favor (the fake fiance for the wedding thing) might want to know how to act, what to say, how to treat Briar in public, etc. A straight guy just doing that kind of favor would not be hugging, kissing, snuggling, getting a little down and dirty away from everybody else.
By the time the wedding rolls around, Jude is determined to tell Briar how he feels. He's fallen in love with him and he's pretty sure that Briar feels the same about him. Briar's just trying not to think about how the closeness they've shared over the past few months might disappear once the wedding is over and done with.
Then there's the ex, Michael. What a loser. He was there with his fiance, Patrick. I mentioned Briar's hangups above. A majority of those hangups were as a result of Michael and how he treated Briar during their relationship. He was constantly criticizing Briar's weight, which is how Briar ended up meeting Jude after the breakup. Briar was at a gym, totally lost with what he was doing, when Jude walked over and helped him. They became fast friends as a result. Seeing Michael again could easily push him backward. Thankfully Jude is there to keep that from happening.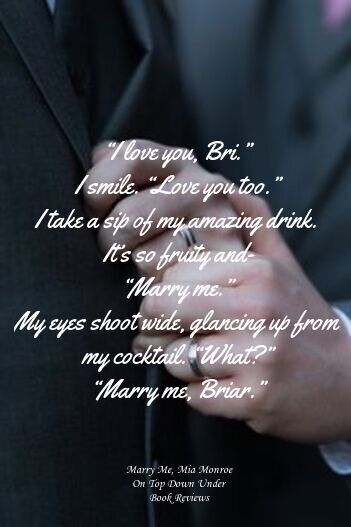 Without telling the entire story, Michael shows his true colors. Briar, thank goodness, is long over the jerk so he handles him accordingly. The author tried to make Michael good later but that fell flat for me. I liked Patrick, his fiance, but I didn't understand their relationship. I would've told Michael where to shove it. 🙂
This is an almost perfect friends to lovers story. It's not realistic (by any means) but it doesn't matter. Jude and Briar were good together. Once Jude figured out what he wanted – that would be Briar – there was no turning back, no awkwardness, no anything other than trying to get close to him. The sex (once they finally took the step to do the actual deed) was hot.
So why 4 stars instead of higher?
Michael, for one. Again, the author trying to make him a sympathetic character didn't work for me. Another reason is because I felt that the book should have ended a few chapters before it did. Don't get me wrong, I wanted to see Jude and Briar later. I wanted to see them work their way to their HEA. What I didn't care to see was a bunch of stuff that really wasn't necessary for the story as a whole. Even so, I really liked these guys together.
The next book in the series is Fix Me, Casper and Saint's story. I love all the friends – both at the bakery Briar works at and at the tattoo shop Jude owns. Each character was unique. I look forward to reading their stories.
Overall, a nice, sweet read with next to zero drama.