Baby and the Panther (Shifter Rescue, #2), Victoria Sue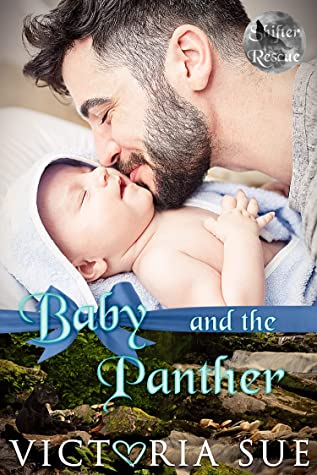 Rating: 3.5 Stars
Publisher: Victoria Sue
Genre: Gay Mpreg Romance
Tags: Paranormal, Mpreg, Romance, Series, Shifters
Length: 223 Pages
Reviewer: Cindi
Purchase At: Amazon.com
*Note that this review has a few spoilers.*
Blurb –
Marco knew Kai was his true mate, but to keep him alive, he had no choice but to let him go.
On the run from his panther clan and family, Marco had tried to bury his shifter side and settled into a near-human existence, working as a medic for the ranger service. All that had gone to hell when he met Kai and fell instantly for the gorgeous omega, putting them both at risk from the torture and death he had escaped from.
Nobody had ever wanted Kai—not his family, not the alphas he'd been sold to, and now not even his true mate. Rejected and humiliated, Kai runs right into the exact trouble Marco had tried to save him from.
Finally, just as Marco gets him back, a betrayal he never saw coming hits them both harder than either of them were ready for. Marco won't just need to battle to save Kai and their unborn child—he's going to have to start a war that's never been fought.
And he's going to have to win.
Review –
There's just too much happening in this series as far as characters, shifters, clans, packs, etc. to make sense of it in a review, so bear with me.
Kai and Marco were introduced in Baby and the Wolf (#1 in the series). Kai, a wolf shifter who doesn't shift, was a pregnant omega who'd been rescued by Shifter Rescue. He'd come from a long line of abuse, having been sold many times over the years. He was finally in a safe place.
Everybody knew he should've just stayed in that safe place. Of course he didn't.
Then there's Marco, a panther shifter, the medic of the pack. Another thing everybody knows? Marco and Kai are mates. Kai, thinking he's doing the right thing, leaves to stay with another pack, another Alpha. The plan is to have his baby and put Marco behind him.
Marco, trying to do the right thing for the safety of Kai and the unborn baby (who isn't Marco's biologically), doesn't ask him to stay. He doesn't ask him to stay because anyone involved with Marco is in danger. Marco's mother, the Panthera of his former clan, was a piece of work and had him almost beaten to death years before. He only escaped with the help of his brother. The Panthera is like the Alpha but for panthers. This woman is nothing at all like Emmett's grandmother from the first book.
Everything is going so-so for Kai, though he's missing everybody like crazy, and he's not really happy. He's had his little boy, Maddox, and he's safe enough. It's just nothing at all like it was in Ryker's pack.
Then there's uproar in his new pack and Kai is put up for auction, being sold to a major creepy guy. Maddox, because the creepy guy doesn't want somebody else's kid, is taken from Kai. All this gets back to Ryker, Marco, and the others. It's a given that Marco, who knows he never should've let Kai leave to begin with, is the main one going in to save him and to hopefully get Maddox back as well.
All that's fine and good. Kai's rescued, he has his baby back, and now maybe, just maybe, he and Marco can work on building something together.
I loved Marco and continued to throughout the book. I'd loved Kai in the first book but he absolutely drove me bonkers in this one. He was scared and leery of trusting anybody, even Marco. I totally get that. What I don't get is why his hesitancy dragged on so freaking long. Back and forth, back and forth. Marco literally was willing to die for him during his rescue. If that didn't tell Kai how much Marco cared, nothing would.
Well, you'd think.
Marco put it best when he was pretty much at the end of his rope. And, honestly, Kai deserved all the hurt he got from Marco's words – and then some.
"And what about your guarantees?" Marco shot back, and all the agony of the past few weeks, the past few years came pouring out. "I offered you the bond and you threw it back in my face. You denied me. You're happy for me to dance in attendance. To care for your son like he was my own. To keep you safe every fucking night until you decide if I'm good enough or not." Marco stepped right up to Kai. "I was willing to fucking die for you. Don't you think you've punished me enough?"
And the one time Kai shouldn't be so damn trusting? He jumps in head first. I get where he was going, and why he was doing it, but no. If there's one thing he should've learned was to be very, very careful with everything and don't make rash decisions. Kai made a lot of rash decisions.
As far as the person he trusted, I think I saw that coming from way off.
Everything eventually works out, obviously, because it's a romance. All the other players from the first book are back, with even more being added constantly. Ryker and Emmett are still the sweetest couple. There's lots of (different) pack politics that keeps putting people in danger, the latest being Zeke, Emmett's human dad, who has his story next.
At the end, I was liking Marco and Kai together, but I'm not going to lie. After about the 5th or 6th time Kai pushed Marco away yet again I was thinking, "Run, Marco, run! Don't look back. Just go!"
I'll read the next one because I'm invested in the characters now. I am enjoying the series but Kai just drove me crazy. His trusting when he shouldn't have – after not giving Marco his trust – literally had me rolling my eyes.
I did enjoy the book, though it may seem like I didn't. I will be reading Zeke's story when it's released.
I love the cover.