Baby and the Wolf (Shifter Rescue #1), Victoria Sue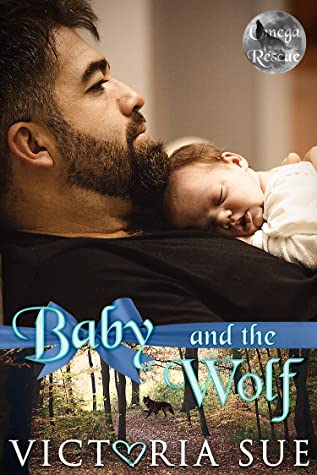 Rating: 3.5 Stars
Publisher: Victoria Sue
Genre: Gay Mpreg Romance
Tags: Paranormal, Age Gap (16 Years), Mpreg, Romance, Series, Shifters
Length: 240 Pages
Reviewer: Cindi
Purchase At: Amazon.com
Blurb –
Just when Emmett thought things couldn't get any worse…
Orphaned at the age of nine and sent to live with his abusive uncle, Emmett Keefer felt his life was over before it even began. Eleven years later, desperation gives him the courage to run…right in front of a moving vehicle. Not his smartest decision, but he can't be too upset when he winds up in the arms of his gorgeous hunk of a rescuer.
As a mixed breed wolf shifter, Ryker Sullivan long ago accepted that he would never be Alpha of his own pack. Instead, he focuses on saving other shifters from being persecuted or, worse, killed for not being pure breeds. Getting involved with the human who ran in front of his truck would be a giant mistake, but he can't just walk away after nearly running over the guy.
The attraction is instant on both sides and giving into a one-night stand seems harmless, but neither man is prepared for the truth about Emmett and how his mother died…or how it will change their lives forever.
Review –
I didn't really plan on doing a review of this on the blog. Not yet anyway. The reason I didn't plan to do a full review is because there were so many characters, clans, and details that I knew there would be no way to remember them all for a review, at least until I got through the whole series. So, what changed?
A little boy named Calvin.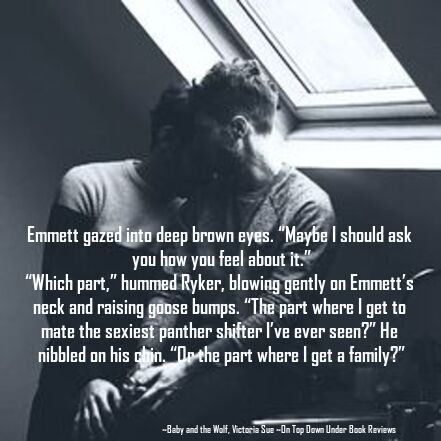 Baby and the Wolf starts with Ryker, a half-human, half-wolf shifter, seeing who he'd learn later is Emmett inside of a bar. Emmett is surrounded by other men, one of which stays close and comes across (to Ryker) as a possessive jerk. No matter. Ryker has things to do. He doesn't have time to try to figure out humans who give off a bad vibe. He'd know if they were wolves or even other shifters, with the exception of panthers who have no scent.
Ryker's in his truck leaving the bar when Emmett runs out in front of him. Convinced he's hurt the guy, Ryker understandably freaks out a little and pulls him into his truck. It doesn't take long before he discovers that the man isn't hurt. He's terrified and running away from those he was with inside the bar.
Ryker does the right thing and takes him to a safe house. After an odd few minutes, and a kiss by Emmett I'm still not quite understanding, they end up having sex. The next morning, Ryker has somebody come and pick Emmett up to take him to another safe place and that's that. Emmett doesn't want to go, but what can he do?
Ryker and Zeke (his human boss slash partner) run a shifter rescue service. That's how Ryker was able to get Emmett to two safe houses as quickly as he did.
A few weeks later everything changes when Ryker's called into Zeke's office. Apparently Zeke has a story to tell about his long lost love (a panther shifter) and a child who was conceived almost twenty-one years ago that he didn't know existed until the day before. That child? Emmett. The same Emmett that Ryker hasn't been able to stop thinking about. The same Emmett who doesn't even know shifters exist, much less that he is one. Somewhat long story short, Ryker shows up at Emmett's door – Zeke asked if he'd tell him to soften the blow a bit – and shares the story about his mother and Zeke. He does this at Zeke's request. Another thing Ryker learns is that Emmett – who also doesn't know anything about male shifter omegas and how they can get pregnant – is pregnant with Ryker's child. Ryker knows Emmett is his mate but it takes a little while for him to share that tidbit of info. I mean, the guy has just learned he's half-panther (he doesn't shift) and that he has a dad. It's probably best if Ryker holds off on adding more to it. He's also just learned about why his horrible uncle (the possessive man he'd run from at the bar) basically held him hostage for years.
Shortly after, a ton of characters are introduced, including different types of shifters. One of those characters is the Panthera, Emmett's grandmother, the woman Zeke blames for the loss of Emmett's mother. She's the head of Emmett's family's panther clan and has a lot of influence. When she was introduced I assumed I wouldn't like her. I ended up loving her before it was all over. There's something about strong, bad-ass women who kick butt and take names. 😉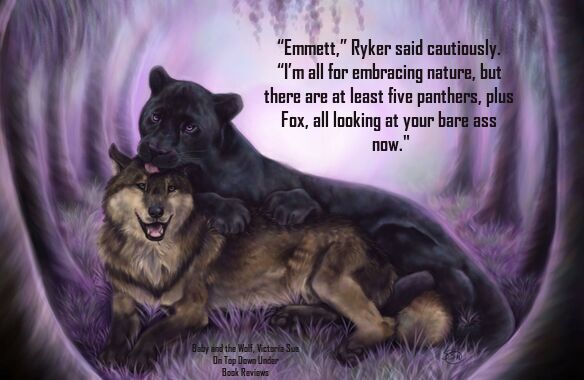 There are a couple of pregnant omegas who are being kept safe, and even a small group of children who Emmett helps rescue from a cave. One of those children is seven-year-old Calvin, who I mentioned above.
Calvin stole my heart, just as he stole Ryker's and Emmett's. There's some drama in the background about Calvin, and an old enemy of Ryker's does something that risks the lives of Emmett, his unborn baby, and Calvin.
Calvin, a little gamma cadet, had me misty-eyed a couple of times, as did something that Ryker did for him toward the end that was so sweet.
There are so many characters and shifters I had a hard time keeping up until near the end. I'm still confused about a couple of them. Even so, I enjoyed the book. I love big, protective men and Ryker fits that perfectly. I liked Emmett too, and I absolutely adored young Calvin. Ryker's a big softy when it comes to Calvin and his newfound mate.
The next book is Kai's, one of the pregnant omegas who I loved right off. Baby and the Wolf ended with a cliffhanger with regard to Kai.
If you go to read this, try to take note of all the pack politics and all the characters. It all comes together, but it's confusing at first.