Captive Mate (Mismatched Mates #2), Eliot Grayson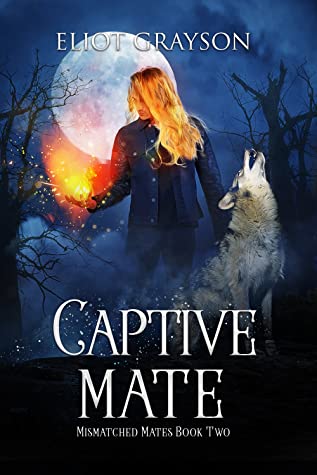 Rating: 4.5 Stars
Publisher: Smoking Teacup Books
Genre: Gay Romance 
Tags: Paranormal, Magic, Some Violence, Humour, Enemies to Lovers, Series
Length: 207 Pages
Reviewer: Kazza
Purchase At:  amazon
Blurb:
Captured, imprisoned, and…falling in love?
Arik is many things. Shaman, necromancer, a little on the snarky side…no one could ever accuse him of being boring. But one thing he never intended to be was imprisoned by angry werewolves. Maybe casting that love spell on the sexy alpha pack leader wasn't such a great idea after all.
Matthew Armitage has a problem. Several of them, actually. And the biggest one is Arik. The shaman can't be trusted. He's dangerous enough to get the entire pack killed. Matthew knows that. But knowing doesn't make it any easier to keep his mind (and hands) off Arik. Surely everything he's feeling is a side effect of the spell…right?
It's not long before enemies of the pack start circling—including one intent on claiming Arik as his unwilling mate. If they have any hope of surviving, Arik and Matthew will need to work together. And if they want a shot at happily ever after…well, they'll just have to cross that bridge when they get to it.
If they get to it…
Captive Mate can (sort of) be read as a standalone, but works best when read in order as part of the Mismatched Mates series, beginning with The Alpha's Warlock. This book contains a vivid memory of a sexual assault, but the assault occurs in the past and off-page and is not between the main characters.
Review:
This book kicks off after the events at the end of The Alpha's Warlock – book #1 – and follows the shaman, magic user, necromancer, although necromancy isn't really explored, and shifter who caused some chaos when the Kimball and the Armitage packs fought. Nate's father was originally trying to cause unrest and bring a new paranormal order into being, and while his demise was good, it still left a degree of turmoil/unrest in the aftermath. Including Arik being held captive by the Armitage pack and a love spell he's put on Matthew, their alpha, to ensure Arik's own safety.
Arik is more powerful than Nate, the warlock of the first book's title. Like Nate, Arik has quite a degree of emotional baggage, probably more. It makes for a rough start because Arik is somewhat of a prickly dick. Hang in there. He grows on you. Once you get to know more about him you can sympathise, there is a lot to sympathise with, and you can see that he fits the ragtag Armitage pack. I ended up caring a great deal for Arik, just don't tell him.
There's a new pack war with the Kimballs, complete with a new agitator, Parker Taft. Parker is the alpha of the Taft pack and he wants Arik back and doesn't care who he uses or hurts to do that. Arik doesn't want to go back, with good reason. However, he's in a quandary with nowhere in particular to go and uncertainty about this pack who are his captors, especially about Matthew Armitage. He seems like the typical alpha… yet he also doesn't. He's drawn to him but he "hates" him on principal. Arik can't trust alphas, wolf packs, and feelings – outside of anger, hurt and confusion.
Arik seems an unlikely love interest for Matthew Armitage – another alpha wolf. That aspect started slowly for me, but it grew exponentially throughout. It works in this world and within this group of stomping, snarky, growly, misfit beings. This is about mismatched mates after all, it's the name of the overall series, and Arik and Matthew fit that description to a tee. Nate and Ian were the same in book #1 so Eliot Grayson stays true to the spirit of the series.
There is some violence in this book, there is an overall edge to the writing. But there is also plenty of humour and snarky banter. 'A little on the snarky side' in the blurb is a study in understatement.
 "Where's your worse half?" I asked Nate. "Off grunting at small animals?"
"Ian prefers to grunt at large animals," Matthew said blandly. "More of a challenge when they grunt back."
I enjoyed unpacking the character baggage. I enjoyed the personal and connected growth of Matthew, who I think is quite the picture of self control and respectfulness, and Arik, who is his own worst enemy at times, but – once you know why – understandably so. There's romance and there's use of the paranormal mine, which I do love. Magic is well utilised in Captive Mate in this very shamanic or even Gaia-like way because Arik is connected to the earth when he uses magic. I loved his shifter form, tufty ears and all. Especially tufty ears. Not saying anymore than that 🙂
I like that the respective series book's fated mates are not interested in being owned or being a possession. I don't mind a possessive paranormal romance, in fact I'm all about stalkerish obsessive love, but it depends on the story, the characters and the writing. I respect the feelings of both Nate and now Arik wanting to be their own man whilst also allowing love into their life. This, I very much enjoy. This, fits the overarching nature of the storytelling.
It was good to see Charlie Fenwick and Dor once more. It was also wonderful to not only see but spend quite a bit of time with Nate and Ian again. Speaking of…
Oh. My. God. Nate and his passive-aggressive mugs! I laughed so hard.