Gus (Bar 28 #1), J.J. Harper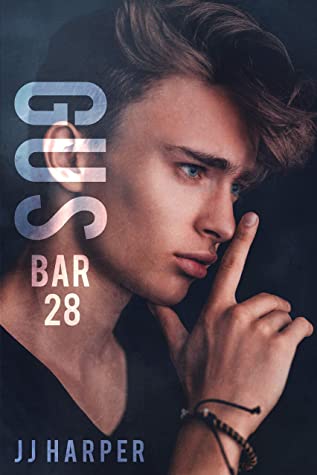 Rating: 3.5 Stars
Publisher: JJ Harper
Genre: Gay Romance
Tags: Contemporary, Age Gap (9 years), Insta-Love, Romance, Series
Reviewer: Cindi
Purchase At: Amazon.com
Blurb –
Take one hot nerd
Add a sexy bar owner
For a one-night stand
All Gus wants is a night out and a hot hook-up before he starts his final year of university.
Max has always been a player. One look at the sexy guy with the black guyliner and he's found his bed partner for the night.
What neither of them expected is the deep connection. Gus runs from his feelings. He doesn't have time for a relationship. When Max wakes up and finds his bed empty, he's disappointed, more than he thought possible.
Then Gus turns up as the newest bartender at Bar 28, the bar Max owns with his brother. Max isn't going to let Gus get away from him again.
Can you really trust your instincts and believe you've found the one person you're meant to be with?
Gus Bar 28 is a sweet and sexy gay romance, filled with tender moments and heartbreaking emotions.
Review –
I'm not gonna lie. I totally downloaded this book because of the cover. I mean, look at it. And it helps that Gus is described in the book exactly as he is on the cover. I'm real weird about that type of thing so that's a big win for me.
It's the weekend before Gus (who's 21) is to start his last year of college. It's Saturday night and he and his two friends (Liam and Will) are going out. They stop at a pub for a couple of drinks with the plan to check out a newly popular bar, Bar 28, right after. Gus is dressed, to be blunt, to get laid. He's wearing his tight jeans, a sexy shirt, and eyeliner. Gus' eyes are two different colors – and he's usually stuck answering a bunch of questions about them – so he's wearing blue contacts. He's with his friends having a nice time when he catches the eye of a hot guy across the room. When it's his turn to buy the drinks he's standing at the bar when the hot guy presses up against him and says, "Hello. You look like my kind of sin." Gus plays it cool but he's anything but.
Goosebumps break out over my skin, and I bite down on my lip, stopping me from moaning. My dick swells in my tight jeans, making me grateful for the bar hiding my growing erection. "That's good to know." I match his smirk, then pay for and collect my drinks. "You'll find me at Bar 28 later." I step past him and get back to my friends.
Max (said hot guy, who's 30) co-owns Bar 28 with his brother, Jonas. He makes a quick call to his bartender before he's heading to the bar and looking out for the guy from the pub. It doesn't take long to find him dancing with his friends. He makes his move, not telling Gus he co-owns the place. A few minutes later they're in Max's bed. When Max wakes up the next morning, he's upset to see that Gus is gone.
Gus doesn't want to leave Max in his bed, but who wants to deal with an uncomfortable morning after? It was a one-night-stand, nothing more, though his heart is saying otherwise. He feels bad about just taking off but then decides it's for the best. He'll be busy with school and needs to get a job soon. He won't have time for any type of relationship.
That job comes quicker than expected when Will and Liam tell him that Bar 28 is hiring bartenders. He applies and gets the shock of his life when the interview is wrapping up and he sees Max. There's a bit of awkwardness at first – Max really didn't take Gus leaving him asleep on Sunday morning well – but they kinda/sorta talk about it and it's okay. Or so Gus thinks anyway. Max doesn't take his eyes off Gus during his first shift and follows him out when he leaves. They end up in bed again and before long they're talking about maybe trying the relationship thing and being exclusive. When I say things happen fast, I mean they really happen fast.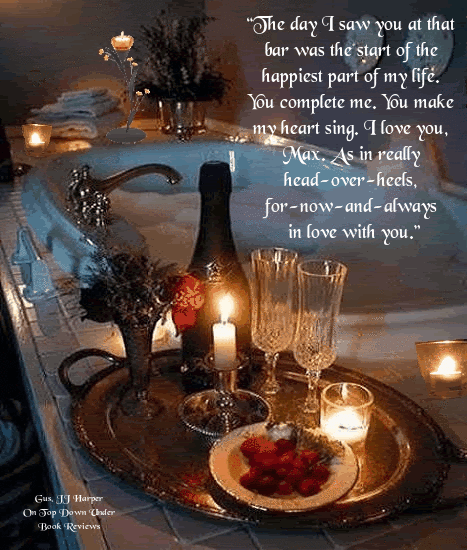 There's a lot of jumping ahead in this book. As in, they'll be talking or whatever and then they're in bed. The in between is all off-page, something that bugs me. Another reviewer commented on them going to an Italian restaurant and Gus mentioning Tiramisu as they're walking in for dinner. The next sentence is Gus eating the Tiramisu.
And it's not just that. There's a lot of jumping ahead in the story as a whole and even a few off-page sex scenes. I didn't mind those sex scenes being off-page because while the author jumped ahead and left out important details about other things, the on-page sex scenes dragged out for several pages. I'm not saying they weren't written well. They were. It's just that a majority of the story is about them having sex, even when something dramatic happens in the story.
I like Max and Gus together. I felt really bad for Gus when the above-mentioned dramatic event happened. I love how Max swooped in and rescued his man more than once. I did feel that more details were needed for all that. I love Gus' parents and Jonas, Max's brother. I really liked Gus' friends and the guys at Bar 28.
I enjoyed the story, but honestly, I felt that there was way too much telling and not enough showing. The first part of the book – where they dance around each other a little before hooking up – was fantastic. It sucked me into the story and had me eager to read more. It was after that, with the exception of the super long sex scenes, that I felt were too rushed. As much as I wanted to, I never truly felt the romance. The sex? Absolutely, but not the romance. I also didn't see where Gus was the nerd described in the blurb. Sure, he's in his 4th year of college but…? He didn't dress like a nerd (anything but). He didn't act like the classic nerd I see in books (again, far from it). I'm guessing his smarts made him that way?
Another thing… I'm guessing this book takes place in the UK. Is tipping bartenders the norm there? Just curious.
Sawyer's story is next (I think?). He's a bartender at Bar 28. I'm just curious enough about him to want to read it.
I think this is my first by this author.