Family Camp (Daddy Dearest #1), Eli Easton
Rating: 4 Stars
Publisher: Pinkerton Road LLC
Genre: Gay Romance
Tags: Contemporary, Family/Kids, OFY, Pro Athlete, Romance, Series
Reviewer: Cindi
Purchase At: Amazon.com
Blurb –
When Geo signs up for Family Camp, he envisions nature hikes, s'mores, and a chance to win over his recalcitrant new foster kids, Jayden and Lucy. He's tried to become a dad for so long, and he hopes the three of them can be the family he's always wanted. What he doesn't anticipate is the prickly and gorgeous camp counselor who constantly comes to his rescue.
Travis spends a week every year at Camp Evermore, the camp his adoptive parents own. As a pro baseball player, his presence guarantees a full campground and excited campers. He has one rule: never, ever mess around with anyone at camp. His profession demands he stay in the closet. But one sweet and funny new dad is about to test all his resolve.
Sparks fly for Geo and Travis, and not because of the nightly campfire. Having been a foster kid himself, Travis is drawn to Geo's sincerity and big heart and to his kids. The four of them just fit. But will this be a summer romance? Or can they find a way to be a family long after Family Camp is over?
Review –
The blurb tells a lot of the story. It starts with middle school teacher Geo on the drive to Family Camp with his two foster kids, twelve-year-old Jayden and five-year-old Lucy. Lucy is having a meltdown to end all meltdowns because she can't find one of her dolls. Worse, Geo has run out of gas and patience. Jayden's not much help. Thankfully, they're rescued by a nice man with a dog and five gallons of gas. The dog calms Lucy down and the gas helps him get back on the road. The man who stops is a super nice guy until suddenly he's not. He goes from hot to cold so quick it leaves Geo confused. No matter. He got help to get back on the road and Lucy's no longer screaming at the top of her lungs. He's determined to have a nice week at camp with the kids if it kills him. He's wanted children for as long as he could remember. He refuses to let these two down.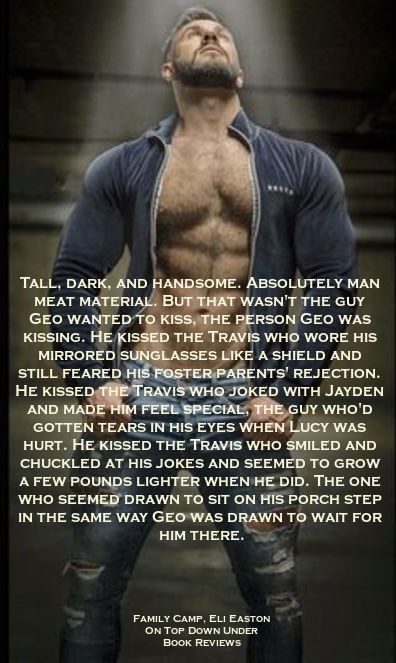 They arrive at the camp only to be brought face-to-face with the guy who'd saved them before – the same guy who went from being friendly to being a jerk in an instant. It turns out that the man is the adopted son of the owners of the camp and is there to help out for a week, as he does every year. Worse, Travis is a pitcher for the San Diego Padres so he's well known. It doesn't take long before Geo's seeing a lot of the mothers tripping over themselves to get close to Travis. Geo, however, has no desire to get close to him. Well, the desire is there but he knows better, especially after the way he's not exactly gone out of his way for Geo. For Jayden and Lucy, sure, but not their foster dad.
Travis is deep in the closet. A pro baseball player, he knows coming out could hurt his career. He's not even out to his family with the exception of one of his adopted sisters, Cindy. It's kind of a good thing that Geo made him mad seconds after they met or he might be making a fool out of himself – not to mention outing himself – if he were to hang around him too much at the camp. Travis' dislike for Geo wasn't fair. He, a former foster child like Jayden and Lucy, took something Geo had said and made it something it most definitely was not. Thankfully, that particular misunderstanding didn't last long.
They slowly get to know each other as Geo tries to navigate parenthood with two very different foster kids. Jayden's the typical twelve-year-old with a chip on his shoulder, made even heavier by the fact that he's convinced that Geo will be sending him back into the system like all his other foster parents did. And Lucy, well, she's different in her own way. She's small for her age and doesn't do well being held or cuddled. Each child had pretty bad experiences in foster care so they're not convinced that Geo is any different from the others.
Geo and Travis start a friendship of sorts with them even having nightly chats on the top step of Geo's cabin when the kids are asleep. They risk moving back into the woods – far enough for privacy but close enough to hear Jayden and Lucy if they need them – and kiss. Another night they do quite a bit more than kiss. 😉 Even so, they're very careful to keep what they have private.
Or at least they think they are. Apparently, they're not private enough.
Anybody watching them during the week can see something's happening, even if Travis and Geo are convinced they're being careful. They're not touching or openly flirting or anything like that. It's how they act with each other with Jayden and Lucy and during some of the camp games. They look a little too familiar… too much like a family. Travis is treating Jayden and Lucy special even if he doesn't realize it. With Jayden, he sees a kindred spirit because once upon a time he was just like Jayden, terrified of loving too much for fear of being rejected. With Lucy, he just wants to wrap her up and protect her from the world.
As with most closeted athlete books, something happens that brings everything out in the open. Not only is Travis' career on the line but so is the peaceful existence that Geo has hoped for as he navigates the system to adopt Jayden and Lucy.
That's all I can really say about the book without giving it all away.
I liked Travis a lot once he got over his silly assumptions early on about Geo. I liked Geo from the get-go even if he was a bit on the cheesy side sometimes. It goes without saying that my heart was all in for Jayden and Lucy. I liked a lot of the secondary characters, including Bridget and Van, two of the moms at the camp who immediately adopted Geo as one of their own. I liked Travis' family for the most part, though Cindy – even if she was trying to be helpful – kind of rubbed me the wrong way. I'm not sure why other than she shared a bit of info with Travis' agent that wasn't her place to share. It wasn't a big deal or anything but I just felt that it was a little intrusive.
I love kids in books so that was a big plus. So, why four stars instead of five? Honestly, there was nothing wrong with the book other than I think I'm just over closeted pro athletes. Maybe it's because I've read so many books lately that the trope has gotten a bit tiring. The saving grace for me with Travis was that he didn't shove Geo away or deny him. Had he done so, my rating would've been much lower.
Overall, a good story about family and two men who are meant for each other. I loved the ending.