An Affair for Aumont (Bucknall Club #5), J A Rock & Lisa Henry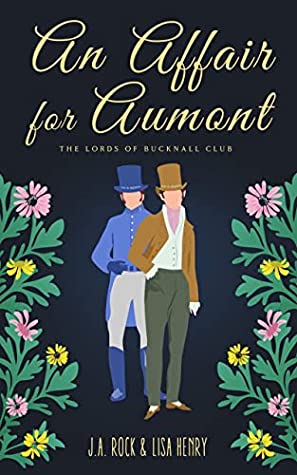 Rating: 5 Stars
Publisher: Self Published
Genre:  Gay Romance
Tags: Regency Romance, Humour, Pathos, Hurt/Comfort, Humour, Series TW: Suicide Ideation, Alcoholism 
Length: 248 Pages
Reviewer: Kazza 
Purchase At: amazon
Blurb:
All he wants is the love he lost.

Four years ago, Louis-Charles Aumont, the Marquis de Montespan, chose duty over the man he loved. And then the man he loved chose death in service to England. Now, after finally cutting ties with his king, Aumont is living in a slum in Seven Dials–and intending to die there too. But when Bow Street Runner George Darling shows up at his door with a strange proposition, Aumont is intrigued by the prospect of something–anything–that might make him feel alive again. Or at least provide the funds he needs to drink himself to death.

All he wants is the love he couldn't have.

George Darling joined the Bow Street Runners out of a belief in order. He accepts no bribes, indulges in no vices, and tries very hard not to dream above his station. If only Lord Christmas Gale hadn't put that last one to such a test. Now that turning his thoughts from Lord Christmas only lands them instead on the handsome Frenchman with whom he recently crossed paths, Darling is more determined than ever to keep his head down and focus on his duty–until a knock on his door sends his life into disarray. Teddy Honeyfield, a former companion of Lord Christmas's, is in need of a temporary bodyguard. Darling would never pass as the sort of gentleman Teddy requires…but he knows someone who might.

Neither wants to take a chance on a love that can never be.

When Aumont and Darling join forces to help Teddy, they're not expecting to risk their hearts as well as their lives. Darling's striking looks remind Aumont quite painfully of the man he's lost, and Aumont's title reminds Darling he has no right to desire a nobleman. But the rising threat soon drives them to flee with Teddy to the country–a journey that puts them face-to-face with their pasts while showing them a chance for happiness is within reach, if only they're courageous enough to grab it.
Review:
This was a wonderful addition to the Lords of Bucknall Club series. I've enjoyed them all. You can read this book without having read another in the series, I've literally read this series arse about face so anyone else can too. However, the scene at the Bucknall Club where all the series MCs were together, for reasons, was fucking
h i l a r i o u s. And while it did help that I knew these characters, I stand by the fact that it still isn't necessary to know them to enjoy "Aumont." 
George Darling, aka the potato – a running joke throughout – is a Bow Street Runner, the precursor to the police in London. Darling is a decent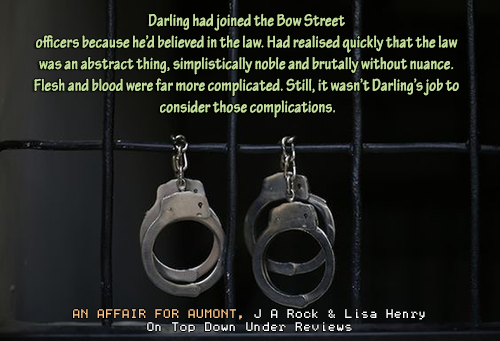 man who believes in the law but also knows it can be an ass. More than anything else, though, he believes in morals and kindness. He isn't a lord, he's the son of a butcher, and feels like an imposter around the Bucknall lords. Still, he's been on the periphery previously, had feelings for Lord Christmas Gale for a moment, and, very much against his nature, turned a blind eye to Lord Crauford's murder. But hmm, that act happens to be entangled with his love interest here, Louis-Charles Aumont. An ex spy, ex close friend of Lord Soulden's, ex lover of the deceased Luke, ex Frenchman, and current sad, lonesome, sarcastic and bitingly witty drunk living in the bleak Dials.
"Nobody has ever wished to harm me before, to my knowledge."
"Eh," Aumont said. He eyed the canvas bag warily. "You get used to it."
Teddy raised his eyebrows. "And how many people currently wish to harm you, my lord?"
I started this book and thought, yeah, nah, but then it took off like a grassfire on me. These series books have all been so sneaky, you'd think I'd know better by now. Even A Rival for Rivingdon, my heart's favourite, started off with me thinking the MCs were too young and too vacuous for me. The youth was no issue, and though they may have fluffy-headed ways, Notley and Rivingdon were and remain absolutely adorable, I will not hear a bad thing about them. They even have a pet sheep that eats everyone's coats now. New South Wales gets a nod again, albeit around criminal activity, and Morgan is now an authority on the fact that it isn't actually Wales. And he has his buttons happening. *Claps hands. I was so freaking happy. It might have been a to-catch-a-creep exhibition, but I believe in you Morgan.
It's always hard to write substantial reviews for this series. But I can tell you that I laughed my arse off where I was supposed to, I felt emotions of hurt and pain where I was supposed to, and I cheered for them throughout. All winning aspects for my personal reading pleasure.
A Sanctuary for Soulden wasn't far behind A Rival for Rivingdon in terms of my love for the story and An Affair for Aumont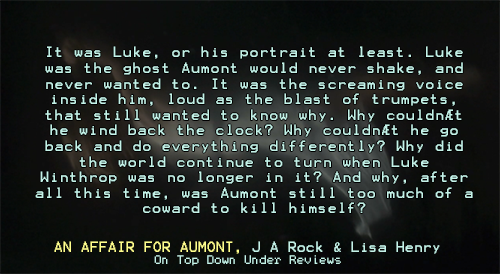 is right up there as well. It's just a bloody good series. The prose in An Affair for Aumont is visceral, really touching, and sets the book's desired tone. It's also crazily random when these lords get near one another. I also feel like Rock and Henry have hit a beautifully comfortable groove writing this series. They both seem like they adore these guys and this world. Each book is deeply original as well. It's a joy reading such quality writing and storytelling. Please write more in this series, Rock and Henry, and please visit the darker side again soon, this reader implores you both to do so.
The mystery in this book was fun and such an obvious plot device for love to occur, pffft. The whole idea is to have a gay old time and the ton has never been gayer than in the Bucknall Club series. I enjoyed spending time with Teddy, too. He's a sweetheart. I enjoyed my time in London, out of London, anywhere with Aumont and Darling, visiting Darling's family… random pig farmers included. I also enjoyed seeing the other characters again. I loved the writing and letting my heart get invested in the journey and the outcome Rock and Henry delivered to two interesting, deserving men. 5 Stars!