Shades of Winter, E.M. Lindsey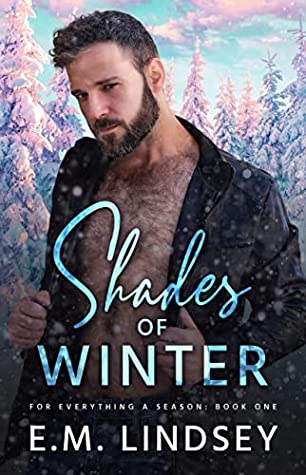 Rating: 4 Stars
Publisher: E.M. Lindsey
Genre: Gay Erotic Romance
Tags: Contemporary, Age Gap, BDSM/Daddy Kink (Mild Humiliation/Kneeling/Orgasm Denial/Spanking), Christmas, Insta-Love, Romance, Virgin
Length: 238 Pages
Reviewer: Cindi
Purchase At: Amazon
Blurb –
The first time Dante saw Liam, he was in the club.
All leather.
And mesh.
And willing.
The second time Dante saw Liam, he was a client.
All cold.
And quiet.
And in danger.
Dante is nothing if not professional when it comes to his job as a bodyguard, but being hired on to protect the young cellist he'd once met in a dingy bathroom wasn't high on his list of things to do for the holidays. Especially knowing that Dante can no longer touch him.
And it doesn't help that Liam starts pushing every single one of his buttons after they find themselves snowbound with Liam's stalker hot on their tail. Dante needs to find a way to draw a line between them, because he's not willing to give up his career to have Liam in his bed. But he also knows he can't ignore the one thing he's figured out:
Liam needs a firm hand, and Dante knows how to give that to him.
At some point, Dante will have to make a choice between duty and pleasure, but he's starting to wonder if that risk might not be worth everything.
Shades of Winter is a low angst, stand-alone, MM winter holiday romance featuring an age-gap, a grumpy size queen bodyguard, a cellist who just wants to feel delicate, a dash of gentle humiliation, and a piping hot-toddy of a happily ever after.
Review –
Shades of Winter starts out hot and heavy. Dante is at gay bar for no other reason than to get laid. He's there only a few minutes before he's seeing the guy he wants to play with dancing on the other side of the bar. Unfortunately, the guy has a couple of men nearby who appear to be bodyguards or handlers of sorts. Even so, one glance from the other man and he knows they'll be hooking up soon.
Liam is celebrating his twenty-first birthday. He's dancing and enjoying a rare few minutes of freedom when he spots the sexy guy across the bar. It doesn't take long before they're in the bathroom with the door closed and locked. Dante wants to take time with his new soon-to-be fuck buddy.
They're only given 10 minutes.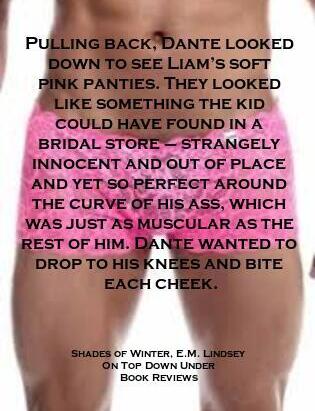 What happened in those 10 minutes was hot as hell. Liam has a thing for wearing lacy panties. To Dante's shock (and total arousal), Liam also gets off on a bit of pain and mild humiliation. Unfortunately, the 10 minutes are up before Dante can do as much as he wants to do. Liam disappears and Dante's convinced he'll never see him again.
Liam is a music prodigy. He sings, dances, plays the cello, and has since a very young age. His parents are so-called 'important people'. His dad (Richard) is a conservative senator, and his mom is some kind of humanitarian who's always done a lot for others while neglecting her only child.
There's helping other people, which is admirable, and there's treating your son like he doesn't exist. That's Liam's mother. She wasn't on-page at all in Shades of Winter, and was only talked about briefly. Even so, I didn't like the woman at all. It was pretty obvious that she didn't give a damn about her son.
His humanitarian mother hadn't seen him since he was sixteen. Her work took her all over the world and into everyone's problems but his own. His grandparents occasionally remembered his name but not his age, or where he lived, or what he was doing with his life. And, of course, his father was a whole different bag of issues that would take a thousand years to unravel.
His father… well, let's just say he's a major piece of work who cares only about marching his gifted son out to play concerts for his 'important' friends and colleagues because he thinks it makes him look good. What it does is make for a sad and lonely Liam. He also treats Liam horribly in every other way.
While Dante is convinced he'll never see his lace panties wearing play buddy again – and he really, really wants to – his security company is contacted for a specific case. That case? Protecting a senator's son, a music prodigy, who has a stalker.
You see where this is going.
Dante and his longtime best friend (Linus, aka Peanut) own Trinity Defense Services, a security company started after an accident took the life of Trevor, Dante's almost ex-husband, and severely injured Dante many years back. Long story short, Trevor was a cheating bastard and divorce papers had already been filed, though not finalized at his death.
Because of recommendations from somebody important in Europe, the senator chose Dante personally to protect his son. It wasn't really about protecting the boy as the jerk didn't seem to care one way another what happened. It was all about ensuring Liam made it to a New Year's concert where he was headlining.
You know, to make the senator look good.
It took under a minute of meeting with the man before Dante was already despising him. When Liam walked into the meeting – late just to piss his dad off – Dante knew he was in trouble. But then again, so did Liam. The last thing either man wanted was to work together. There was way too much sexual tension between them, and Dante knew there was no way in hell could he protect the other man without wanting a heck of a lot more. And Liam knew if Dante was hired as his bodyguard there wouldn't be any picking up where they left off in the bar bathroom.
Neither showed any type of recognition in front of the senator, which was smart on both their parts.
It should also be noted that the reason Dante was hired was because of the 10 minutes of freedom Liam was given at the bar. Liam's dad fired the other security team (Carlo, who was amazing, and Shaun, who was a psychotic weirdo). The only person other than Liam who recognized Dante as being that guy was Carlo, thankfully.
Dante signs the contract and he and Liam set off to Liam's family's winter home in the middle of nowhere, with Liam pushing Dante's buttons every chance he got. Every single person who'd ever worked for Liam and his family (except for Carlo) was a yes person. They jumped when Liam said jump, went where Liam said go, and never said no to the man. Dante was different and didn't let Liam rile him.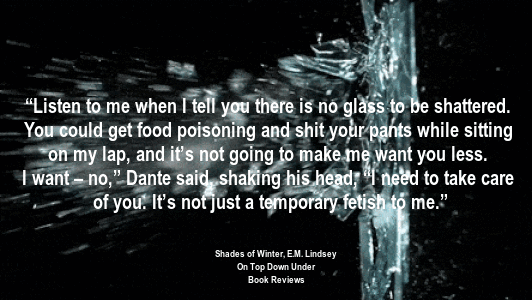 There's a bit of back and forth between them on the trip (during a snowstorm), and when they arrive at their destination where they're snowed in for a few days. Thankfully, Dante didn't drag things out too long when they got there as far as the 'I'm the bodyguard, you're my charge, and we can't touch each other.'
All that was nice. It was even pretty hot. Liam wasn't the spoiled brat he'd appeared to be. He was sad and lonely and just needed somebody to be firm with him, to say no. He had no real friends because he was considered a freak by his peers. He was a genius when it came to music, whether it be playing the cello, singing, dancing, or composing. He was also a little flamboyant, something his conservative classmates went out of their way to bully him for. He's bi, though he'd never really been with anybody, male or female. He was a virgin but he already knew his wants, his needs.
Dante had his own wants and needs and they weren't met with his late almost ex-husband. Trevor more or less had humored him when Dante needed a lot more than that. There's not a whole lot of talk about Trevor, but it was easy to not like the guy.
Dante is a Daddy. Liam was a boy through and through, who needed rules and a firm hand. Once they got over the back and forth with the bodyguard/charge thing, they were good and the sex scenes were pretty hot.
I'm going to throw this out there… there is NO age play in this book.
Now back to the stalker. The stalker, Theo, is dangerous. He sends a lot of threatening texts and had even somehow managed to get inside Liam's dressing room after one of his concerts. This was before Dante and Liam met, and one of the reasons Dante was hired. It had been a long few minutes before Liam was able to escape. Theo knows pretty much everything that's happening in Liam's life, including his very private schedule.
While Theo wasn't so predictable – he was seriously barely even mentioned – how he got his info was. I figured that out WAY early in the book.
This is one of those stories where the two main characters fall in love quickly, but it seems like it's over a longer period of time. At no point while I was reading the book did I feel like things were happening too fast. If anything, I felt like it dragged some as they traveled to the house where they ended up getting snowed in. The power exchange between these two was written perfectly. It was unique in a lot of ways, which I liked.
Dante is a major size queen bottom. Liam may be a small twink (his words), but he's all about doing whatever his Daddy says.
And their wants are pretty much in sync, which worked out well for both of them in pretty much all ways.
In reality, Dante wanted to be fucked. He wanted to be railed – a massive dick pounding his prostate until he couldn't see straight. He'd always liked the feeling of it – the stretch, the burn, the prostate tortured. He liked being in control – being the Dom, the Daddy – but he still wanted a big, fat cock attached to someone he could treat like his own personal toy.
~
He had at least seven inches and a good hundred pounds on the little dancer, who either his guards didn't care, or they were bad at their job. Whatever the case, it was great for him.
Shades of Winter was a really good book, but I had a few issues with it. Dante was supposedly this really good bodyguard. He'd worked for famous actors and performers, foreign dignitaries, and everything in between. But when it came to Liam, he was careless a few times, most notably when it really counted. I get that he and Liam were working on their relationship in the midst of it all, but the 'protecting Liam' should've come first. Don't get me wrong, he was super protective of his boy, but when they were snowed in at the house, I didn't see him constantly checking locks, pushing to check Liam's phone (how the stalker usually contacted him), or even doing extra checks of the house and property.
The main problem I had was that when it REALLY counted, Dante made a dumb decision and allowed – no, not allowed, forced – Liam to do something as a punishment of sorts that could've ended very badly. It didn't, obviously, and Dante was always nearby, but all it takes is a few seconds for something to happen. In those few seconds where Liam was alone (with the stalker, it turns out), Liam could've been killed.
It worked out, as I said, but it was careless on Dante's part when he was supposed to be this amazing bodyguard.
A few other things bugged me about the story.
There's an age gap between Dante and Liam. I know Liam is 21 as he met Dante on his 21st birthday. What I don't know – what I don't think was ever mentioned in the book – is how old Dante is. If his age was mentioned, my apologies to the author for missing it, but I'm really funny about knowing ages of both characters if 'age gap' is being used as a selling point for the book. It's one of my pet peeves and something I've mentioned several times in my reviews over the years.
Younger man/older man, my lover/his lover… seriously overused throughout the entire book.
The entire stalker thing. Theo was mentioned a few times, a few threatening texts were received, but he was mostly put on the backburner until a really quickie, not quite satisfying resolution. The same with Liam's overbearing jerk of a father. I wanted more than what I was given when it came to him at the end. He was such a big part of why Liam was the way he was. I needed him to be more than just an afterthought tying up that particular loose end.
What I did love…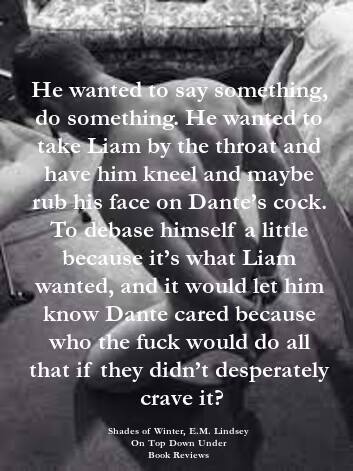 The power exchange between Dante and Liam was awesome and written well. I loved how Liam was secretly into wearing lacy lingerie. I loved how he knew what he wanted from a man (re: a Daddy) though he was very inexperienced sexually. He got off on humiliation but not to extremes. I'm usually the first one to run away from books involving humiliation, but it really worked with Liam, and Dante knew just how much his boy could take.
Another thing I liked was how the author showed where they were as a couple a year later, even if the other things mentioned above (Theo, the senator dad) were rushed.
Something that broke my heart a little was how it was coming up on Christmas – Dante and Liam actually spent Christmas together – and Liam's parents couldn't be bothered. I think his father was even out of the country, and of course, his mother was off somewhere. I loved how Dante gave Liam his first real Christmas. They didn't have much as far as gifts or decorations, but it was still the best Christmas Liam had ever had because Dante made it that way.
Overall, a really good book. I really hope to see Carlo and Linus have their own books someday, especially Carlo. Until Dante came into Liam's world, Carlo was a nice father figure of sorts. He even gave Liam the ten minutes of freedom – that ultimately cost Carlo his job – because he knew how sheltered Liam had been. Carlo also does other things throughout the book that I found to be sweet. Linus, however, isn't in the book much, but I did like what I saw. Maybe they'll be love interests? No matter how they're written, I do want to see them both have their own books.
Shades of Winter was a solid 5-star read for me until the incident where Dante's Daddy/boy punishment for Liam could've turned deadly. It was careless for a bodyguard who was supposedly one of the best in the business. I get that he was upset over something Liam had done, and rightfully so, but he allowed his emotions to override his duty as a protector. More than once I felt he let things happen that really shouldn't have happened. Even so, I liked him and Liam together.