Audiobook Review: Evolved, N.R Walker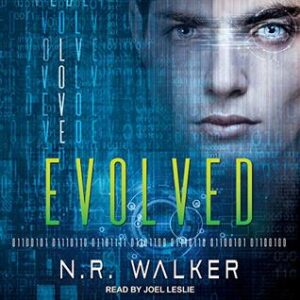 Genre/Tags: Gay Romance, Futuristic – Android MC 
Author: N.R. Walker
Story Rating: 4.5 Stars
Narrator: Joel Leslie
Narrator Rating: 4.5 Stars
Length: 8 hours and 17 minutes
Audiobook Buy Links: Audible, iBooks
In 2068, androids are an integrated part of human life. Big Brother no longer just watches from the shadows. It's in every household.
Lloyd Salter has OCD issues with noise and mess, and he's uncomfortable with human interaction. When his ex claimed the only thing perfect enough to live up to his standards was an android, Lloyd dismissed it. But two years later, after much self-assessment, he thinks he may have been right.
SATinc is the largest manufacturer of androids in Australia, including the Fully Compatible Units known as an A-Class 10. Their latest design is the Synthetic Human Android UNit, otherwise known as SHAUN. Shaun is compatible to Lloyd's every need; the perfect fit on an intellectual and physical basis.
But Lloyd soon realizes Shaun's not like other A-Class androids. He learns. He adapts. Sure that SATinc is aware Shaun functions outside of his programmed parameters, Lloyd must find a way to keep Shaun safe. No one can know how special Shaun is. No one can know he's evolved.
Contains mature themes.
Review:
I read this book a couple of years ago and enjoyed it. I was in the mood to reread it but I noticed it was on Audible. I listened to the sample and, being frank, I was a little unsure of the narrator but decided to give it a crack anyway.  I'm glad I did. However, I want to add my feelings about accent. In this particular audiobook the words 'privacy, knew/new, room, data, and Yarra River' – the latter being an (indigenous name) important aspect of the Melbourne setting – were British in delivery. Even though he did a decent job of the accent, and Australian is an awfully hard accent to get right, you can tell the narrator is not an Aussie. I prefer to hear the accent of the region a book is set in. In this case, my own country. I've become aware that it's difficult for authors to get who they want as a narrator, so there's that. I'm also not detracting from the narration of Joel Leslie. He impressed me overall and value-added a great deal to the story with his passionate narration – I've rated it half a star over the e-book. So why do I bother mentioning this then? Because I mind how my accent is represented. Because I feel that there should be more diverse narrators in the talent team of production houses. More choice of narrators, and yes, I get it that some voice talent think romance (especially gay romance) is not a worthy gig. They needed to listen to Jerry Orbach's mother, who once advised him to 'never turn down a paying job'. I agree, take every job seriously.
I originally gave Evolved 4 stars as an e-book because I didn't feel a sense of time, 2068 to be exact. I still found there was no particular sense of time listening. However, where it shone brightest was in hearing the characters. It's a sexy tale, a sweet romance and Leslie definitely delivered these elements. He also imbued the sex with tons (and tons) of passion. Given Shaun is an A-Class companion android and sex is a significant part of his programming, it meant sex was a significant part of the book. Leslie is a smoking hot narrator of passionate and robust sex. Also, talking personality, if Lloyd Salter were in the wrong hands he could have come off badly. He's a rigid man, a tad snobby, a philosophy professor who sits on his more loving, caring emotions and doesn't have time for his fellow humans; they're too messy, too noisy, too annoying, too invasive. Leslie elevated Lloyd's seemingly anxious and inflexible attributes to more kind and concerned when it came to Shaun's wellbeing and care, thus we feel connected to him via him caring for another. Lloyd develops from someone who logically understands ethics about being a custodian of an AI companion, albeit understandably believing it will be limited to some degree, to caring deeply about Shaun's welfare, to loving Shaun as his partner, and Joel Leslie genuinely and earnestly showcases Lloyd's emotional awakening.
Shaun was an adorable character in the e-book but without sufficient understanding of the overall story, that sometimes humanity is lost on humans, that love can certainly help us be better, Shaun could have simply been  adorable with no extra dimension. But Shaun is fundamental in facilitating Lloyd's ability to connect to others. Leslie added good depth of development as Shaun's processing capabilities and his understanding of being 'alive' grew. Most of all, and so special to me, there was such tenderness given to the narration of Lloyd and Shaun together that it absolutely engaged all my senses.