Brought to Light (Magic Emporium), Eliot Grayson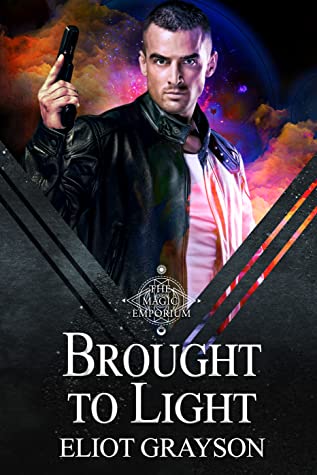 Rating: 4 Stars
Publisher: Smoking Teacup Books
Genre:  Gay Romance
Tags: UF/Fantasy, Humour, 
Length: IDK
Reviewer: Kazza
Purchase At: amazon, Eliot Grayson 
Blurb:
A hitman and a fae walk into a café…
Callum always gets the job done—whether he likes it or not—but this job isn't like any other. The target's too young, too pretty, and too appealing for comfort, and the clients are offering more threats than cash. And either the target poisoned his hot chocolate or he's going crazy, because now magic stores and wizard-looking dudes are appearing out of nowhere. It's really not Callum's day.
Linden's on the run, and the human realm's a good place to hide from evil sorcerers who think Linden's the answer to a prophecy. But his enemy has found a way to send a very human and very dangerous assassin after him—a man who could kill Linden with one hand. Linden should be terrified, but his knees go weak for all the wrong reasons.
When Linden's family is taken hostage, spending the night with Callum ought to be the last thing on his mind, but Linden can't resist the chance to fulfill his deepest fantasies before sacrificing his own life. Callum knows he should walk away—it's not his fight. But the beautiful fae is under his skin and now protecting Linden and his family feels more important than his own survival. A human learning to feel. A fae learning to trust. Can two worlds merge into one true love?
Brought to Light is part of the Magic Emporium Series. Each book stands alone, but each one features an appearance by Marden's Magic Emporium, a shop that can appear anywhere, but only once and only when someone's in dire need. This book contains explicit scenes, a magic flashlight, a prophecy that doesn't quite work out the way anyone expects, and a guaranteed HEA.
Review:
I'm hooked on Eliot Grayson's writing. There's just something about the way she uses those twenty-six letters in the alphabet that appeals to me a great deal. Perhaps I'm easy. Nah, I'm really not. The first line had me hooked – A hitman and a fae walk into a café. I mean, technically the fae was already there, working at the café as a barista. Then the hitman walked in to kill him but got waylaid by the fae's looks and an awesome cup of hot chocolate, with a teensie sprinkle of magic-blend.
This starts the journey down the rabbit hole, really into a tree that enters an otherworld labyrinth. One that kind of reminded me of being in Ireland, but it's an alt-world of fae and magic and swords and lords with paranoia around a creepy seer's arcane prognostications about Linden, our fae, helping him meet his demise.
Add to this mix two best friends who look out for Linden – one magical, one a warrior – a handler for our hitman with a heart, Callum, a couple of supernatural beings, loved ones being held to ransom, a battle scene, and, oh yes, a romance.
What Worked For Me:
There is a dual POV but in the beginning you only gets Callum's perspective. This worked really well as he's internally battling with taking out this mark. Why would someone want this ray of light him dead? You also experience the weirdness that is about to be visited on Callum.
I liked the MCs. They're not overly developed, which can be an issue for me, but Eliot Grayson had my back. I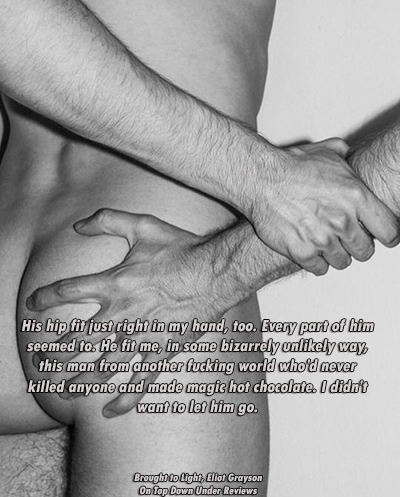 readily engaged with them both and was fully onboard with their story. Callum is grumpy and jaded, he sees Linden as 'sunshine' and ethereal beauty, something he's inexorably drawn to. Callum was besotted with Linden from the beginning, and his general ardour for all things Linden never wavered. Linden sees Callum as a protector and hard, strong muscle, although he knows he's there initially to kill him. So trust is not a strong suit at first for Linden, but a magnetic attraction and pull is there. Plus humans point blank lie, while fae can't, although they can wheedle their way around some truths like champions. I'm definitely not adverse to the whole supernatural I'd kill a kaadus for you thing either, attached to the age-old romance question of – do you or don't you love me? The power dynamic between these men worked for me: It's a mood, and I was here for it.
The UF writing was strong, especially given this is one book of a series written by different authors set around an appearance of Marden's Magic Emporium. There was fitting magic use, some different beings, action, an alt-world element, always a winner for me, and everything was balanced. Brought to Light never loses sight of the fact that it is a romance novel, but at the same time that doesn't swamp the UF elements.
There was also a flashlight of import for Callum in this tale and I liked how he used that bit of plastic in a suitably violent way. It reminded me of the toothbrush to an ear of an antagonist in a movie I once saw. I loved it in the 70s, I loved this variation on a theme in this century.
I enjoyed the trademark Eliot Grayson humour. The Chipper Bean café and logo, my god, I laughed hard at Callum's reaction to that alone. I always laugh out loud at some point, if not often, at this author's humour.
There is a satisfying happy for now ending. Would I like to see a bit more of Callum and Linden? More of Linden's best friends Oskar and Kaspar? Yes… and yes please.
Another thoroughly entertaining book by Eliot Grayson, one which further cements them as an absolute auto-read author of mine.