Undisclosed Desires (Undisclosed #1), Carly Marie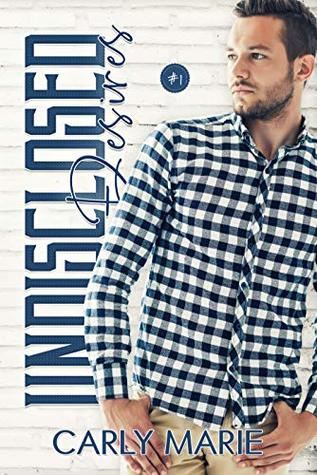 Rating: 4.5 Stars
Publisher: Carly Marie
Genre: Gay Romance
Tags: Contemporary, Age Gap (14  years), Age Play/ABDL, BDSM, Daddy Kink, Romance, Series
Reviewer: Cindi
Purchase At: Amazon.com
Blurb –
Caleb Masterson is, by all accounts, a successful adult. He graduated college, found a job he loves, and has a place to call home. Unfortunately, he knows what he desires in a relationship is considered too "high-maintenance" for most men and he has decided to not even bother looking. He's happy with his decision until a sexy man with salt-and-pepper hair limps into his physical therapy office and turns his world upside down.
Careful attention to detail and a need to be in control have helped Travis Barton become the owner of a successful construction company. But that same desire for control is what has pushed his past boyfriends away… Travis knows what he's looking for in a relationship isn't easy to find, and the last place he expects to find the man with the potential to be everything he's ever hoped for is in his physical therapist's office. But when Travis overhears an intriguing conversation between his cute physical therapist and a co-worker, he's suddenly not so anxious to be back at work.
Is it possible for two men, both content in their lives, to find what they've both needed in a partner in the most unexpected of places? Or will their desires be too much for the other to handle?
This 83k word Daddy/boy novel contains adult topics, including age play and ABDL themes.
Review –
I started reading this book with the intention of typing a quickie Goodreads review when I was done. I'd never read the author before so I took a chance. I ended up enjoying the story so much that I feel it deserves a true blog review.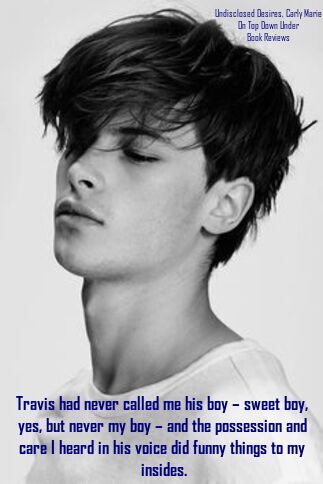 Caleb, a physical therapist, works with his longtime best friend, Dexter. Dexter has no filter. Seriously, NONE. Caleb, a little, is arguing with Dexter who's making fun of his dragon collection that he keeps on his desk. At work it's a 'collection'. At home, the same things would be considered his toys. Nobody knows his secret kink other than Dex and he wants to keep it that way. What neither man knows is that Caleb's first client of the day – that would be Travis – has arrived and overhears part of their little discussion about the dragons.
Travis broke his ankle in a freak accident at work. An owner of a successful construction company, he's always on the go and hasn't exactly done all the therapy he was supposed to be doing after the break. It's his first visit with his new therapist (that would be Caleb) when he overhears the conversation between Cal and Dex. He thinks nothing about it. Not really anyway. They go about their business with his therapy and that's that.
Only that's totally not what happens.
Travis is finding himself eager to see his hot, young therapist again. This, after he'd fought physical therapy tooth and nail before.
Caleb gets all kinds of hot and bothered when he meets his new client. He's always had a thing for older men and Travis pushes all his buttons. Caleb can dream of Travis being a Daddy but what are the odds that the man he's been looking for for years would just show up someday? Apparently pretty good.
With a little bit of help from Dex (Lord, he had a big mouth), and a lunch where Travis 'conveniently' (not) shows up where they are, Travis and Caleb get to know each other a little. One lunch is nowhere near enough time for Travis who asks Caleb out during his next PT appointment. When Caleb is slow to respond, Dex does it for him. This starts a very sweet love story.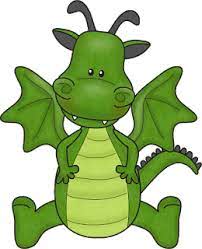 Caleb has never had a true Daddy before as he's never felt comfortable enough to be a little with any man he's dated in the past. Dex knows his kinks but even he has never seen him fully go into Little Caleb mode.
Normally I totally despise best friends like Dexter. In this case, I absolutely fell in love with the guy. Had his nosy self not butted in, Caleb never would've taken a chance with Travis. He's probably my favorite of all 'friends' I've seen in books. He's loud. He's obnoxious. And good Lord, the man is all about telling Caleb's business. Even so, he was so perfect. He loved his bestie and wanted what was best for him. He knew right off that what was best for him was Travis.
The relationship between Travis and Caleb happens relatively quickly. What doesn't happen quickly is Caleb totally being comfortable being a little with Travis. Some things here and there, sure, but there are some lines he takes awhile to cross. Travis is so patient and waits him out. Travis knows exactly what he wants with Caleb but he doesn't want to push too hard. Travis is a true Daddy through and through. He's SO patient with Caleb as Caleb gets to the point where he's comfortable enough to open up about his little side 100%. When he finally does, it's so sweet.
Then there are the secondary characters. I've already mentioned Dexter. I really want to read his story. Then there are others who are Travis' friends, who become Caleb's friends as well. The next book (Undisclosed Curiosity) is about two of those friends, Trent and Logan, and another guy not in this book, Aiden. I got to see a little bit of Trent and Logan but not enough to form a true opinion yet. There were two I did get to know a little and those are Dean (another Dom) and Larson, a sub who mostly keeps to himself but opens up to Caleb a little. I'm hoping that Dex is Larson's love interest. I can totally see those two together. Dean has a past that was slightly touched on. I want to see him find his HEA as well.
Travis and Caleb are perfect together. Travis is the ultimate Daddy who only wants to make his boy happy. Caleb is desperate to let go but is always worrying that his little side will be too much for Travis. What he doesn't get is that he's exactly who Travis wants, who he's always wanted.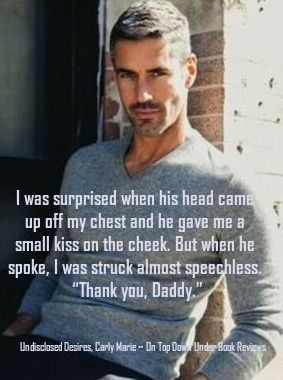 There's a 14 year age gap between Travis and Caleb, something I love. There's a little bit more ABDL in this book than in most age play books I've read. I didn't mind. It seemed to worked perfectly with these two.
There was one thing that had me rolling my eyes a few times, though. Caleb is always yawning, talking about sleeping, or falling asleep on Travis. I get that it's common for little boys (or Little Caleb in this case) to need naps after eating and playing a lot, but this was Caleb always, not just when he was in little mode. It wasn't that big of a deal but I did find myself shaking my head some.
Carly Marie is another new author to me. I picked this book up literally by accident, not knowing what I was getting when I did. I was pleasantly surprised. I'm eager to read the next one in the series.
A great book.