A Wanton Woman (Mail Order Bride of Slate Springs #1), Vanessa Vale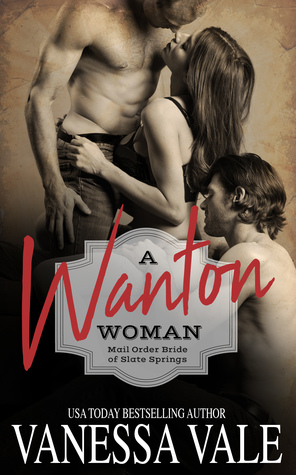 Rating: 4.5 Stars
Publisher: Bridger Media
Genre: Historical Ménage Romance
Tags: Historical, MFM Ménage Erotic Romance, Mild BDSM, Some Violence, Series
Reviewer: Cindi
Purchase At: Amazon.com – Freebie on March 20th.
Blurb –
Celia Lawrence can't show her face in her conservative, small town. First, she discovered her husband in bed with another man's wife, and then she witnessed both their murders. While she didn't pull the trigger, small town gossip is not forgiving and everywhere she goes she is chastised for not being woman enough to keep her straying husband at home. Eager to flee her old life, Celia heads to Colorado as a mail-order bride.
As mayor of Slate Springs, Colorado, Luke Benson is expected to set the example. Their small town is hidden away in a remote mountainous region where few women have the courage or desire to tread. As mayor, it falls to him to test out their newly passed law and share a wife with his brother. The truth is, Luke has no interest in a woman of his own, and agrees to a mail-order bride out of duty, not anticipation.
His brother, Walker, is jaded and hard after the death of his first wife and unborn child. For Walker, loving again is out of the question. But a man has needs, and he'll eagerly take his pleasure from their new bride while expecting Luke to provide the tenderness and caring a woman expects.
A marriage based on everything but love should be doomed. But Celia, Luke and Walker discover one thing they have in common: desire. Will that be strong enough to survive the danger that follows Celia from Texas? Will desire be strong enough to teach three broken that sometimes you have to risk everything for love?
Review –
There are so many reasons why this book shouldn't have worked for me.
I almost never read historical romance.
I can't remember off the top of my head even one het ménage book that I really liked.
So, what made me read it?
The cover. Simple as that. I saw it as a recommendation on one of my Facebook accounts and took a chance. I'm glad I did. I probably would've bought it even if it wouldn't have been a freebie. This isn't the first time I got a book based on the cover alone and I know it won't be the last.
Celia needs to get away from her small hometown in Texas. After witnessing her husband and his mistress get murdered in her and her husband's marital bed, she finds herself in danger. It was bad enough that she walked in on them having sex – they didn't see her – but then to see the woman's husband rush in with a gun and start shooting? Yeah, I'd say she's had a bad go of it. When her testimony dooms the killer's fate, his brother comes after Celia. He, along with pretty much everybody else in town, blames Celia for everything. Had she been good enough in bed for her husband he wouldn't have had to stray – which led to him ultimately getting killed. This, of course, was total b.s.
To get away from the whispers and threat Celia signs up to be a mail order bride. What she doesn't expect is to become the wife of two brothers at the same time.
Luke is the mayor of Slate Springs, Colorado, a small town high up in the mountains. Slate Springs is often closed off from the rest of the world by snow, sometimes leaving the residents without a way down the mountain for five months at a time. This doesn't make females want to stay for too long. With the lack of females – and some pretty frustrated men – a new law goes into effect that Luke supports. The law allows two men to marry the same woman at the same time. Luke, being the mayor, has to set an example. He does so by getting a mail order bride of his own that he'll share with his brother, Walker. Walker doesn't want love. He just wants a woman in his bed every night and regular sex. He tried love once and it didn't work out so well so this arrangement is perfect for him. Luke, on the other hand, wants to go all in. While he doesn't really want to get married, he does eventually hope for love, sex, and everything else a good marriage has.
What neither man expects is Celia. As soon as they see her get off the train in Denver they want her and they want her bad. Thankfully, Celia is eager to try new things. Her late husband only had sex with her when he wanted to get off, not even caring if she felt good or not. She never even had an orgasm in all the time they were married. When she finds out that she'll be in the bed of both of these hot brothers – her new husbands – she's all over it. Unfortunately, the danger from Texas follows her.
I absolutely loved Luke from the minute he was introduced. It took a little while to get a good feel for Walker but I ended up loving him too before the book was over. And I really liked Celia. I admit that surprises me a little.
There are two reasons why I don't like hetero ménage books – 1. The women almost always annoy me because they tend to cause issues between the two men. They also often go from being strong, independent women to being doormats. 2. I despise love triangles where there's a bunch of jealousy by one of the characters and when one appears to be a third wheel.
Celia didn't annoy me at all, surprisingly, and she never tried to cause issues between Luke and Walker. As for the two brothers, there was never any jealousy or silliness over who was going to do what with Celia and when. The whole relationship just kind of worked. Unrealistic, sure, but it didn't matter. The sex was hot. Everybody seemed to click right off. And who doesn't want two protective men giving you their undivided attention in bed and out?
The drama from Texas doesn't bog down the story. It's settled pretty quickly once the threat is discovered.
A lot of the lingo used in the story is more modern than historical, and Celia jumped right into the rough sex pretty quick, but I was able to overlook those things because the story was good.
Overall, a good book. I'll be reading the others in the series.