Code Noir (Exley & Dyer #2), Jess Whitecroft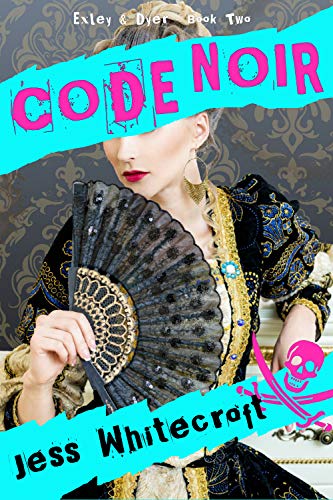 Rating: 5 Stars
Publisher: Self Published 
Genre:  Gay Romance
Tags: Historical – 1712 Nassau/Saint Domingue. Pirates, Cross-Dresser, Suspense, Humour, Series 
Length: 314 Pages 
Reviewer: Kazza
Purchase At: amazon
Synopsis:
More money, more ships, more problems.
As the accidental inheritor of a small pirate fleet young Captain Henry Dyer should have it made. But 'should' is not a word suited to the uncertain world of pirates, and Henry rapidly finds himself in over his head, facing off against hurricanes, the Royal Navy and not least the whims of his devious little husband, Jem, who always has his eye out for the next big score.
When an Italian heiress approaches Jem with a plan to claim her controversial inheritance, Jem leaps at the opportunity, dragging a reluctant Henry in his wake. All they have to do – according to Jem – is sail to Saint Domingue, present some proof of identity, sign some documents and sail home with a fat percentage of the profits.
In theory, it's the simplest scam in the world. In practice, it's a lot more difficult, especially when the so-called civilised society of Cap François proves darker and even more dangerous than the life of a pirate.
Review: 
In book #2 of Exley and Dyer, Jem Exley is happily running his brothel in Nassau, it's a step up from selling himself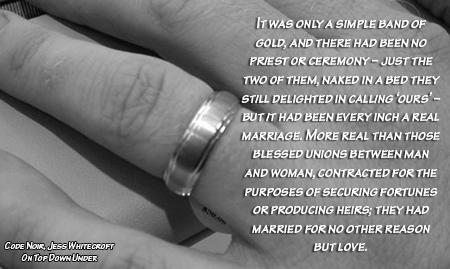 on the streets of London, and his pirate husband (matelotage) Henry has three ships now – Thetis, Monmouth Revolt, and Reckless. It's all well and good to have the vessels, but people you 'lease' pirate ships to don't always look after your property. Damage, lousy caulking, a hurricane all put pressure on Henry's piracy enterprises. The crew are running low on cash because pirates are wont to spend big when on shore, and the last cargo was ruined by the hurricane. The buck always stops with the captain. Also, Henry is same-sex attracted, young (twenty), and in love with a cross-dressing thief. He may have the ships but he doesn't necessarily have the crew's fullest respect, and let's just say I wasn't too happy with Henry's crew in this book. Hello. Hypocrisy.
He kicked over the chair. "Tell them that, Willem. Tell them if they have such a dainty conscience about where I stick my prick, maybe they should examine where they stick theirs. Or perhaps ruminate on the dozens of throats they've cut."
There are plenty of humorous moments once again, including Jem's two fetishists, one who likes feet and some dominating, and another who likes to watch. As long as Jem gets paid, or some necessary services are provided, he's good with it. He's a businessman. Jem also likes to be a bit of an exhibitionist. Henry's not so keen, he doesn't like anyone getting too close and personal with his Jenny Wren, but when some Italian stockings can be had cheaper, well…
"Shit," said Jem, smoothing his shirt down over his knees. Henry wasn't supposed to be back yet, and not now, for goodness sake. He'd gone mad enough over Mr Pargeter's toe thing, never mind this. "Don't make a sound," he told the peephole in the wall. "Don't even breathe if you can help it…" 
Once again I completely admire Jem's attitude of 'this is who I am, take it or leave it'. I adore the way Henry unreservedly loves Jem – sometimes male, sometimes female. Sometimes Jem will wear part women's attire and part men's. Sometimes he looks like the most beautiful woman, and oftentimes he keeps the eclectic Nassau locals guessing as to who he is.
     Men wore the things they stole – embroidered waistcoats and silk sashes and diamond rings – and there was nobody to tell them it wasn't allowed. Pirates in general were a peacocky lot, although only a few of them seemed entirely prepared for the likes of Jem.
When a non-local, Dorotea di Nicola, comes calling to see Jem about an idea, a business proposition, he's intrigued. Dorotea is biracial, her mother was a slave who was freed by, and quietly contractually married to, a wealthy Italian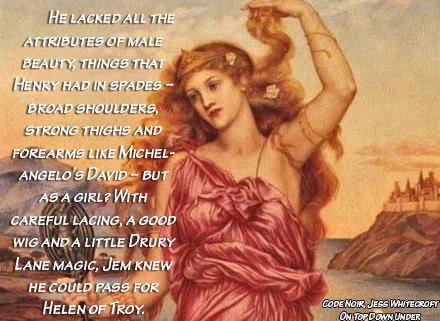 in Saint Domingue. Her mother has been dead for a while and Dorotea has lived in a convent ever since, whisked away by her father. Now her father has passed away but before he did there was a letter telling his family of his daughter's fine breeding and attributes, including needlework and skill in languages. She is well educated and smart but living in a convent doesn't lend itself to real-world preparation. What her father left off the letter was that she is a female of colour. The family have never met her, she is still in her teens, but once that occurs there is no way they'll allow a person of colour access to her (very large) inheritance. Jem looks stunning as a female and is also well educated and multi-lingual. Dorotea wants Jem to impersonate her. She tells Jem all he has to do is sail to Cap Francois with her, be the version expected, meet her cousin Bastien, whom she has never met, sign some documentation, and voila! Easy, right? Well, no. Dorotea has no legal papers from her deceased father. She does have some family jewellery which often helps, but not when there is family resistance.
"I needed a lady," she said. "Someone who had the breeding and education ascribed to me, but such white ladies are soft things, shielded and coddled. The next best thing to a lady was a lord—"
"—who can act like a lady," said Jem. "Yes, I see."
Cap Francois is a place full of painful juxtapositions. Things there are not straight forward. What sounded good in theory, regarding the inheritance and the plan, is harder in practice. Dorotea learns much about herself as well. The place is also a hotbed of indulgent opulence, slavery, forced Catholicism, individual conniving, political unrest, general assholitry, and a revolt building momentum. Danger is close by. Dorotea's father's second wife was murdered fairly recently.
There was some strong growth and development of characters in this book. The reality of slavery at the time also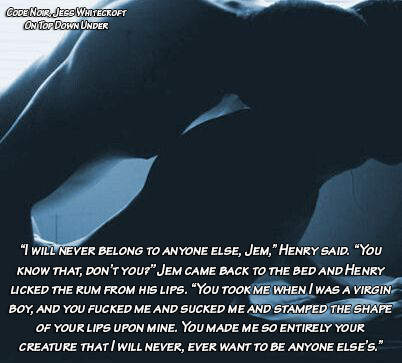 merges into the fiction in a respectful and thought-provoking manner. The world building is on song. The scenery is alive and vibrant, as are the people. There is the usual Jess Whitecroft humour, meltingly hot sex scenes – scorching – complete with intense character connection. There's also suspense, lessons learned, new friends made, and Jem and Henry discovering what love means – including being partners in all things, an increased passion, some insecurity, and a fierce protectiveness of one another. For me, this story demonstrates a gentler romantic element to the writing of Jess Whitecroft while still maintaining the heat I've come to expect from her. There are some beautifully loving moments in this book.
Overview:
Reckless was a a favourite of mine when I read it last year. I'm not always interested in pirates but a virgin pirate paired with a cross-dressing thief, one who had been a molly in London and was originally from a titled family, was just too hard to resist. It was so good it was on my Book of the Year List for 2018. Originally I believed it to be a standalone but when I discovered book #2 was coming out I'll admit to being happy, with a dose of reader trepidation thrown in. Would Jem and Henry be the same? Would their love be as powerful? Would I love the story as much? I freely admit that I get nervous about the potential of my favourite characters being messed with in some way, and Jem and Henry are two of my absolute favourites. No need to fear, Code Noir is a brilliant follow up to Reckless. It's stronger writing than Reckless for reasons I've mentioned and some I haven't. I love the expansion of diversity and the newest characters, including Dorotea,  Hornigold, and Teach. Jem and Henry have all their unbridled passion continuing into this second instalment of Exley & Dyer but there's an added layer of personal devotion this time around. Their humour is laugh out loud funny. They definitely get into trouble again and it keeps those pages turning. Jem keeps Henry on his toes, just the way he likes it, and they really are working out what this whole relationship, love, and commitment business means. 5 Stars!