S'more to Love (Destination Daddies), Lila Wilde, Andi James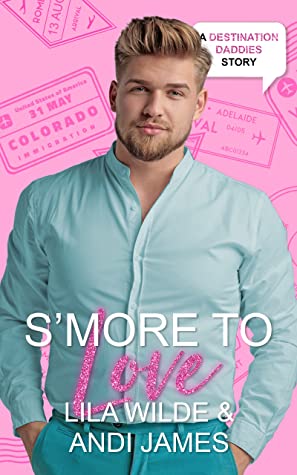 Rating: 5 'Snarky' Stars
Publisher: Lila Wilde, Andi James
Genre: Gay Romance
Tags: Contemporary, Age Gap (13 Years), Daddy Kink (Daddy/boy), Humor, Opposites Attract, Romance
Length: 189 Pages
Reviewer: Cindi
Purchase At: Amazon.com
Blurb –
Kinky glamping? No thanks. Hudson would rather sleep on the ground, and Rory prefers designer sheets. Can they still find a way to connect under the stars?
A little too loud, a little too opinionated, and a little too chubby, Rory is used to being overlooked. In his experience, Doms prefer their men small, quiet, and agreeable — everything Rory is not. So when his cute, twinky best friend drags him on a fancy camping trip for kinky singles, Rory doesn't expect to be noticed by anyone, let alone the most handsome man he's ever laid eyes on.
After several lackluster attempts at Daddying, nature-loving Hudson is excited to find a like-minded boy and give it another try during a camping getaway… until he realizes his rustic tent is actually a three-room cabin with a Sleep Number bed and satellite TV. Hudson is ready to cut his losses and head back to Denver when the cute bear cub next door catches his eye and his nurturing instinct.
Will charming, steady Hudson convince stubborn Rory he adores him just the way he is and become the Daddy Rory thought he'd never find? Or will they continue hiking separate paths?
Sparks fly in S'more to Love, a Daddy kink, gay romance featuring a clever, chubby bear cub, a Daddy looking to try again, tents pitched in more ways than one, and a marshmallowy happy ever after.
This book is part of the Destination Daddies multi-author series. Each book can be read as a standalone, but there are so many destinations and Daddies to discover, why not grab them all?
Review –
Hudson is a thirty-eight-year-old architect. An outdoorsy kind of guy, he books a camping trip, eager to be without cell service, his office, and just life in general for a few days. The trip was booked on a kink app so he's also hoping he can give being a Daddy a go again. Unlike some Daddies, he wants more of an equal partner, not have the full-on power exchange a lot of boys want in a Daddy. He knows this all too well from past experience. Unfortunately, when he books the trip he doesn't bother to read the fine print. Let's just say that glamping wasn't exactly what he had in mind when he left the city. He damn sure never thought he'd be sharing a cabin with the ultimate bro, Trey.
Rory is a twenty-five-year-old interior designer. He doesn't do the outdoors, ever. He's too much of a diva for that. When his best friend (that would be Bell) talks him into a Daddy kink glamping trip (it's pretty much what it sounds like), he reluctantly goes along. It's supposed to be fun! Yeah, not so much, especially when Rory's attacked by bugs (not really), he trips in the dirt (he had way too much luggage), and then gets yelled at (not even close) by the hot Daddy in the cabin next door when he dares ask for the Wi-Fi password.
He'd been at Second Wynd for less than ten minutes and had already been attacked by mutant bugs, fallen in the dirt, and alienated one incredibly sexy potential Dom.
Yeah, the first meeting between our main characters doesn't exactly go well.
It also doesn't help that Bell is, well, everything, and it seems like everybody is trying to use Rory to get to his friend. While that may be a kick in the butt to Rory's self-esteem, he adores his best friend. It's not Bell's fault he's gorgeous and everybody wants him. Rory is the total opposite of Bell, but he's no slouch in the looks department. The two of then together are hilarious.
"Why do you always look like you stepped off the cover of Twink Monthly?"
Bell laughed. "Why do you always look like an advertisement in Snarky but Well-Dressed Bottoms Magazine?"
The first meeting, as I said, between Hudson and Rory doesn't go too well. The second one doesn't go much better when Rory misunderstands something Hudson says to him. In Rory's defense, he's so used to guys trying to use him to get to Bell he automatically assumes that's what's happening with the Daddy next door. Thankfully, that's resolved quickly enough.
Rory's full of snark and sarcasm. It's his defense mechanism when people push him aside for Bell or make comments about his weight or appearance. He has a hard time believing that anybody is truly interested in him so he uses silly humor. I've read a lot of reviews who thought his snarkiness was too much. Maybe it is in some places, but I mostly found it funny, and understandable at times.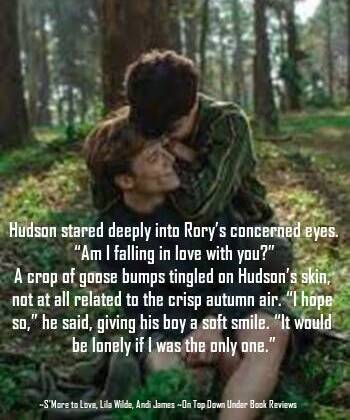 Hudson eventually wears Rory down and they start doing things together – outdoorsy things. You know, bug, dirt, and icky outdoors things. Strangely, Hudson makes it all not so bad, especially when he starts showing more than a little interest in Rory. Rory's all about becoming his boy. Everything's going nice between them until suddenly it's not. There's one jerk character you just want to reach into the book and punch a couple of times. He's rude, hateful, and full of himself. He goes out of his way to let Rory know he's beneath Daddies like him, like Hudson.
Other than the above-mentioned jerk (who ended up getting his), I enjoyed the hell out of this book. Rory is full of snark and sarcasm. Hudson is full of corny dad jokes that are so bad they're funny. They are so opposite but so perfect for each other. I could see Hudson as your typical Daddy, but Rory is anything but typical. It was refreshing.
I can't not say more about Trey the bro. At first, I found him to be annoying with his constantly adding 'bro' to everything – bromance, brojan, brohansen, brocaso, Brobama, broasis… I could go on. But it didn't take long before I was cracking up over it. Yes, he's a bit much, but he added more humor to a story that already had me laughing a lot. I'm really eager to read his and Bell's story, that I know will be coming because it says so at the end of this book. 😉
"Bell says 'have fun, my love.'" Hudson set the bag on the bed, and Rory watched as he retrieved lube and a condom from the duffel. "And Trey says 'be safe – don't forget the brojans.'"
I've enjoyed these authors since I first read Teddy and His Bear a couple of years ago. I'm so glad I picked up S'More to Love. It was so entertaining and kept me laughing throughout. On top of that, it has an amazing love story between two very different men. Rory broke my heart more than once with his self-esteem issues. Hudson made sure he knew he was perfect exactly the way he was. There's very little drama and no real angst. It was exactly what I needed.
A great book.