Teddy and His Bear (Oh My! #1), Andi James, Lila Wilde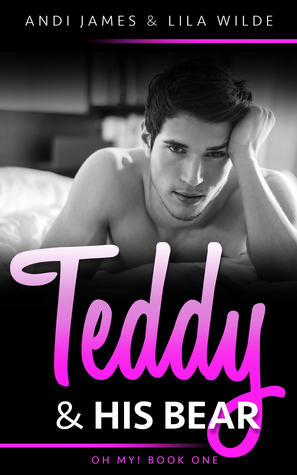 Rating: 4 Stars
Publisher: Self-Published
Genre: Gay Romance
Tags: Contemporary, Age Gap, Daddy Kink, Orgasm Denial, Public Sex, Series, Some Humor, Spanking
Reviewer: Cindi
Purchase At: Amazon.com
Blurb –
At twenty-four, Teddy should be used to feeling abandoned and unwanted. After all, he's been dealing with it most of his life. But a recent breakup takes him completely by surprise and now he's on his own again. Nursing new and old hurts, he leans on his makeshift family and finds solace in a growing and unexpected friendship with an older man.
Forty-two-year-old Barrett has successfully ignored his biggest need for years. His last boy left him questioning everything he knew, and he is determined to lead a vanilla life, no matter how much his friends try to convince him to be true to himself. When he learns his favorite barista needs a new place to stay, he offers a solution that leads to spending more time with the younger man.
A change in circumstances brings both men together and their buried feelings to light. Teddy knows he's attracted to Barrett but isn't sure if he's ready to risk his heart again, and Barrett is losing the struggle against his dominant nature. Will learning Barrett's kinky secret be too much for Teddy, or is it just the thing he never knew he needed?
Teddy & His Bear is a 90K word slow-burn, May/December, Daddy kink MM romance featuring one hot Daddy, his sweet new boy, coffee, and unicorns.
Review –
Teddy has been happily living with his two boyfriends for a couple of years. He believes everything is going perfectly until one day it's suddenly not. Brad and Kyle break up with him. They want to move forward, just not with Teddy. This breaks Teddy's heart. It broke my heart. Thankfully his best friend Tony (who I absolutely loved) is there to offer a place to stay and a nice shoulder to cry on for as long as Teddy needs it.
Tony is the greatest best friend ever.
Teddy's forced to put on his happy face and go to his part-time job at a coffee shop. He does computer design from home full-time, but he likes helping out his friend when he can at the coffee shop. If it wasn't for having to do inventory and his boss and good friend (Claudette, who I also loved) having to take her daughter to the dentist, Teddy could just wallow in his self-pity for awhile. He barely makes it through his shift before having a bit of a breakdown. Thankfully, regular customer and hot and sexy doctor – that would be Barrett (aka Bear when it starts getting good) – is there to literally catch him when he falls.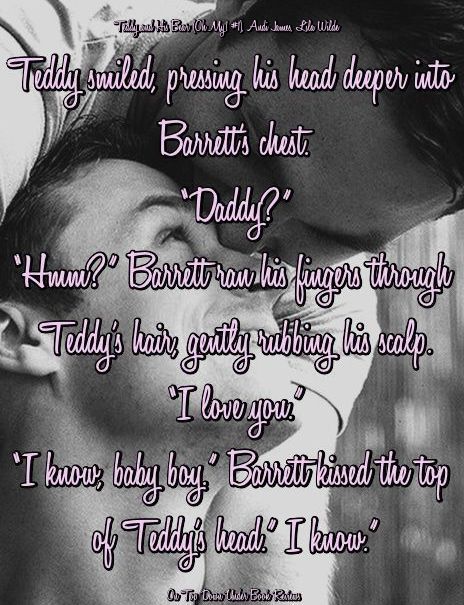 That was the first aww! moment in the book and when I fell in love with Barrett.
Barrett has had a thing for young Teddy for the past two years. When I say young Teddy, he's 24 to Barrett's 42. Barrett, who had his own devastating breakup a few years before, knows better than to act on his little crush on the barista. But he can be his friend, offering to rent him an apartment he has over his garage when he finds out he needs a place to live. Tony says he can stay with him as long as he likes, but Teddy knows he needs his own place. He takes Barrett up on his offer. This, of course, brings the two men together often.
Barrett tries hard to fight his attraction to Teddy. But it's not just attraction. Barrett is a Daddy and he wants to make Teddy his boy, but after his last boy, he refuses to go down that road again. The more Barrett spends time with Teddy the want, the need, of becoming his Daddy really takes hold. It also doesn't help that his best friend Jason is constantly trying to get him to stop dating the so-called vanilla guys because they both know that's not who Barrett is.
I loved Jason too. He and Tony need to get their own book like yesterday. 😉
When Teddy's klutzy coworker (that would be Dylan, who's hilarious) accidentally causes Teddy to get injured, Barrett is right there to rescue him again, only this time offering to take care of him until he's healed. Barrett is a doctor and his offer to help has nothing at all to do with his wanting to spend every minute with Teddy. Really! *snort* 😉
The Daddy and boy thing does happen but it takes awhile to get there. There's slow burn and there's Barrett and Teddy. I'm not saying it's a bad thing that they wait so long (it honestly isn't that long as something happens at around 36% of the book) but it seemed like they were going to dance around each other forever.
Once it happens? Nothing but aww! moments.
But…
There wasn't a thing about Barrett I didn't like. As for Teddy, he came across as very immature in regards to relationships throughout most of the book. I found that to be odd considering he'd just spent a couple of years as part of a committed triad relationship. The thing that bugged me the most about Teddy was how he went about discussing the Daddy thing with Barrett. Tony, who's a Dom, knows Barrett from a BDSM club (Knot) and gives Teddy a bit of insight on Barrett after a couple of things he does and says that has Teddy asking questions.
Teddy turned into a brat. Instead of talking to the man, he acted like a petulant child. Thankfully none of that lasted beyond a page or two and before long they were finally embarking on a Daddy/boy relationship. Once that happened the story really took off.
The sex in this book is amazing. I love Barrett because he's the perfect Daddy without pushing too hard. All he cares about is his boy. Teddy pushes his buttons some but Barrett never loses his cool. He teaches and guides and makes it clear that nothing and nobody is as important to him as Teddy.
Teddy is very emotional – often. His lack of maturity really shows when he jumps to conclusions instead of just asking questions. I know communication between a Dom and a sub, or a Daddy and boy in this case, is extremely important. There's communicating and there's Teddy. I don't mind a guy crying in books as long as the tears are done at appropriate times in the story. I didn't feel that they were during some of Teddy's emotional moments.
I really enjoyed this book. The only way to describe Barrett is kind, understanding, and patient. All he cares about is Teddy, his boy. Nothing else in the world matters as long as Teddy is happy. I know it doesn't sound like it, but I really liked Teddy too. They made a good couple once they got their act together.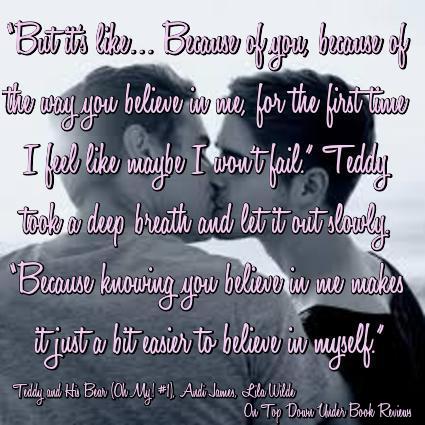 Now back to my other to (hopeful) couples…
Tony and Jason, the two best friends of Teddy and Barrett, who obviously do something at Jason's Halloween party and who both make it a point in being obvious that they're ignoring each other the next morning. It was cute.
Leo and Dylan. I had to do a little stalking research to find out that Dylan will be Leo's love interest in Leo & His Lion (book #2). Poor Dylan. Dylan is so funny and so charming. I didn't get a good read on Leo but I like what I see so far. I'm curious to see how they'll work out together considering that Dylan literally can't take a step without almost falling on his face.
I can't forget Sarah, Claudette's daughter. That child is a girl after my own heart. She's all about the eighties movies and as sharp as a tack. I adored her. And Claudette… she and Teddy bonded over the love of hot men and unicorns. 😉
Overall, this is a sweet, low angst romance. If you've followed my reviews for any length of time you know I'm big on age gaps between characters. The eighteen years between these two were ideal, even if Teddy had his moments. The sex is hot and well written. The story was downright sweet. I know I'm using that word a lot, but it's really the best way to describe it. The secondary characters were a blast, with the exception of Brad and Kyle, Teddy's jerk ex-boyfriends.
I'm really eager to read the next one in the series.