Raising Hell, Daryl Banner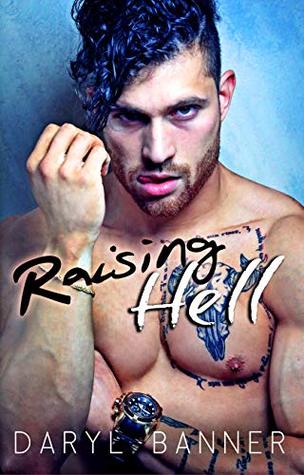 Rating: 4 Stars
Publisher: Frozenfyre Publishing
Genre: Gay Romance
Tags: Contemporary, Drug Use, Family, Drag Queens, Humor, Romance
Reviewer: Cindi
Purchase At: Amazon.com
Blurb –
Thirsty? 
Take one reckless party boy. (That's me.) 
Add a sensible, hunky math teacher. (He's stupid-hot and driving me crazy.) 
Throw in one ice-princess baby sister who hates my guts. (We'll work on that later.) 
And you get: 
One HELL-raising cocktail of trouble. 
Welcome to my life. 
Please drink responsibly. 
"Raising Hell" is a hot and wild new M/M romance from Daryl Banner, the same author of the Amazon top-selling Bromosexual, Hard For My Boss, and Football Sundae. 
Contains: mature themes, drug use, adult language, and sexuality. 
Photographer: Eric David Battershell 
Cover model: Kevin K. Hessam 
Cover design: Daryl Banner
Review –
Mathew, a major party boy, has just been informed by his older brother that his parents were killed. He needs to come home as soon as possible for the funeral and to care for his eleven-year-old little sister, Helen, until Wes (the brother) can make other arrangements later. Wes runs their father's company in Taiwan and he would need months to prepare for Helen to come live with him there.
The first clue that Mathew was the last person who should look after Helen? He was so drunk and so high when he received the phone call from Wes that he barely remembered the conversation. The second clue was when Mathew went from drinking out of a glass to a bottle at the funeral and made tasteless jokes. The main clue? He was the most irresponsible so-called adult of any other I've ever seen in a book. He's loud. He's obnoxious. He drinks and does drugs without caring about anything or anybody else.
No sane person would put him in charge of a child's care. Seriously.
Mathew is a bartender at a gay bar. He has own apartment and is perfectly fine living outside of the ritzy and wealthy area of his parents' home. He's not your average rich boy – that would be Wes. Mathew thinks the rich folks are nothing but snobs who look down their noses at him and everybody else.
He's not wrong when it comes to a lot of the people in the book.
Fast forward and Mathew is living in his family's large home with Helen, who he refers to as the Ice Queen. They have an amazing neighbor Ninny, who helps a lot and is never seen without homemade cookies. And there's Jewel, who works for the family. Both of these women are critical because Mathew's parenting sucks pretty bad.
That's me being nice.
Then there's Mathew's best friend, Glenn, also known as Divina Latrina when he's in drag. And yes, Divina Latrina means divine shithouse. 🙂 Glenn's a bit on the crazy side but he's a good friend and often hilarious.
When Mathew takes Helen to her sixth grade orientation at an exclusive private school things go about as well as you'd expect. Well, actually worse. First, he calls out three girls who are talking mean about Helen behind her back. Sure, they deserved it, but he took it a bit far. Second, he practically stalks a hot teacher before discovering a few minutes later that said hot teacher will be Helen's new math teacher. All that was bad enough. But what was really bad was how he acted in the classroom in front of other parents and kids.
The teacher's name is Charlie, or Mr. Charlie to the students.
Mathew is determined to hook up with Charlie, not even knowing if he's gay. Mathew may work in a gay bar – and be hit on constantly – but he's not had sex with a guy in a very long time. He's long gotten bored with the random hook ups that just don't do anything for him anymore. Charlie is the first man in forever that he's been truly attracted to. After finding out that Helen is being bullied by some girls from her math and dance class, Mathew sets up a conference with Charlie that doesn't go well. This was one of the few times in the beginning of the book that I actually was rooting for Mathew. Don't get me wrong. I loved Charlie from his introduction, but it was nice watching Mathew actually act like something (meaning Helen) was more important than himself.
Charlie later feels bad and apologizes for certain things he said and implied during the conference, again opening the door for Mathew and his crush. They even set up a coffee date at one point. While I thought what happened after was hot in some ways, it also again showed Mathew and his lack of maturity. I don't care that he was supposed to be in his mid twenties (I think he was 26 or so?). He blurted things out that were inappropriate. Hell, he did this constantly during the first half of the book. He had zero filter. It was no wonder poor Helen stayed embarrassed over her big brother.
Now we come back to Glenn, aka Divina Latrina, who also referred to himself as Mathew's fairy godmother. Glenn often had me laughing out loud, whether he was dressed as himself or as Divina Latrina. When Helen gets her period – and absolutely freaks Mathew out in the process – in swoops Glenn to give her a Period Party. Yes, a Period Party.
Picture this… a pinata size tampon hanging from the ceiling, red velvet cake, red 'period' cookies, and every other red food, drink, and decoration imaginable. Throw in a bunch of drag queens, a DJ, and Divina Latrina dressed in a costume with an hourglass and a calendar – signifying that time of the month – and you'll be laughing your ass off. Imagine the embarrassment of poor Helen when she discovers that her math teacher has been invited. Of course, all of this is a surprise to Mathew – the party, though it had been brought up before, and Charlie being invited. Poor Charlie thought he was attending a birthday party for Helen, not a period party. Not that it matters. This little event opens the door for Charlie to finally stop being funny about maybe having a relationship with a student's brother/guardian. It also helps Helen come out of her shell a little bit.
Somehow, someway, I started seeing Mathew as more than the obnoxious, loud, embarrassing party boy. I saw him as a big brother who simply doesn't know how to act around his little sister but wants to do everything he can to do right by her. Not in the beginning. I need to stress that part. At that time he was only about himself. Only later did he begin to change when it came to Helen. The black sheep of the family (by his own choosing) he's never attempted to be close to Helen, or even to Wes, his older brother. But then again, Wes was one of the most unlikable characters in the world. Think pompous prick. Helen, on the other hand, just wanted to be a normal kid. She'd never been normal because her parents expected her to be like, well, Wes, and most definitely not like Mathew.
The reader watches Mathew and Helen grow from almost the first page. It takes a lot for them to get there – especially Mathew – but they do get there eventually. It also helped that they had good people in their corner who were willing to do what they could for both of them as they worked to get to that point.
I can't really say anything bad about Charlie. Even during the conference when he implied some things about Mathew, it was done out of concern for Helen. The reader also watches Charlie grow in the book. I really liked him a lot.
The other characters – Glenn, Jewel, Ninny – were the perfect friends and adopted family. There's a bit of a falling out between Glenn and Mathew at one point but the reader knows they'll be working it out.
This book is also about Mathew growing in other ways. Mathew grew up believing his parents thought he was a disappointment, a failure. It didn't help that his brother was constantly saying the same thing. Mathew doesn't properly mourn his parents when they first die because of the way he believes they saw him. Well, truth be told, he didn't mourn his parents at all early on. Throughout the story things change when certain things click about his mother and father that hadn't before.
Surprisingly, I've barely scratched the surface in this way too long review but I'll stop there.
Overall, this wasn't quite what I was expecting. I honestly lost count of how many times I almost DNF'd this book during the first half or so because Mathew was so over the top. I kept thinking, "Can you not even pretend to be responsible just once? Do you have to keep embarrassing the poor child with your actions and crude comments? You're responsible for a little girl and you still can't force yourself to get out of bed on time to take her to school?" I seriously couldn't stand the guy. Things he did were cringe-worthy. I'm glad I stuck it out because by the time I got to the end of the book I was seeing a different Mathew. I was also seeing a different Helen. And somehow Mathew and Charlie work together as a couple. As different as night and day but meant for each other. I really liked Charlie. He fought his attraction to Mathew – geez, who wouldn't? – but it was a losing battle. He's shy and more than a little nervous early on. Watching him finally be open to something with Mathew was some might say crazy sweet.
This is my first book by Daryl Banner. I admit to picking it up because I needed something funny after the last book I read that had me in tears more often than not. Raising Hell won't be for everybody, that's for sure. If you go to read it, go in with an open mind (and maybe a good stiff drink or four) and try to stick with it to the end. Had I stopped reading the many times I wanted to I'd have missed a good story.
If you're wondering why I used the ice cream and sprinkles GIF in this review…. throughout the book Mathew uses ice cream and sprinkles as his way to try to get close to his sister.