Save a Horse, Dive a Cowboy, Kayla Jameth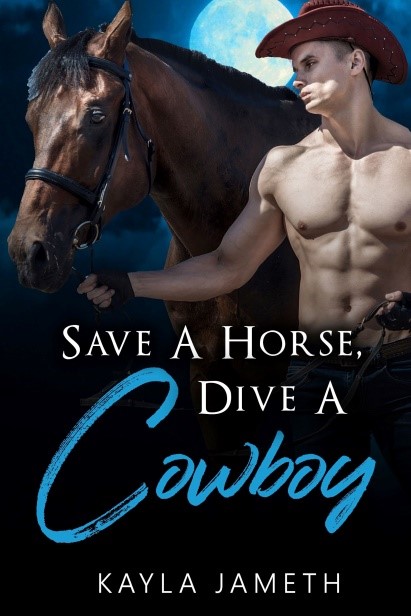 Rating: 4 Stars
Publisher: Rocky Ridge Books 
Genre: Gay Romance
Tags: Paranormal – Shifters, Horse, Coyote. Native American MC, Interracial, Cowboys, Humour  
Length: 178 Pages
Reviewer: Kazza
Purchase At:  amazon, Rocky Ridge Books
Synopsis:
Shep's just your average all-American cowboy. He runs his own ranch and rides the occasional saddle bronc. Nothing special there. Unless you look too closely at his boyfriend.
Descended from a long line of Native American mustang shifters, Charlie "Hoss" Running Horse is anything but average.
When Coyote takes a shine to Shep, he decides that Hoss has got to go. With the theft of the medicine horseshoe that allows Hoss to shift from mustang to human, Coyote sets his evil plan to have his way with Shep in motion.
Will Shep be able to save Hoss before it's too late? Or will Coyote's plan come to fruition?
Review:
When cowboy Shep is out with his lover Charlie, or Hoss when in horse form, he's spied by a coyote shifter who wants the sexy cowboy for himself. Coyote conspires to get Charlie out of the way so Shep can be his. Hoss's medicine shoe is loose, and on the way back to the ranch from the outing it comes off. Coyote takes the opportunity to grab the shoe and throw it into a deep cenote.
The coyote slowed and winked at him. Actually winked. Could this day get any weirder?
"You've got to be shitting me!"
Shep dives the cenote to try to find the shoe but he can't get down far enough or long enough to see it let alone find it. Shep decides he'll scuba dive the cenote properly to get the magical shoe back for his horse shifter lover, but he also discovers diving isn't as easy as grabbing some scuba gear and jumping in. He has to pass online theory and then official diving tests in order to even buy the gear before he can dive. This means a couple of weeks of online work then there's the practical, and for part of this he has to travel several hours to Albuquerque from their ranch, sometimes needing to stay overnight.
In the meantime, Hoss is developing more and more horse attributes, protecting a new mare and her new colt on the ranch. Even having a new found biological need to breed her when she comes back into season, and he doesn't desire females in any form. So as Shep is doing what he can to get his lover back, Charlie is trying to stay focused on the fact he is a human who happens to shift into a horse. It gets harder to focus, and being human becomes more vague as time passes.
He took a stride forward and scraped Navarre's withers with his teeth. The gelding returned the favor. Oh bliss! Charlie could reach just about everywhere but there. Mutual grooming was one of the bonding behaviors that held herds and friendships together. Rose's colt raced around the corral, tail up and squealing.
.
Charlie is native American Indian and his sire (father) explains to Shep that time is running out for his son without the medicine shoe. Charlie will get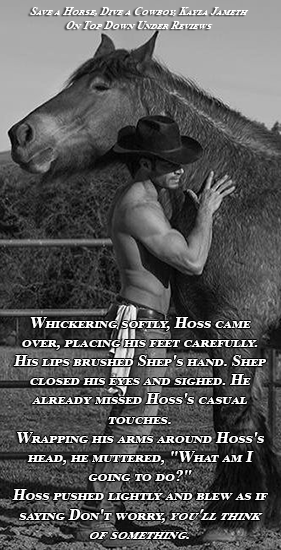 more feral as time passes, never being able to be human again if Shep doesn't retrieve the shoe soon.
This was a really enjoyable story. Horse shifter – I can't recall ever having read about one of those before, but Kayla Jameth makes it mostly fun and sweet and enjoyable. The MCs are both ordinary guys, apart from the whole horse shifter thing, who live and love on their horse ranch and enjoy the country lifestyle. However, the wily coyote is pulling out all stops to get Shep under him.
Shep and Charlie are lovely MCs. Down-home charming. When Charlie is Hoss, Shep initially stays in the stables to be near him when he can. He loves Charlie's hair in horse or human form. He misses Charlie a great deal, they can't even talk to one another. Simple things become impossible and it drives Shep to get the shoe, to help his lover be able to shift back into a human again. Coyote in human form tries several tricks to foil Shep but what he doesn't understand is loyal and true love is a hard thing to battle.
"Did I tell you I spoke with your dad? He said our love was the most important part of keeping you human. So just so you know, I love you. Have for a long time and always will."
.
As usual the author researches all the (little) details regarding her stories, in this case the lead-in to obtaining a scuba license and the diving itself, it's not such an easy thing to just up and do. Save a Horse, Dive a Cowboy may be an unusual and quirky name but it has total relevance to the story, and Kayla Jameth does a really good job of giving details without bogging the story down.
Overview: 
This book is well written and edited, it also has plenty of charm, humour, and gentle, loving characters, except for coyote who pissed me off royally, and Shep's mother is a force of nature. The ranch hands are nice secondary characters. Like its title, Save a Horse, Dive a Cowboy has a fun vibe about it. If you'd like to read a different shifter take then this is recommended reading. 4 Stars!