Melting (Otter Bay, #1), Sean Ashcroft
R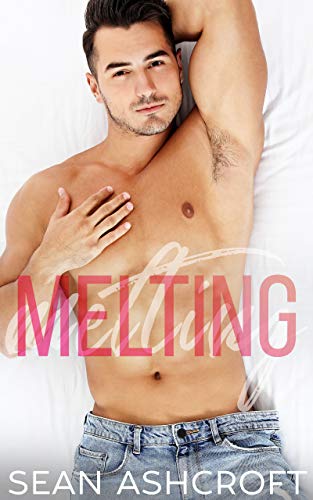 ating: 4.5 Stars
Publisher: Sean Ashcroft
Genre: Gay Romance
Tags: Contemporary, Humor, Romance, Series, Small Town
Length: 284 Pages
Reviewer: Cindi
Purchase At: Amazon
Blurb –
Butt naked and dripping wet wasn't how I expected to meet the man of my dreams.
After a bad breakup, a rough year at his New York ice cream parlour, and no luck jumping back into the dating pool, celebrated pastry chef Hayden agrees to spend the summer with his dad in his childhood home on the Oregon coast to get away from it all.
He's not expecting the first thing he sees when he arrives to be a beautiful, naked, soaking wet man. Nor is he expecting this to be the famous Wes—his dad's live-in personal assistant and all-round sweetheart.
Wes doesn't do relationships, but Hayden turns out to be an itch begging to be scratched—even if he is the boss's son and they'll have to keep their summer fling a secret.
Sparks—and clothes—fly, but what Wes wasn't planning for was to find a sweet, warm, kind soul under Hayden's icy outer layer. Or to start falling for a man he knows he can't have…
… but that isn't going to stop either of them from melting.
Melting is a full-length standalone MM romance novel. It ends with a very sweet HEA, and contains: many pints of ice cream, long summer days, hot summer nights, a very special pair of black skinny jeans, important tops vs. bottoms debates, an antique ice cream churn, a stuffed otter, a duck with anger management issues, and true love, ultimately, conquering all.
Review –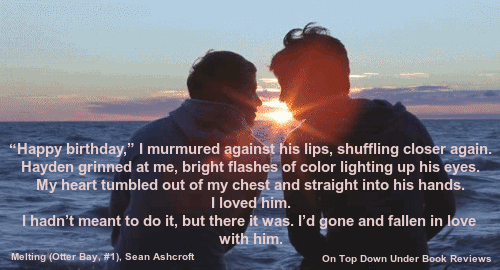 Wes is a player and isn't ashamed of it one bit, though it is more than an little awkward when he wakes up one morning in the bed of a guy whose name he doesn't remember. What's even more awkward is showing up at his home/job wearing the clothes he had on the night before. He lives in the guesthouse of Mr. Lewis, the man he works for. Of course, Mr. Lewis is awake and wants to chat. That was funny. Wes makes a promise to himself that he'll go 7 days without sex, which was even funnier because that flies out the window a few days later.
Wes is Mr. Lewis' personal assistant. He's not just his boss. He's a father figure and friend. When Mr. Lewis mentions that his son Hayden will be staying with him for the summer, Wes is more than willing to help out in any way he can. He's heard a lot about Hayden, a pastry chef in New York. What he doesn't expect is for him to look the way he does.
Hayden's worn out. He's worked for years to get his ice cream parlor off the ground. It's successful enough, but he's still running himself ragged. His business partner slash friend Marissa pushes him to take a break. She has everything under control in New York. He decides to go to his hometown on the Oregon coast to spend the summer with his father. It's been a long time since he's been home.
The first meeting between Wes and Hayden is hilarious. When Wes takes a shower, and forgets to get fresh towels from downstairs, he thinks he's alone in the house. Of course, Hayden picks that time to walk inside. There's instant attraction for both men (Wes is naked. Hello!) but they're both a little scared to act on it because of Mr. Lewis.
After the awkward meeting, they spend time together. Wes had already promised Mr. Lewis that he'd introduce his son to some of his friends (Seth, Mark, Andre). There's even a bet that Wes won't be able to get Hayden to go into a gay bar. The night at the bar is when they go from being acquaintances who barely know each other to a whole lot more.
This is where the book gets hot and heavy. Really hot and heavy. This author writes great sex scenes. Melting is no different. They go from hooking up once to not being able to get enough of each other. They're doing all this hoping Hayden's dad doesn't find out. The last thing Hayden wants is to see Wes fired. Before either man realizes what's happening, real feelings get involved. This is a problem. Hayden will have to go back to New York, and Wes lives on the Oregon coast. While they try not to dwell on that until the end of the summer when Hayden's supposed to go back, life throws them a curveball and plans change drastically. They only have a short time together, but that short time is perfect, and I'm not just referring to the sex, though that's pretty perfect too.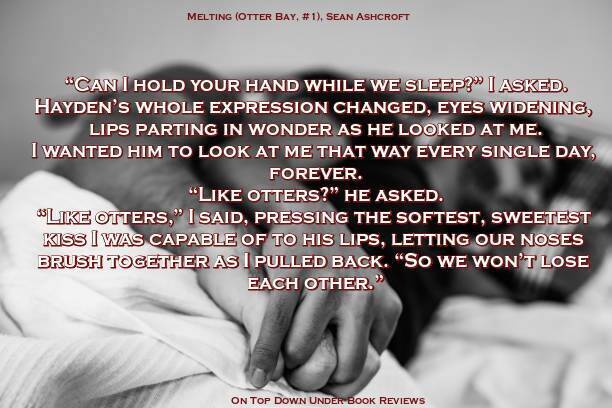 Hayden and Wes are so head over heels in love with each other. The way they tell each other – without actually saying the words at first – is so sweet. Between Wes almost getting caught sneaking into Hayden's bedroom window – Mr. Lewis has the worst timing – to romantic beach and picnic dates, and Wes winning Hayden a stuffed otter at a fair, their relationship progresses beautifully. There's no real hesitation between them even early on. They don't fight what they're feeling at all. They just go with it.
But then there's an emergency in New York and Hayden has to go back home much earlier than planned. Watching Hayden and Wes say goodbye at the airport broke my heart into a million pieces. They don't want to separate but they have to. They promise to keep the relationship going long distance.
I love how they come back together again and begin their future. There's an epilogue that was so sweet it almost had me crying like a baby.
I loved Mr. Lewis, who always had the worst timing. 😉 I loved both Hayden and Wes right off. I liked Andre a lot, though he wasn't as out there as Seth. Mark, Seth's boyfriend, is barely in the book, but I liked him well enough. As for Seth, where to begin? He's flamboyantly flashy and adorable. He cracked me up throughout the entire book.
"Hayden asked me to taste his balls," Seth said casually, licking his fingers.
"Did he?" Wes asked airily.
My stomach sank. He was in the same mood Seth was.
The mood to torture me.
"You should taste them too," Seth said. "He'd like that."
The author writes humor well, and there are a lot of funny moments in this book. Hayden gets chased and attacked by a duck. You can't not giggle reading that particular scene. It was hilarious.
"Did you want me to introduce you to Mr. Killer Duck over there?" I asked. "Since he's apparently got a huge dick."
"His name is Count Duckula," Wes said, with a lot more dignity than that name should've allowed for. "And he has anger management issues."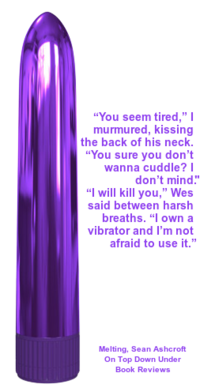 There's a bonus scene about Count Duckula at the end of the book that you can download. That was cute.
There's also Marissa, Hayden's business partner and friend in New York. I understood their relationship to an extent, but at times I kind of felt like I'd been dropped into a story with them that had already been partially told. There's no relationship outside of work and friendship, but I guess I needed some background on how they became business partners, etc.
Melting would've easily been a full 5 stars for me had I not had one issue with the story.
Italics. I don't mind italics in books. I understand that authors often have to emphasize certain words or phrases. There are so many in this book – almost every single conversation – that they were distracting, and they took away from the story.
I also felt that the frequent top/bottom conversations got silly after a while. That, however, didn't affect my rating at all.
I love Wes and Hayden together. They're seriously one of the best gay fictional couples I've read. They know what they want and they go for it. They're also not afraid of showing emotions when they need to. This is one of those couples that you know without a doubt would be in it for the long haul.
A really good book.