Grinding (Otter Bay, #2), Sean Ashcroft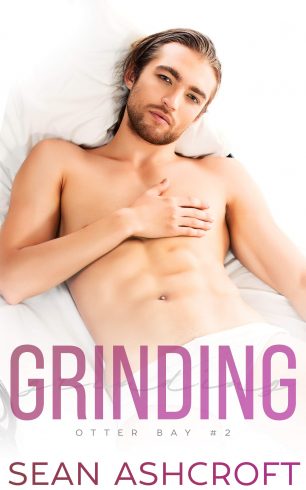 Rating: 4.5 Stars
Publisher: Sean Ashcroft
Genre: Gay Romance
Tags: Contemporary, Fake Fiance, Friends-to-Lovers, Second Chance Gay Romance, Series, Small Town
Length: 282 Pages
Reviewer: Cindi
Purchase At: Amazon
Blurb –
Two childhood best friends. One accidental fake engagement. One Labrador puppy. One week to fall in love.
When Harvey runs into his childhood best friend—literally—on the way into Otter Bay for his cousin's wedding, he doesn't plan to end up playing the part of the guy's fiancé. But one trip to the hospital and one tiny white lie later, and the whole town knows he's engaged to Iggy Beaumont, everyone's favourite barista and all-round sweetheart.
After being left at the altar by the guy Harvey once told him wasn't good enough for him, Iggy's heart still hasn't mended. He's not ready to date yet, but when Harvey offers him a no-strings-attached deal, he jumps at the chance for risk-free affection from someone he trusts.
All they have to do is avoid falling in love. How hard can that be?
They're only each other's first ever crush, after all…
Grinding is the second book in the Otter Bay series, but can absolutely be read alone. It ends on a HEA, with no cliffhanger, and contains: a chocolate Labrador puppy called Theobromine (Theo for short), an accidental fake engagement, coffee, lots of makeout sessions, a sword fight, steamy scenes, goats, a fairytale wedding gone wrong, and true love conquering all.
Review –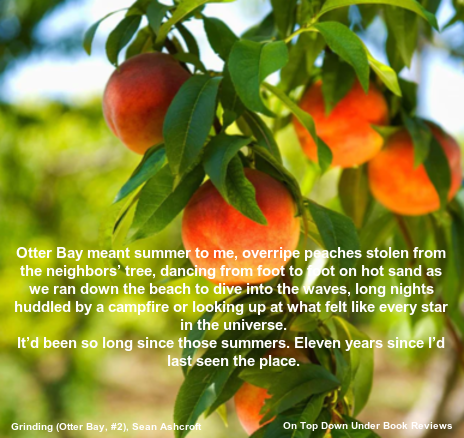 Harvey is in Otter Bay for the first time in over a decade. His cousin Seth (introduced in Melting) is getting married and Harvey will be his best man. He's been going back and forth on the phone with Seth as he drives to meet him. He's almost to his destination when he hits somebody with his car. Imagine his shock, and utter fear, when he gets out to discover that he'd hit his old best friend Iggy, who'd been trying to keep his dog out of the road. After a few freak-out moments, he rushes Iggy to the hospital, having to tell the nurses that he's Ig's fiance in order to stay in the back with him. Thankfully, nothing's broken, but Iggy does have a concussion, a sprained wrist, and quite a few scrapes and bruises.
It's the first time he's seen his old best friend in years and he practically runs over the guy. Their last meeting had ended in an argument when Harvey said Ig's boyfriend at the time (Liam) wasn't good enough for him. He'd been right – Liam ended up leaving Iggy at the altar eighteen months ago – but Iggy hadn't wanted to hear it. Iggy was out of the closet at the time. Harvey hadn't quite figured out his sexuality yet.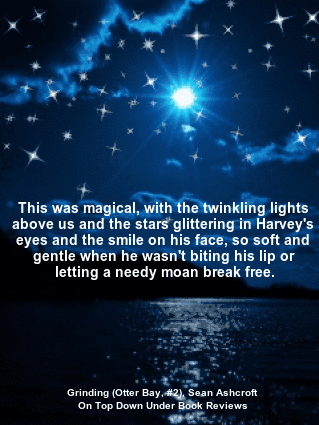 Harvey takes Iggy home when they leave the hospital. It's an awkward night with Harvey staying to make sure he's okay, but everything's somewhat better the next day.
The 'Harvey being Iggy's fiance' apparently gets around. Others in the small town of Otter Bay, most notably Liam, hear about it. After a bit of back and forth, Ig and Harvey decide to just go with it. Their sexual chemistry is off the charts so they act on it and play the fiance game. Harvey won't be in town long, so why not? Iggy's all for that. Their friendship picks up where it left off years ago, but now they're sleeping together and getting to know each other in ways neither would've imagined when they were kids.
They're basically living as a couple, sleeping together as a couple, and doing all things as a couple. The only thing they're not doing is admitting their true feelings for each other. But then again, both men are a little stubborn when it comes to things like that, not to mention they live and work a long distance from each other.
There's also the matter of Seth's wedding. Harvey's expected in Los Angeles for a job almost immediately after, so he and Iggy know they're on borrowed time. They do make the most of what they have.
The wedding was hilarious. In Melting we had Count Duckula, the duck with anger issues. In Grinding, we have a bunch of goats that get loose at Seth and Mark's wedding venue, a farm. Let's just say that Seth's perfect fairy tale wedding didn't exactly go off without a hitch. And of course it rained, making for a nice little muddy event during the crazy goat wrangling. That was really funny.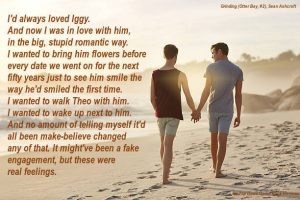 Some of the others from the first book are in this one. I mentioned Seth. Wes is also in it a few times. There's quite a bit of talk about Hayden, Wes' man, but I don't think he was ever on-page.
Then there's Dante, Iggy's employee and friend at his coffee shop. Dante's all about tarot cards, horoscopes, and reading palms. Dante is very close to Iggy. He may or may not have put a curse on Harvey if he ever broke Iggy's heart. Well, the reader knows that Harvey has to go Los Angeles, ultimately breaking both their hearts, and he may or may not have had a few tripping incidents with his shoelaces, and he may or may not have caused a cup of coffee to go all over a woman's white dress. 😉
Dante also had a bad habit of catching Iggy and Harvey in compromising positions, both times involving a little naked time in a bathroom. In Melting, it was Mr. Lewis, Hayden's dad, who had the worst timing. Here we have Dante. I'd love to see him as a main character. He was quite entertaining.
"Is this about to leave the land of PG-13?" Dante asked. "Because you know what a delicate flower I am."
"You sent me a dick pic last week by accident," I reminded him.
"I was mortified," Dante said.
"You said you're welcome."
Back to Liam. As much as I didn't like him a whole lot, he was kind of okay in the end. He had his reasons for dumping Iggy at the altar, even if he really did love him. Harvey does something really nice for Liam at one point, showing there are no hard feelings all the way around.
Oh, and I can't forget Theo, Iggy's chocolate Lab. He was adorable and always trying to get up in his Harvey and Iggy's business. 😉
Because it's a romance, you know that Harvey and Iggy get their HEA. The way it all came together was really sweet. Once they got their acts together, and realized what they both truly wanted, everything worked out beautifully. There's an epilogue that was so sweet it made this old girl almost cry like a big baby. I'm a sucker for romance. Sean Ashcroft does an excellent job of never failing to bring out my sappy side.
Overall, a sweet, funny, and sexy read.