Audiobook Review: Madison Square Murders (Memento Mori, #1, C S Poe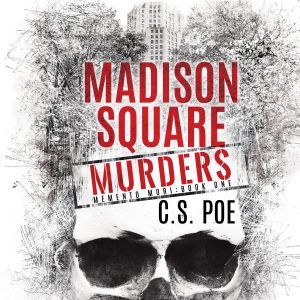 Genre-Tags: Murder/Mystery, Detectives, Gay Romance, Syndrome
Author: C S Poe
Story Rating: 5 Stars
Narrator: Kale Williams
Narrator Rating: 5 Stars
Length: 7 hours & 33 minutes
Audiobook Buy Links: Audible Australia
Everett Larkin works for the Cold Case Squad: an elite – if understaffed and overworked – group of detectives who solve the forgotten deaths of New York City. Larkin is different from others, but his deduction skills are unmatched and his memory for minute details is unparalleled. 
So when a spring thunderstorm uproots a tree in Madison Square Park, unearthing a crate with human remains inside, the best Cold Case detective is assigned the job. And when a death mask, like those prominent during the Victorian era, is found with the body, Larkin requests assistance from the Forensic Artists Unit and receives it in the form of Detective Ira Doyle, his polar opposite in every way. 
Factual reasoning and facial reconstruction put Larkin and Doyle on a trail of old homicide cases and a murderer obsessed with casting his victims' likeness in death. Include some unapologetic flirting from Doyle, and this case just may end up killing Everett Larkin.
Review: 
I haven't read C S Poe before. I've been in a massive reading slump for a little while, the worst one I've ever experienced. I've tried some new-to-me authors recently, mostly with bad results, thinking I'd give one more a crack before I threw in the towel. Thank you, C S Poe. You saved me. This is not only a terrific read/listen, but it also offers me a series I can now look forward to. One more author I can add to my small 'Yes! I'm invested' pile.
Lots of ratings/reviews on Goodreads and Amazon already so just some thoughts-
It did take me a little bit to adjust to the main voice of the story. Originally I found Everett to be hard to lock onto. Then I got to know him and feel him. He's socially awkward – to the point, seeming to lack outward nuance – but he has reason. Then I was "aha! I see you, Everett." He grew on me in so many ways. The biggest was just how much he cares for unsolved murders – the victim, the remembrance of this person having existed and been someone, not their relegation to a statistic. I found that so touching. He also has some strong reasons behind this and C S Poe built that steadily and solidly.
I don't know anyone, haven't worked with anyone, who has HSAM – Highly Superior Autobiographical Memory, although Everett reads like someone who is ASD, to be honest. Is that typical for people who have HSAM? No clue.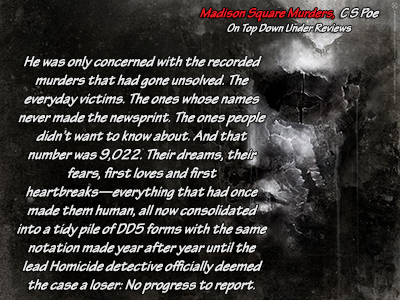 Maybe dependent on how it manifests within the individual. For Everett it's dates and time and affect and images. It's a 'spin the rolodex mind to date and event in long-term memory' and people think this is a gift for his job, for his life, but it's accompanied by an almost dementia-like short-term memory. And anything that makes you stand out in quirky ways has its own set of difficulties when it comes to the 'group norm' mentality. Everett cops a degree of grief from fellow detectives within his Cold Case department. They call him Grim. In the fire department next door to his precinct, they call him Spooky. Understandably, he's not fond of either of these monikers. People in general find him abrupt or a "know-it-all." It's part of his life circumstances. It just adds to his feelings of aloneness. He also has homophobic slurs tossed at him by another detective, Ulmer. I'm touchy about the use of derogatory terms so Ulmer royally pissed me off. But Everett is nothing if not gentle, resilient, and tolerant, three other things that I also respected him for.
Originality is appreciated by this reader. The HSAM was a different take for an MC and it's treated sensitively by the author. I also haven't read anything with a forensic artist as an MC either. Win-win.
One other thing that Poe did was she gave Everett a husband and made Noah not seem especially unreasonable in what he wanted from Everett, because at a human nature level it's understandable, and she had the other MC casually flirting with a married man. As unhappy as Everett is with Noah, that can be the kiss of death – even though this is a murder/mystery it is still very much a romance. Ballsy move, C S Poe.
I bought Madison Square Murders as an e-book, but as is my wont lately I ended up also buying it in audiobook and that's how I read the majority of it, listening to the dulcet, soothing tones of Kale Williams, a narrator I already know and enjoy. He did a great job of the MCs. Williams deftly manages to capture Everett's measured, quite monotone voice underlined with the conviction of what he feels and fears deeply. That's not easy to do. And Doyle has the right amount of supportive, easy to get along with, comfort-for-days persona.
This book is a pretty decent murder/mystery. What starts out as a body found in Madison Square Park with a death mask in a box and is thought to be a Cold Case investigation ends in a serial killer investigation encompassing past and present. The whodunnit aspect was well executed. I enjoyed the heck out of that.
The romance is a work in progress, it's quick but slow. I know that sounds like a dichotomy. There is no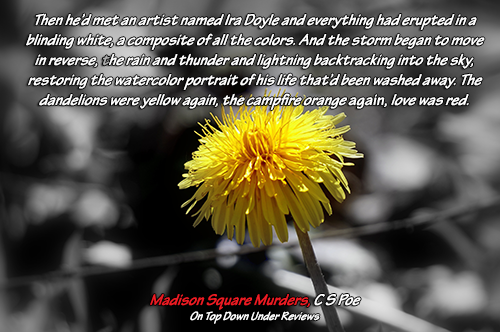 relationship by the end of the book, but you know the feelings and you know where it's going. Doyle offers something that Everett has never found before, genuine support and caring, a camaraderie borne of losing someone you love, and way too soon. Doyle sees the caring soul of Everett and is attracted.
Overview:  
I highly recommend Madison Square Murders as either an e-book or an audiobook. It's well written. Well paced. It delivers emotion without melodrama. The procedural aspects are enjoyable and well crafted. The characters are complex and lovely and grow on you, offering a wonderful canvas for more growth. Kale Williams is an excellent narrator and gave each of these characters a multidimensional voice. C S Poe and Everett Larkin and Ira Doyle pulled me out of a god-awful reading slump and engaged me all the way through their story. Bring on book #2, Subway Slayings. Halleloo and 5 Stars!